Teyana Taylor trends on Twitter after her mom FaceTimed her on stage at BET Awards, due to Video Director Of The Year win [VIDEO]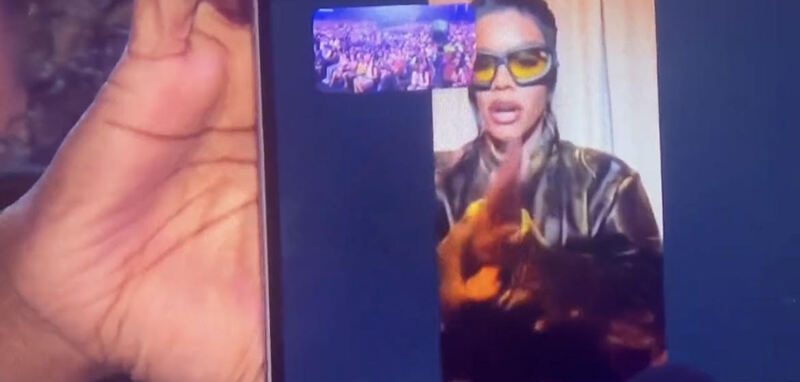 Teyana Taylor trends on Twitter after her mom FaceTimed her on stage at BET Awards, due to Video Director Of The Year win [VIDEO]
12978
Teyana Taylor's mother FaceTimes her during win at BET Awards
The BET Awards are currently ongoing in Los Angeles, as plenty of viral moments have been created. This includes Teyana Taylor winning the award for Video Director Of The Year.
Taylor wasn't in attendance to accept the award, but her mother was able to do so. While on stage, Taylor's mother noted that she was going to go off script, and decided to FaceTime her daughter. As a result, Taylor was surprised that she was being FaceTimed in front of the BET Awards audience.
As a result, Taylor went on to give an acceptance speech from her mother's phone. Despite some bad WiFi, Taylor was still able to make the speech work. Furthermore, she went on to speak on that viral moment, as she thanked God and all of her family and supporters for the love.
This month, Taylor's own Air Jordan collection was also released. This included her signature Jordan 1 High Zoom Air CMFT 2 "Rose From Harlem" sneakers.
Check out Teyana Taylor being FaceTimed by her mother after her Video Director Of The Year win at the 2023 BET Awards, below. 
MAKING MOMENTS ?? | Teyana Taylor's mom accepts the award for 'Best Video Director' on her behalf but ends up calling Teyana while on stage to surprise her with her win! ? #BETAwards pic.twitter.com/Ncah3Esd3n

— KenBarbie™ (@itsKenBarbie) June 26, 2023
Teyana Taylor's mother FaceTimes her during win at BET Awards