Nicki Minaj says she passed up on multiple possible "Barbie" soundtrack songs, before appearing on "Barbie World" [VIDEO]
Nicki Minaj says she passed up on multiple possible "Barbie" soundtrack songs, before appearing on "Barbie World" [VIDEO]
11742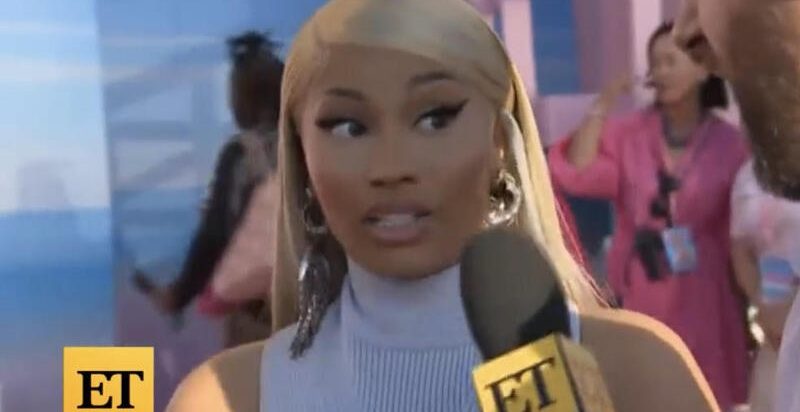 Nicki Minaj speaks on choosing to appear on "Barbie World" song
On July 21, the highly anticipated "Barbie" film and soundtrack will finally be released. One of the biggest lead singles off of the soundtrack so far, has been "Barbie World" by Nicki Minaj, Ice Spice, and Aqua. As a result, Barbie World saw a number seven on the Billboard Hot 100 chart. Currently, it stands at number 35.
The premiere of the Barbie film recently took place, as Nicki Minaj spoke about the Barbie World song on the red carpet. As many have known since 2009, Nicki has built a Barbie theme around her, and has done it well. She's even made the "Barbie" chain popular.
Furthermore, Nicki also spoke about how the Barbie World song came about, on the red carpet. She revealed that she passed on several songs, but when she heard the instrumentals for this record, she knew that it was the right one. As a result, Barbie World has since become a massive hit on social media and on streaming platforms.
Check out Nicki Minaj speaking on how the "Barbie World" collaboration with Ice Spice and Aqua came about, below. 
It's #Barbie tingz. ? Nicki Minaj reveals how her iconic "Barbie World" track for #BarbieTheAlbum came to be. pic.twitter.com/HkhZsaZzTO

— Entertainment Tonight (@etnow) July 10, 2023
Nicki Minaj speaks on choosing to appear on "Barbie World" song