Khamari, Kevin Ross, Meshell Ndegeocello, And More Drop New R&B To Check Your Emotions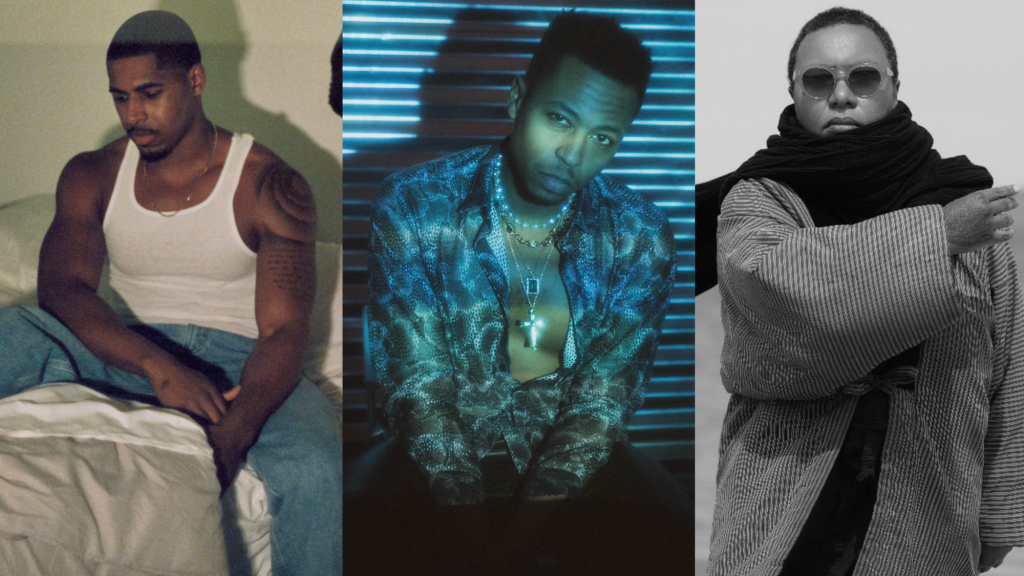 Khamari, Kevin Ross, Meshell Ndegeocello, And More Drop New R&B To Check Your Emotions
8446
Sometimes you have to reflect on what was to move ahead with what is and could be. This week's new R&B releases could have you in a chokehold while sifting through the emotional waves associated with loss, love, internal reflection, toxicity, and more.
Khamari is commanding his peace on his debut album, A Brief Nirvana. Ruben Studdard returns to the scene with "The Way I Remember It" from his forthcoming LP. Rory Farrell has unveiled the fullness of his compilation album, I Thought It'd Be Different. Meanwhile, Meshell Ndegeocello flows through your soul with her bluesy single, "Clear Water." A surprise collab from 112's Slim, Faith Evans, and Eric Bellinger isn't as alarming as it may appear and rising sensation, Rob Milton, steals the show with his new EP, Wish U Well.
Whatever disrupts your spirit in a shocking or calming way isn't our doing. We're just here to offer new selections for your listening pleasure. Enjoy VIBE's new R&B picks for this week.
Khamari – A Brief Nirvana
Khamari's debut album is a riveting display of authoritative peace. On the LP created while on a cross-country journey during the pandemic, Khamari commands your attention by reflecting on his "uncomfortable growth" while also using the past—a la Nina Simone, Al Green, and Darondo samples on "Drifting," "On My Way," and "Right My Wrongs" respectively—as a conduit to bridge a generational gap.
He revealed in a statement, "Recording this gave me perspective and made me realize the search for clarity and nirvana is a lifelong one. Maybe I was asking for a lot in the beginning stages, but that doesn't change the fact that peace is ultimately what we all want."
Kevin Ross – Midnight Microdose, Vol. 1
Kevin Ross deserves the spotlight. The new EP under his independent label, Art Society Music Group, is an abstract work of art that propels the crooner into a charming orbit of his own making. On the heels of his "Slow Dancing" duet with Kenyon Dixon, Ross enchants listeners right out the gate with "First Dose," as he sings "take what you need from me."
"Show & Prove" mesmerizes fans while demonstrating that he can indeed talk that talk and back it up. The hit record, "Look My Way," lures the audience deeper into his grasp after he flirts with the melody and seemingly whispers sweet-nothings over it. Despite its short length, Ross toys with storytelling, dreamy beats, and humorous interludes.
Midnight Microdose Vol. 1 serves as a prelude to the subsequent Vol. 2, and ultimately, the full-length album Midnight Microdose set to arrive later this year.
Rory – I Thought It'd Be Different
Who knew Rory Farrell would offer such a compelling album that will be a contender for one of this year's best? The rollout for I Thought It'd Be Different was superb. The podcast host and producer tapped back into his roots, enlisted some friends—Alex Isley, DRAM, Pink Sweat$, Jay Electronica, THEY, KIRBY, and more—and explained the personal side of several public ordeals in a cohesive manner with impactful melodies.
This release marks Farrell's new chapter as a man, father, and entrepreneur. He recently explained that this LP helped fill a void of sorts and heal him in a way. "You have a lot of arrogance, I feel like, in your 20s. And I don't know where that arrogance comes from," said the 33-year-old. "I don't know if it's maybe a naive thing, but it hit me in a really wild way coming out of my 20s. When I was making this album, I had lost pretty much everything I had worked for […] And I don't mean that in a bad way. Some things can just end…It's great to accomplish things and then leave them the f**k alone, but it never really addresses the hole that it may leave. Even though toxicity was there, it was something that was keeping you whole."
BLK ODYSSY Feat. KIRBY – "YOU GOTTA MAN"
BLK ODYSSY's new KIRBY-assisted duet further sets the tone for his new album, DIAMONDS & FREAKS. Oozing central themes of "self-identity, fame, and carnal desire," the record highlights the fight of one's flesh when lusting after someone despite already being involved with someone else. It's a story about a man whose sexual appetite overcomes his senses.
As for the the upcoming LP, it's a "moral tug-of-war" that toes the line of yearning for success, craving that sexual satisfaction, and succumbing to the reality of religion and a loss he's trying to escape from. DIAMONDS & FREAKS arrives on June 9.
Joy Postell – "At Ease"
Hailing from Baltimore comes R&B's newest talent who embraces. the classic R&B feels with a new school spin. Joy Postell's "At Ease," from her upcoming The Magician four-part mini-album series, details the joy of vulnerability and welcoming the leap of faith one takes when falling in love in an all-consuming way.
"I am excited to share with the world a song that shows the strength in being vulnerable and open to love. It is my hope that fans are able to feel every emotion poured into the music and connect with me on a deeper level," says Postell, who is described as a "sultry, soulful sound with a theatrical twist."
Meshell Ndegeocello – "Clear Water"
Meshell Ndegeocello is such an underrated talent. "Clear Water," her new soulful record inspired by Sly Stone with an element of blues, has arrived and will appear on her forthcoming Blue Note Records debut, The Omnichord Real Book.
"This album is about the way we see old things in new ways," explained the multifaceted artist in a statement. "Everything moved so quickly when my parents died. Changed my view of everything and myself in the blink of an eye. As I sifted through the remains of their life together, I found my first Real Book, the one my father gave me. I took their records, the ones I grew up hearing, learning, remembering. My mother gifted me with her ache, I carry the melancholy that defined her experience and, in turn, my experience of this thing called life calls me to disappear into my imagination and to hear the music." Be ready to indulge in her new vision on June 16.
Ruben Studdard – "The Way I Remember It"
Ruben Studdard has left 2004 in his purview and entered into 2023, ready to reclaim the limelight. The American Idol winner has issued "The Way I Remember It," the lead single from his forthcoming album. The piano-laden ballad is a classic love song. "It's just the kind of Luther-style ballad folks have been waiting for from me!!!" Studdard shared in a statement.
His untitled LP is slated for a September release and will be his first full-length project under his new label partnership with Legend Tribe, RCS, and the SRG-ILS Group. Studdard is currently on tour with his best friend and fellow American Idol contestant Clay Aiken.
Slim Feat. Faith Evans And Eric Bellinger – "Gotta Have Faith"
112's frontman, Slim, has a point to prove with his new collaboration featuring Faith Evans and Eric Bellinger. With the use of Evans' timeless gem, "Come Over," his goal is to encourage his lady to trust that will work through the storm consuming their relationship as he sings, "If you really wanna work it out/ Can't just believe in us/ Gotta have faith."
Bellinger adds, "But real love never fades/ Let's not complicate it," while the Faithfully singer rounds out the song, pleading in her signature raspy tone, "I'm divin' if you're jumpin'/ Won't drown in these emotions/ You try to run away from problems like it's old news/ Show me you're worth it." This marks Slim's first solo release since his 2016 album, Re-Fueled.
Rob Milton – Wish U Well
Ask Rob Milton and he'll say he "turned the microphone on" and poured his heart out on his new EP, Wish U Well. We agree. Following his Billboard chart debut with Monica and Ty Dolla $ign's "Friends," the Atlanta native trekked to LA to start life anew. The singer-songwriter uses his soothing tone to channel the spirits of Lionel Richie, Jamie Foxx, and KEM with his vintage sound laced with modern flair. During this transitional phase, he poetically closes out old chapters and marks new beginnings.