Girlpuppy's Becca Harvey Makes Loneliness A Movie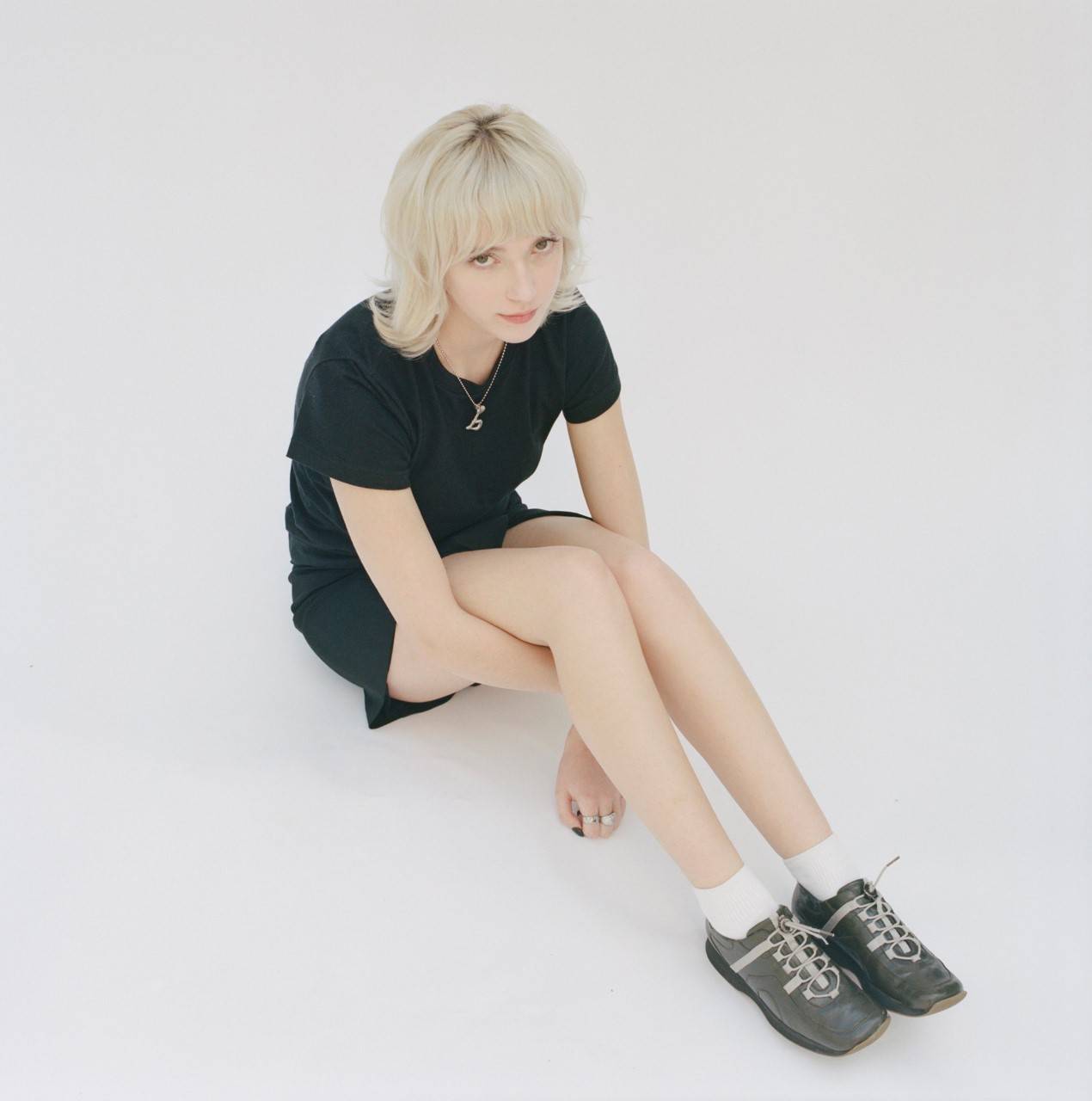 Girlpuppy's Becca Harvey Makes Loneliness A Movie
48
Before becoming Girlpuppy — the moniker she uses to release her pensive and confessional songs — Becca Harvey started making music at age 6, when she watched a lot of Hannah Montana and sang little ditties around the house. Around the same time, Taylor Swift released her debut album, and the moment inspired Harvey to start writing real songs in a journal. She didn't play an instrument, nor did she ever think to pick one up. Instead, she did a lot of humming and sang a cappella. Five years ago, Harvey finally put a demo on Soundcloud, which she describes as her "plucking two strings on an untuned guitar." It's since been scrubbed from the internet, but it helped spring-board her to her first-ever studio-quality track, "For You," in April 2020, which she recorded with the help of a multi-instrumentalist she was dating. She'd entered a world, for the first time, where she had the tools to explore her own creativity. "When I wanted to make music before, it was never accessible," Harvey says. "Then, when it became accessible, I knew immediately, like, 'This is what I want to do.'"
Harvey puts those tools on total display on When I'm Alone, her full-length debut out Friday (October 28). Long before she wrote it, though, she was still working full-time at a bakery in her hometown of Atlanta, writing songs when she could. But her career trajectory soon skyrocketed once she struck up a close online friendship with Marshall Vore, Phoebe Bridgers's drummer and co-writer, as well as the engineer on Maya Hawke's latest album. He invited Harvey out to Los Angeles to work on some songs, and the two quickly formed a great partnership. "[Vore's] songwriting, lyrics-wise, is the exact type of songwriting I really love," Harvey says. "It's kind of satirical, but it can still be serious. It can be funny. It can be really sad. I think I got super lucky. I enjoyed learning more about how to bring humor into songwriting from Marshall."
Vore's crux with Bridgers roots itself in fatalistic, wholehearted cynicism merged with unrelenting compassion, a blueprint that complements Harvey's quick-witted, emotionally stacked creative style. What came of their work together was 2021's Swan, a five-song EP about breakups. Tracks like "Cheerleader" and "Miniature Furniture" flashed heavy and personal verses interspersed with splashy pop choruses. Swan told the story of a place Harvey wanted to get away from. "When I made Swan, I had just gotten out of a terrible relationship. I was so depressed that year we made it, and I didn't want to go into making a depressed EP," she says. "I wanted to make something that was like, 'OK, I don't need everyone to know exactly how depressed I am, so let's make some of the songs a little upbeat and kind of funny, instead of so depressing it's hard to listen to.'"
When embarking on her first tour, with The Districts, last fall, Harvey had trouble reliving the songs of Swan every night. "It's hard to enjoy writing songs, sometimes, when you're writing about really shitty things that happened to you, and you're trying to word them in a way that's funny or pretty," she says. "To try to write about being upset after a breakup, or hating yourself, in a way that's beautiful and funny and no one's written it in that way before, it's just dark to do it sometimes." But Harvey didn't want to be boxed into an indie archetype early on, preferring to take inspiration from her hero Father John Misty, who employs a distinct, dynamic, and multifaceted ethos in his lyrics. That compositional framework follows Harvey into When I'm Alone. "With Swan, because it was my first piece of work, I was scared to branch out in any way," she adds. "I was just like, 'OK, I'm gonna make an EP to fit into this sad-girl genre of indie rock.'"
When I'm Alone was produced in tandem with Alex G guitarist Sam Acchione and Slow Pulp guitarist and engineer Henry Stoehr. The three founded a friendship on liking 2000s emo, and Stoehr introduced Harvey to the folk-pop universe of The Roches, whose harmonious vocal alchemy on "Hammond Song" and "Mr. Sellack" informs Harvey's vocal palette on "Teenage Dream" and "Destroyer." One of Harvey's greatest gifts is how stratified her singing is. Having a voice as roomy as she does makes each component of When I'm Alone feel whole and immersive, and songs like "Permanent State" have become more precious to her since recording them.
Where the tracklist of Swan followed the same sonic map, When I'm Alone is a testament to Harvey's still-evolving interests. The record touches corners of folk, Caroline Polachek-esque club pop, and My Bloody Valentine-inspired shoegaze. Yet the most impactful resource for Harvey came from an unexpected place. "The first time that I ever remember enjoying music in a much deeper way — it sounds so corny — was listening to the Twilight: New Moon soundtrack," Harvey notes. (She says she's in her "Bella Swan era.") "That is the dumbest sentence I think I've ever said, but honestly, that was how I was introduced to Radiohead and Grizzly Bear, and you can hear Grizzly Bear shit all over my record with the mandolin. I almost subconsciously made my album about a movie. Although it was my life, writing it, I was like, 'Oh, this could be the Twilight soundtrack. It could just be that.'"
The Tinseltown of Harvey's musical world extends beyond the Twilight universe. Growing up, she and her dad would go to the movie theater every weekend, and she often likens the protagonists in her songs to actors she's spent years watching, making deliberate nods to Keanu Reeves and Sam Rockwell on the record. Harvey is a fan of presenting her entire life on the musical equivalent of the big screen. "I love the feeling of people knowing everything about me," she says. "I wish that I was more of a closed-off type of person, but I've always been someone that everyone knows about, because I don't stop talking."
I love the feeling of people knowing everything about me.
Perhaps the most important part of Harvey's unguarded work as Girlpuppy (which she styles in all lowercase) is the interpersonal relationship she cultivates with her audiences. "I think vulnerability is awesome. I think that sincerity can be very terrifying but also awesome, too," she says. On When I'm Alone, Harvey leans less into the satirization of breakups she made her creed on Swan. Instead, she bemoans a grief she upon which she is still actively reflecting. "With breakups, it's easier to be funny, because breakups themselves are kind of corny. Like, it's so sad to be broken up with, you have to make it funny, or else it's just the worst thing in the world," Harvey adds. "With When I'm Alone, it was much more of, 'Oh, I'm insecure now,' which is still very sad, but too sad to make it funny."
The title of When I'm Alone isn't a hypothetical future. It's a painful, honest, humorous, and familiar reality. And Harvey is ready and eager to have you be a guest in that world, where relationships come and go, as does a lingering loneliness. "I hate being told no about things that I've written or made, so I just want to continue to write music and play music that feels comfortable to me," she says. "And if people like it, then that's the coolest thing ever."