Harry Styles Becomes The Squid Man Of Our Nightmares In New Video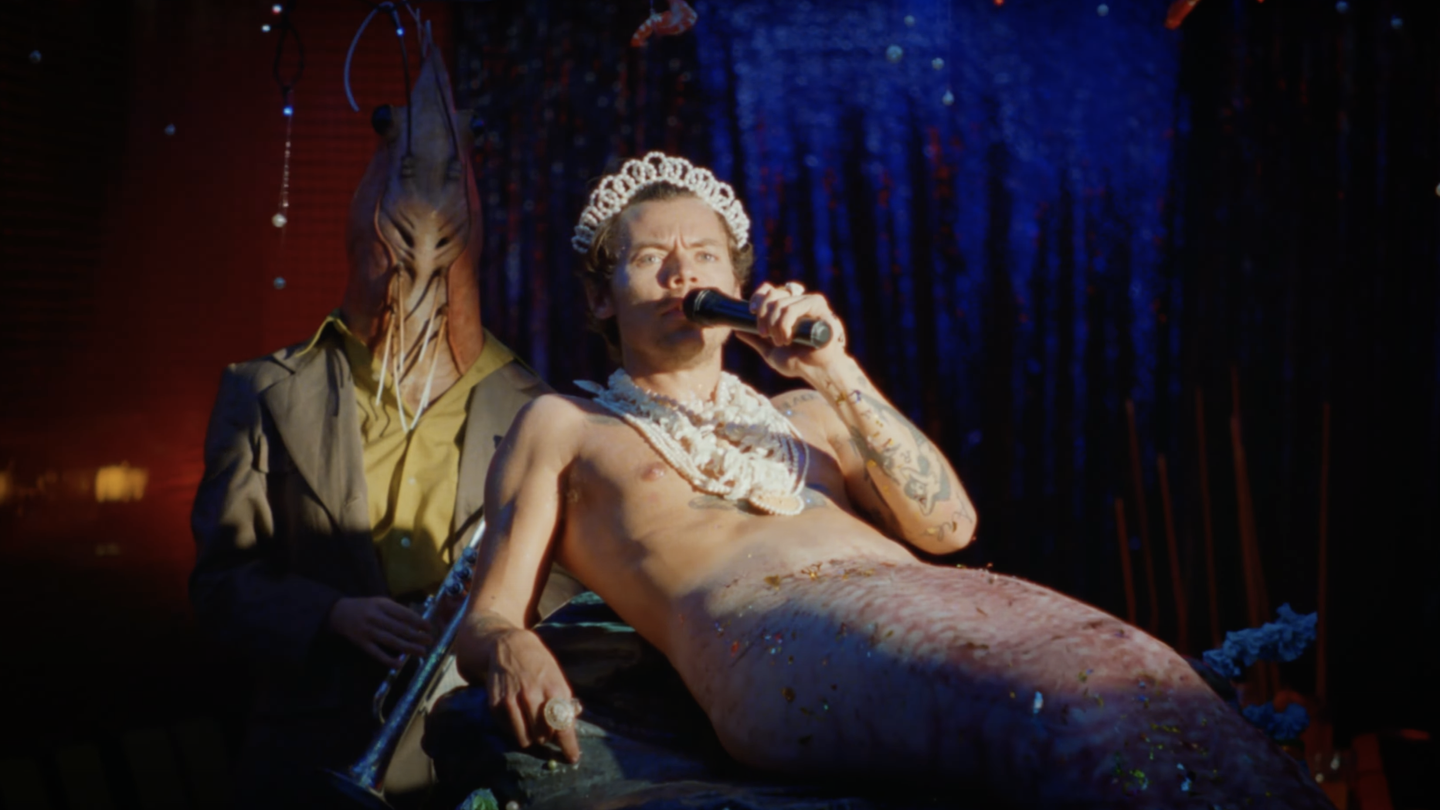 Harry Styles Becomes The Squid Man Of Our Nightmares In New Video
65
Harry Styles may have turned down the role of Prince Eric in Disney's forthcoming live-action The Little Mermaid, but that certainly isn't stopping him from living his merman fantasy nonetheless. He does just that in the outlandish new video for his song "Music for a Sushi Restaurant," which dropped on Thursday (October 27), and while wearing a full-grown beard, no less.
The video begins with sushi chefs encountering an unconscious disheveled Styles lying on a dirt road, later capturing and delivering him into the kitchen of a restaurant called Gill's Sushi. They and other chefs pose with him for an awkward photo together. Closeup montages of cooks butchering and cooking seafood pass as Styles looks around nervously, realizing his potential fate is to be served up like a delicious plate of sashimi.
"I don't want you to get lost," he sings as the lights flash. "I don't want you to go broke / I want you." Realizing he has talent, the staff promotes Styles as a singer for the sushi restaurant. He dons pearls and a tiara, enlisting tuxedo-clad krills to play trumpets in the background, drawing large crowds and patrons during his performances. "Can I touch your tail?" asks a bold fan before an irritated Styles slaps him across the face with a tentacle.
But the euphoria ends when the "As It Was" singer's voice starts cracking and coughing in-between lyrics: "If the stars were edible / And our hearts were never full," he sings. No longer of use to the restaurant, the staff chops up his tentacles for the menu.
"Music for a Sushi Restaurant" is the third single from Harry Styles's latest album Harry's House and peaked at No. 8 on the Billboard Hot 100. Meanwhile, the album debuted at No. 1 on the Billboard 200 and several other charts in multiple countries. Lead single "As It Was" peaked atop the Hot 100, and two songs from the album have debuted in the chart's Top 10: "Late Night Talking" (No. 4) and "Matilda" (No. 9). Styles has recently starred in two films this year: Don't Worry Darling, which released in theaters on September 23, and My Policeman, which is currently having a limited theatrical release since October 21 and will be available to stream on Prime Video on November 4.
Currently, Styles is on his residency tour for his latest album, completing New York dates at Madison Square Garden this past summer. He has recently performed at the United Center in Chicago. Other cities in the lineup include Toronto, Austin, and Los Angeles.