Doja Cat Grabs Fans' "Attention" In Bizarre Teaser For New Song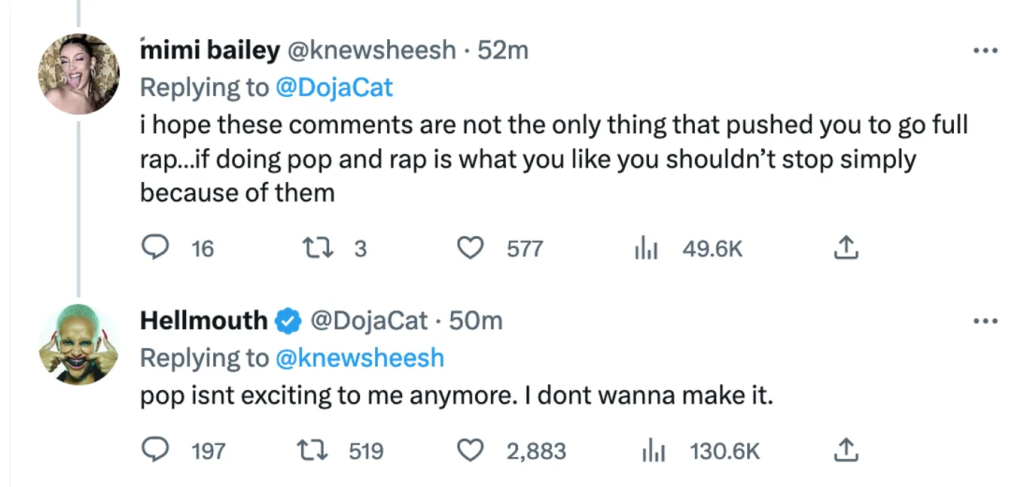 Doja Cat Grabs Fans' "Attention" In Bizarre Teaser For New Song
6180
It's possible that Doja Cat may be returning to music as a full-on rap artist. In a teaser for her forthcoming track "Attention," the eccentric rhymer released a bizarre trailer teasing the date of June 16 for its release.
On Wednesday (June 14) Doja dropped the 12-second long clip, where she can be seen passing by a swarm of paparazzi before walking city streets full of featureless faces. In the video, the Planet Her creator demands, "Look at me, look at me/ You lookin'?"
Although a bit muffled, a permeating boom bap beat can still be heard in the background, leading many to assume the track will be a hard-hitting rap single. Doja included a blood droplet emoji to caption the teaser.
Take a look at the teaser for "Attention" below:
"Attention" is presumably the first single from her anticipated fourth studio album, which follows 2021's Planet Her. The latter garnered critical-acclaim as it peaked at No. 2 on the Billboard 200 upon its July release and sold 109,000 album-equivalent units in its first week.
The 19-track deluxe album included Top 10 singles "Need to Know," "Kiss Me More" featuring SZA and "Woman." The LP also earned Doja a Billboard Music and American Music award.
Back in April, Doja Cat expressed that she'd no longer be making "pop" music, as she called her last album a "cash grab." She then revealed she'd be going full-on rap.
"No more pop…i also agree with everyone who said the majority of my rap verses are mid and corny," she tweeted out at the time. "I know they are. I wasnt trying to prove anything I just enjoy making music but I'm getting tired of hearing yall say that i can't so I will."
As one Twitter user responded with, "I hope these comments are not the only thing that pushed you to go full rap…if doing pop and rap is what you like you shouldn't stop simply because of them," Doja said, "pop isn't exciting to me anymore. I don't wanna make it. No more pop."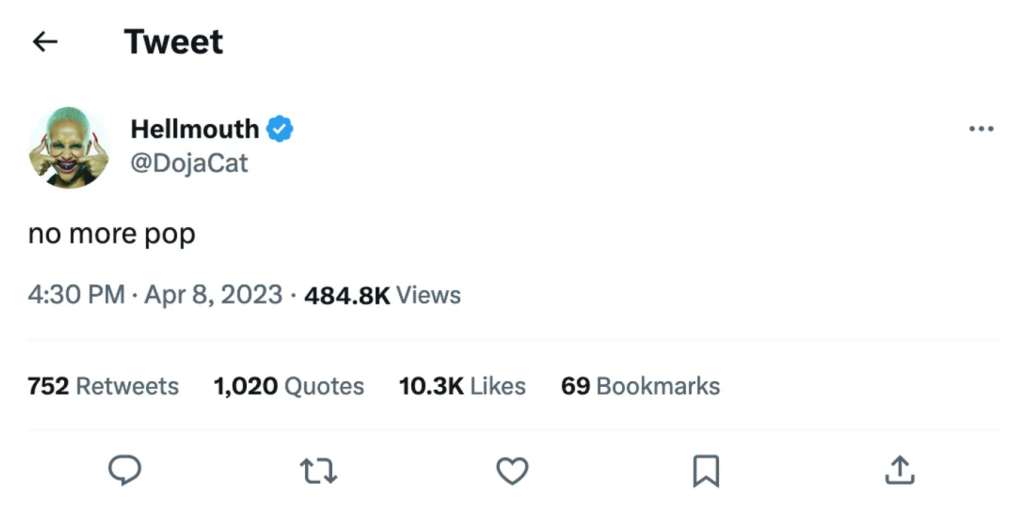 Doja Cat also told Variety, that her forthcoming fourth studio-album will have a "more masculine direction," with more sounds of R&B and Hip-Hop. She also revealed the name of the album to be First of All.
In a cover story with Dazed, the LA-native hinted, "If you wanted a teaser into what I've been thinking about, that's what I've been on a lot. And just to make it clear, Beastie Boys is a huge inspiration to me. Beastie Boys will hit you with hard, loud and crazy rap, but they'll also hit you with real raw '90s punk, which I love, or smooth techno that feels sexy and sleek."
"And you'll be like, 'Where the f**k did this come from?'"