Watch Halle Bailey's Breathtaking Performance Of "Part Of Your World"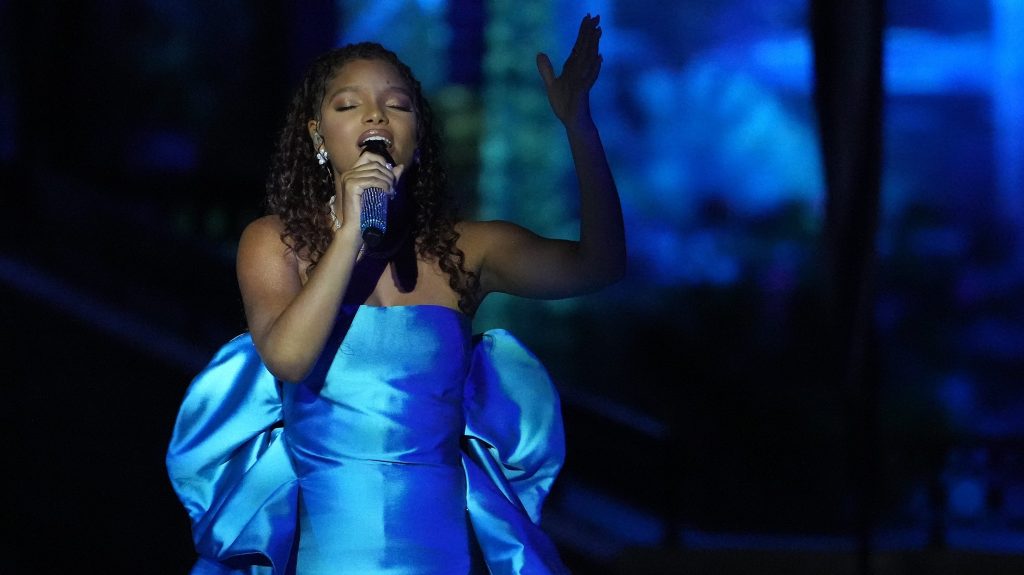 Watch Halle Bailey's Breathtaking Performance Of "Part Of Your World"
6798
Halle Bailey, who stars in the 2023 live-action The Little Mermaid, performed the classic single "Part of Your World" during American Idol's Disney Night special on Mother's Day (May 14). Wearing a satin ocean-blue mermaid-fit gown, Bailey sang in front of Disneyland Resort's Sleeping Beauty Castle.
Longing to live amongst the humans on land instead of her sea life, Bailey channels Ariel as she belts, "What would I give if I could live out of these waters?/ What would I pay to spend a day warm on the sand?/ Bet'cha on land they understand, bet they don't reprimand their daughters/ Bright young women, sick of swimmin'/ Ready to stand."
The Rob Marshall-directed The Little Mermaid hits theaters next week (May 26). Bailey stars as Ariel alongside the cast that includes Jonah Hauer-King as Eric, Melissa McCarthy as Ursula, Javier Bardem as King Triton, Daveed Diggs as Sebastian, Awkwafina as Scuttle, Jacob Tremblay as Flounder, and new character Noma Dumezweni as Queen Selina.
Last week, the film saw stars from all walks of the industry flood the blue carpet, enjoying a first viewing of the movie before the public.
"This moment means everything to me, I'm so grateful to be here," Bailey told Deadline at Hollywood's Dolby Theatre. "I just feel really honored and I'm happy the day has finally come where we can all watch it. It means the world to me, especially for the beautiful babies to be able to see a reflection of themselves."
She added, "I am just honored to be a part of this and be one of the princesses now because for me it was Brandy as Cinderella and then Anika Rose as Princess Tiana. So the fact that I am getting to continue this and live on this legacy is really exciting and I'm just grateful."
Bailey initially faced a ton of backlash (but even more praise) for portraying a Black version of the white, red-headed Disney princess. Following in the steps of the aforementioned actresses who played Disney princesses, Bailey opened up about the cultural impact she'll be making despite the criticism.
"Seeing the world's reaction to it was definitely a shock, but seeing all the babies' reactions, all the brown and Black young girls, really tore me up emotionally," she said back in March.
Watch Halle Bailey blow the audience away with her live performance of "Part of Your World" above.