WanMor Presents 2023 Scream Tour With Burgeoning Artists And Special Guests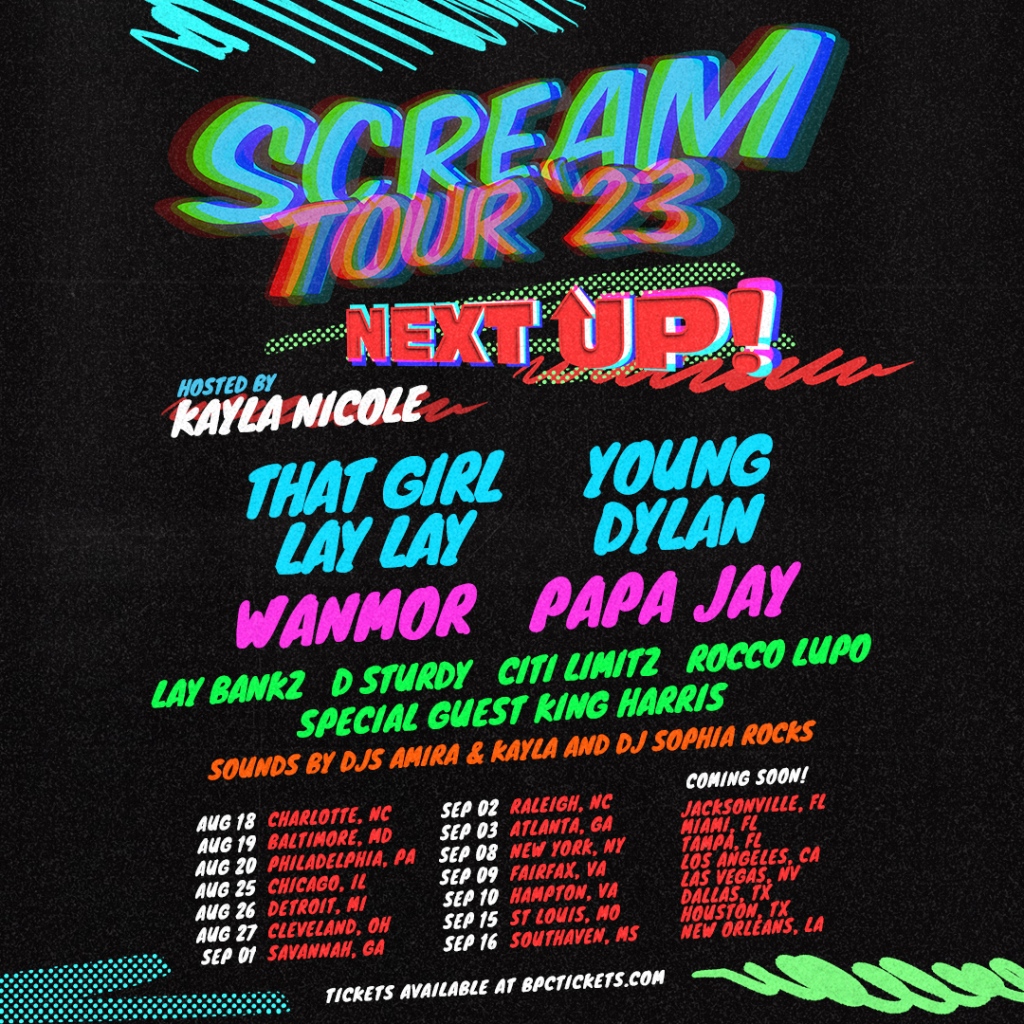 WanMor Presents 2023 Scream Tour With Burgeoning Artists And Special Guests
7725
The millennial Scream Tour franchise is being reimagined for 2023, but with young, burgeoning artists of today. Presented by R&B group WanMor — sons of Boyz II Men's Wanyá Morris — the quartet is bringing some of Gen Z's favorite artists to the stage this August.
WanMor will be embarking on their biggest trek thus far alongside That Girl Lay Lay, Young Dylan, Papa Jay, Lay Bankz, D Sturdy, Citi Limits, Rocco Lupo, and special guest King Harris. Social media influencer and artist Kayla Nicole will also host the 22-date affair, as DJs Amira and Kayla, and Sophia Rocks curate the sounds.
The tour, powered by Black Promoters Collective, is set to kick off August 18 in Charlotte before concluding in New Orleans. Other major stops include Philadelphia, Chicago, Detroit, Atlanta, New York, St. Louis, Miami, Los Angeles, Las Vegas, Dallas and Houston.
Check out the bill below:
Scream Tour' 23 Next Up will give fans of WanMor a chance to see the group's skills live, as well as recruit newer fans who are curious about the next wave in R&B. The tour, similar to the "Scream Tours" of the early 2000's that included B2K, Chris Brown, Bow Wow and more, will give a modern feel to the golden nostalgia that many 30-somethings of today remember.
The brothers, who all have the same government, but different nicknames include: Wanyá Morris II, III, IV and V, a.k.a Big Boy, 18, Chulo, 17, Tyvas, 16, and Rocco, 12. The group is the first act signed to Mary J. Blige's 300 Ent. imprint, Beautiful Life Productions, and recently earned a nod at the 2023 BET Awards for Best Group.
"There's been so much conversation about the state of R&B, and the next generation of R&B artists. This generation has been giving us great R&B, and that feeling, that soul and that sound remains in our DNA," Blige expressed in a statement upon signing the boys. "When we heard WanMor sing, we knew we could stop looking. They are IT! Supporting and cultivating true R&B talent is why I started Beautiful Life Productions, and I couldn't be more proud to do this with these young men." 
Check out their new music video for "Mine (Remix)" below, which has garnered over 1.4 million views on YouTube and counting. Also grab tickets here for the 2023 Scream Tour, taking place this summer.