Usher Replaces Diddy As Co-Headliner For Roots Picnic 2023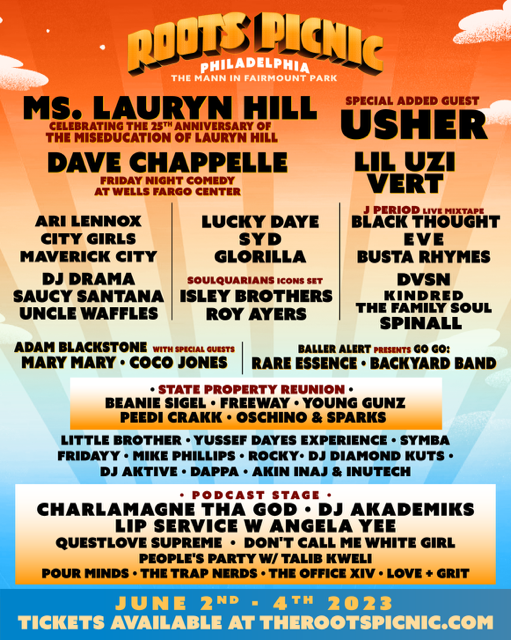 Usher Replaces Diddy As Co-Headliner For Roots Picnic 2023
5974
Black Thought and Questlove have announced that Diddy will no longer perform at this year's Roots Picnic, due to unforeseen circumstances.
"However, we got you. You know we are always going to put the city on our back and have your best interest at heart," their team explained on Instagram on Wednesday (May 24). "We never want to let the city down. So not to be outdone…For his first [northeast] performance since starting his sold out Vegas Residency…Usher will be our special added guest!"
The King of R&B will joining the likes of Lauryn Hill, The Roots, Dave Chappelle, Lil Uzi Vert, Eve, Ari Lennox, Lucky Daye, Busta Rhymes, Adam Blackstone, The Isley Brothers, and a special State Property reunion. This also marks Ush's first return to the Picnic in seven years.
The two-day festival will return to Philly's The Mann in Fairmount Park from June 3-4. Chappelle's comedy show featuring the The Roots kicks off the weekend on Friday, June 2.
Earlier this month, Usher recently wrapped up his second annual Lovers & Friends Fest. When asked why the event was crammed into one day, he explained, "A lot of it is predicated on people's schedules, and don't think I haven't had a conversation about it. But trying to figure out how to make certain that all 70,000 people who are going to be there feel comfortable and they get more than what they need, because it's going to be a really amazing show."
His Las Vegas residency returns on June 16 with shows running through October 2023.