Usher, Muni Long, Musiq Soulchild, Destin Conrad, And Other New R&B For A Summer Of Love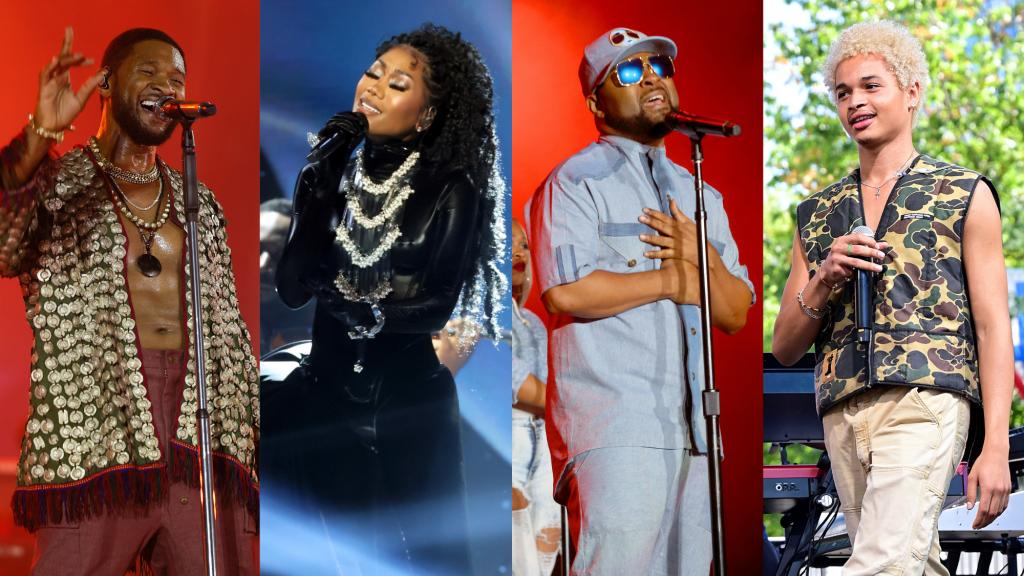 Usher, Muni Long, Musiq Soulchild, Destin Conrad, And Other New R&B For A Summer Of Love
8549
As summer sashays her way into the atmosphere, the heated season can either have you craving intimacy from one person, enjoying the pleasure of an entire roster, or lusting after your own self. Regardless of where you land, these top new R&B picks need to be included in your personal playlist of summer soundtracks.
Muni Long and Usher released their "Hrs & Hrs" duet as a surprise for lovers and friends everywhere. Destin Conrad and Musiq Soulchild linked up for a special Black Music Month collaboration with Spotify. Raheem DeVaughn a.k.a. The Love King shared his highly-anticipated ninth album while Day26's Brian Angel drops a new solo record, ahead of the quintet's upcoming LP. LVRN's Äyanna is reminding fans that UK R&B is still dominating as fellow rising sensations like Genia and Dana Williams debut their newest EPs and Keyshia Cole issues a heart-wrenching tribute to her mother.
Check out VIBE's favorite R&B selections from this week's new music below.
Muni Long Feat. Usher – "Hrs & Hrs (Remix)"
After surprising the crowd at the 2023 Lovers & Friends Festival with this highly-anticipated remix, Muni Long and Usher formally released the single without warning. Before adding the King Of R&B to the hit ballad, Long's Grammy-winning record scored over 250 million streams and peaked at No. 1 on Urban and Rhythmic radio. 
Weeks after their performance, we caught up with Muni backstage at Mary J. Blige's Strength Of A Woman Festival, and she added context about the viral record. "I think 'Hrs & Hrs' was the song that people loved. I loved it, but I had no idea that it would do what it did. I think it's just a testament to when it's your turn. It's like where preparation meets opportunity. I cannot say that I orchestrated anything other than writing the song and singing it. That's what I did—love. And the world did the rest," she explained.
Destin Conrad And Musiq Soulchild – "To This Day"
As part of Spotify's Black Music Month slate, budding phenom Destin Conrad joined forces with Musiq Soulchild for an original duet titled "To This Day." It's a perfect combination of their mesmerizing vocals, coupled with a soothing melody that encompasses a summer day, where you just sit with the breeze surrounding you.
In a statement about the ballad, Musiq expressed, "I like the song. It's very relatable. It's about being candid and honest about your feelings for the one who got away. It's admitting we ran out of tries." The single comes on the heels of Musiq's recent collaborative album with Hit-Boy.
Keyshia Cole – "Forever Is A Thing"
Ahead of the premiere of her Lifetime biopic, Keyshia Cole has shared her new single, "Forever Is A Thing." The tribute ballad, which is heard throughout the film, is dedicated to her late mother, Frankie Lons, who died on her 61st birthday in 2021 due to an accidental overdose. Like other music in her catalog, the record is cathartic, especially as she continues to grieve and heal from her mother's tragic passing.
"It's a sad one. Everybody had the idea to put that as a song that bonds me and my mother. We had other moments, but we created that [one] for my mom from me," she explained during a recent fireside chat. "Forever Is A Thing" is the first release from her upcoming album, which she's described as something more soulful, but still very vulnerable.
Äyanna – "Girlfriend"
LVRN's newest signee, Äyanna, has a gift that will transcend location, genre, and generations.
The English-Jamaican songbird showcases her soothing blend of pop and R&B on her new single, "Girlfriend." It's a nostalgic sound, stemming from the whimsical nature of a romantic comedy where she tries to garner the attention of a potential suitor.
Äyanna may just be getting the backing she deserves and has earned quite a fanbase from her viral covers on TikTok. LVRN says "pop has a new voice," but we say that her R&B twang will always be present.
Dana Williams – Talk Therapy
If you aren't hip to Dana Williams, get it together. The jazzy darling's new EP, Talk Therapy, offers a chance to reunite with one's self while healing, vocalize your needs, and fight for "emotional evolution."
Inspired by the likes of Ella Fitzgerald, Nina Simone, and Norah Jones, Williams is a refreshing fusion of soul and folk.
"My EP, 'Talk Therapy,' explores intimate conversations of self-discovery, intimacy, boundaries and independence. For the first time in human history, we have access to an endless amount of information, and yet society has become more anxious, apathetic, and overwhelmed," she stated when speaking on the project. "The stigma around mental health proves that there has never been more of a need for Talk Therapy. My desire to overshare is born out of the anxiety of the times and my need to cope. I do not wish to burden my friends and loved ones, rather, I want to acknowledge the universal need to talk with another human being."
Dexter Jordan Feat. Durand Bernarr – "Tonight"
Fresh off Ari Lennox's age/sex/location tour, Dexter Jordan is stepping out from the background to the foreground with his new single, "Tonight," featuring Durand Bernarr.
"I've been a fan of Durand for so many years, and I never thought something beautiful as this would happen. thank you Durand for seeing me in the way that you do. you are an absolute legend," gushed Jordan about working with the Wanderlust sensation on the slow jam.
The record is perfect for homebodies and those extroverts who need a chance to catch their breath. So, prepare for a night in for once with this passionate tune.
Genia – 4 PM In The Ville
Genia is a pleasant surprise, hailing from Def Jam Recordings. Her debut EP is a delightful dive into her joint worlds of Hip-Hop and R&B as she flaunts her talent and guttural lyricism. She's aiming to use her openness to welcome new fans into her orbit as she continues to use music as free therapy.
"I feel like I make music for everybody," Genia expressed in a statement. "But mainly for women to feel badass. I wanna feel like I have the power. I wanna feel like I'm that bi**h. That was kind of my thing: to make bad bi**h music, but also to make vulnerable music, almost like somebody's read­ing my diary. If only one person finds peace in my music, then I know I've done my job."
Raheem DeVaughn – The Summer Of Love
The Love King is back! Raheem DeVaughn's ninth studio albums is a sensual, sweet ode to every facet of romance, from a fiery spark to a sultry climax pouring into the promise that love can stand the test of time, if you let it.
"I want music lovers to be prepared for it to be provocative, grown, sensual and mannish, all while allowing their sexual algorithms to be serenaded by the sounds of the EP," DeVaughn explained in a statement.
Don't think that the LP is just for bedroom play. The singer emphasizes the importance of building an intimate connection that'll only elevate your relationship. On the heels of the album's release, DeVaughn will embark on a 13-city tour.
Kool & The Gang – "We Are The Party"
Kool & The Gang is kicking off their 60th anniversary with the arrival of their new single, "We Are The Party," from their forthcoming LP, People Just Wanna Have Fun.
The funky track has essential elements from the group's sound while also guiding them into something more futuristic. On the album as a whole, Robert "Kool" Bell shared, "You've got the funk, you've got the jazzier tracks, we have a few ballads on there. Then there are songs that cross over to a pop sort of thing. We go from the '70s, the '80s, right into now. It's old school, it's new school—we kinda captured it all here. With all our music over the years, people have had fun. So I'd say this album just about sums it all up."
The band's 34th studio album will be available on July 14, days after founding member George "Funky" Brown's memoir debut, Too Hot: Kool & the Gang & Me, on July 11.
Brian Angel Feat. Yung Lott – "I Wanna See"
Following the success of the 2022 Millennium Tour, Brian Angel returns with his newest solo record.
The romantic "tribute" about rightfully spoiling your partner in both tangible and emotional ways was a no-brainer for the crooner. "When I heard this track, I knew it was it," he explained in a statement. "The whole feeling of it, you know, just feels good. I was in Atlanta working with my brothers on the new Day26 project when I heard Puff say 'R&B is dead.' I understand where he's coming from because love, vulnerability, and sensuality doesn't seem to be at the epicenter of it these days, but I disagree. It's alive and well. I just think it's time we reintroduce being in love back into the mainstream. My album is crazy! I can't wait for y'all to hear it!"
"I Wanna See" is the lead single from his upcoming album, #IAMBRIANANGEL, which will arrive later this year.