Ty Dolla $ign, Phabo, MK xyz, And More New R&B To Soundtrack Heated Nights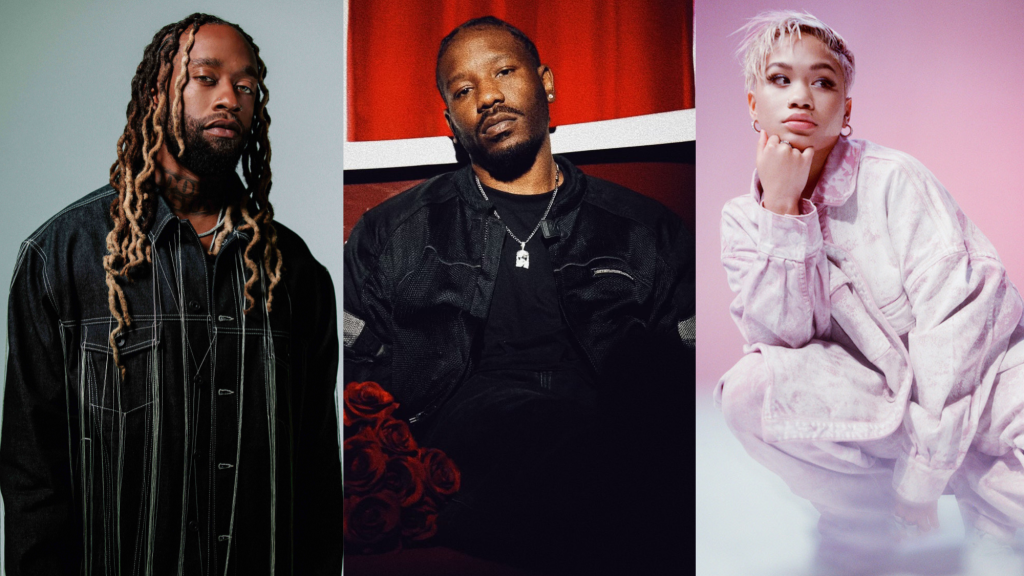 Ty Dolla $ign, Phabo, MK xyz, And More New R&B To Soundtrack Heated Nights
7107
Though it may not feel like summer in Los Angeles, the season for long days and short nights is on the horizon. Ty Dolla $ign wants to dance through it. Phabo wants to love through it while MK xyz wants to breeze through it in their own way.
Other new offerings to soundtrack the summer includes Fridayy's new collaboration with Chris Brown and grouptherapy.'s vibrant release. Yet, it's McKinley Dixon's debut that has us pondering if Toni Morrison can be considered the greatest rapper of all time.
Whether you want to remain in motion, stay stagnant, or be a cozy avoidant, one of our top new picks will surely get you right. Check it and more below.
Ty Dolla $ign – "Motion"
Ty Dolla $ign returns with his new single, "Motion." The long-awaited first single from his forthcoming EP is the embodiment of a good time. One gets lost in the pulsating beat paired with Ty's soothing vocals.
"I had to give y'all something fun, something to dance to, something for the summertime! I'm just getting started," explained the Los Angeles-bred crooner in a statement. Additionally, July marks the 10-year anniversary of his acclaimed mixtape, BEACH HOUSE 2, so fans can anticipate from the singer-songwriter to be unveiled in the coming weeks.
Phabo Feat. Arin Ray – "Stay"
Phabo is gearing up for the arrival of his second album, Don't Get Too Cozy, with the release of his new single, "Stay," featuring Arin Ray.
"I traveled back to 2003 just so I could deliver this message to y'all," said Phabo of the forthcoming LP. The record emotes a classic spin on nostalgia as the men serenade listeners with the plea to stay. The single follows Phabo's previous release, "Out Of Touch," featuring fellow rising sensation, Shaé Universe.
Don't Get Too Cozy comes on June 16.
McKinley Dixon – Beloved! Paradise! Jazz!?
McKinley Dixon may be a Chicago-based rapper, but the music has a dominant soul undertone.
His new album Beloved! Paradise! Jazz!? pays homage to the late Toni Morrison's trilogy of novels. Not to mention, he believes she is "the greatest rapper ever." Dixon follows her practice of fierce introspection and fervent escapism while offering his somber perspective of modern America.
"'Beloved! Paradise! Jazz!?' is my ode to the coming-of-age movie, the book you read that really stuck with you forever that one summer and the photo you look back on when you want to feel held again," said Dixon of the LP. "It's a record that has immeasurable importance to me and my family, so I hope you can feel that, too."
MK xyz – "No Boys Allowed"
MK xyz is one of the industry's most promising threats as a singer, songwriter, dancer, and actress. What better way to kick off Pride Month than with their new single, "No Boys Allowed."
Coming off the heels of "Baddie" and a personal favorite, "Pass It" featuring G-Eazy, "No Boys Allowed" is an empowering record that serves as "an invitation and a declaration." Both the single and MK will appear in the upcoming VICE News documentary, VICE Special Report: Out Loud, centered around groundbreaking queer artists. It will premiere on June 15.
Fridayy Feat. Chris Brown – "Don't Give It Away"
Rising star Fridayy has joined forces with Chris Brown on his latest single "Don't Give It Away" and its dreamy guitar intro immediately send listeners into a melodic embrace. Similar to the likes of Yung Bleu and Blxst, Fridayy lures one in with the catchy groove as he raps, "Don't give it away/ You know it's mine, tell me who gon' make you feel this way."
It's an anthem of redemption as he acknowledges his toxic nature. He actively tries to change the error of his ways and get his woman to see that he wants to be better by her. Fellas, it may not be the song of the summer, but it does have replay value for those nights when you need to get out of the doghouse.
grouptherapy. – "Nasty"
grouptherapy.'s "Nasty" signifies a new era for the trio. Jadagrace, SWIM, and TJOnline bask in their buoyancy and "radical self-acceptance" while simultaneously embracing their nastier sides on their terms.
"[This] was another super easy song to make. I think we all felt a need to let our id speak and embrace our nastier side; whether that be sexy and seductive or slick like an oil spill. This is grouptherapy. on our pimp s**t," they explained.
As for their sound, it's best described as alt-pop&B that's equally enticing and abstract.
Eric Ryan – "Floored"
Toronto's very own Eric Ryan is apparently the city's best kept secret. He's been building his momentum through TikTok and has now issued his latest single, "Floored."
His upcoming debut album's first single, "Floored," dissects the giddiness of love at first sight. "This song's inspiration came from this time I performed at a venue; where I was instantly floored by this girl when our eyes met," Ryan said of the new record. "I tried to encapsulate the feeling of 'love at first sight' in this song by keeping it short in nature; so that just like in real life, you'd want to go back and listen/see them again."
If you're a fan of Steve Lacy and Daniel Caesar, we recommend giving this newness a spin.