Travis Scott gifts fan "Utopia" shirt and Jordans off of his feet, after rapping with him during performance at Rolling Loud Rotterdam [VIDEO]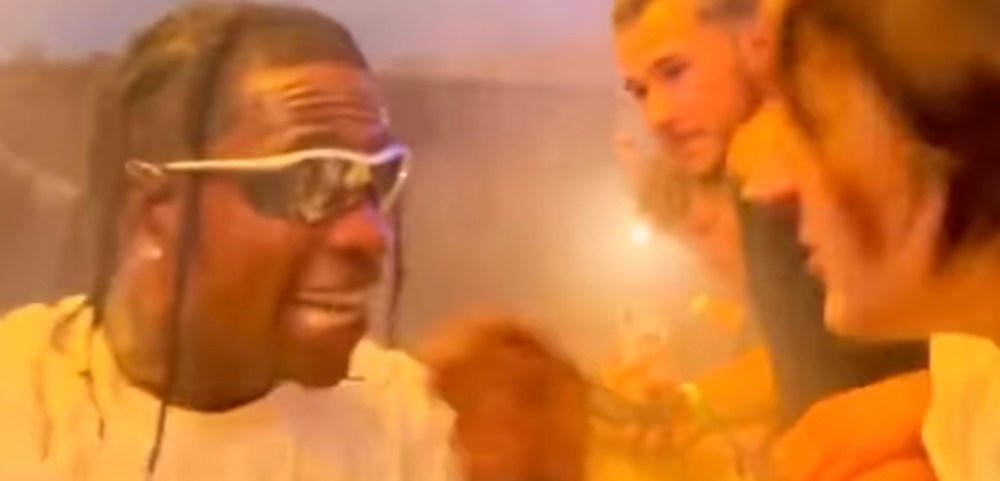 Travis Scott gifts fan "Utopia" shirt and Jordans off of his feet, after rapping with him during performance at Rolling Loud Rotterdam [VIDEO]
14111
Travis Scott gifts fan shirt & Jordans off his back at Rolling Loud
Travis Scott fans continue to wait on an official release date for his highly anticipated fifth studio album, "Utopia." There's been recent promotion for the album in various ways, which includes getting Travis' bodyguard to wear a handcuffed briefcase that read "Utopia."
Travis is headlining some of the biggest festivals in the world in the meantime, including Rolling Loud, who he's a frequent headliner. This was on Saturday night, where Travis delivered another electric performance at Rolling Loud Rotterdam, in The Netherlands.
Furthermore, Travis also had an amazing interaction with a fan, who was in the front row. Travis let the man rap along to one of his songs with him, as both of them were hyped. As a result, Travis went on to gift this with the Utopia t-shirt that he was wearing, along with the Travis x Air Jordan sneakers that he was wearing on his feet.
As a result, this fan was extremely happy with these gifts, as others also were for him, in the crowd. In the comments of Rolling Loud's Instagram feed, he went on to reveal that he made it home safely with those items, after that memorable night.
Check out Travis Scott gifting a fan at Rolling Loud Rotterdam the Utopia shirt and Jordan sneakers that he was wearing, below.
Travis Scott gifts fan shirt & Jordans off his back at Rolling Loud