The Jackson Music Scene Matters In The Midst Of Its Water Crisis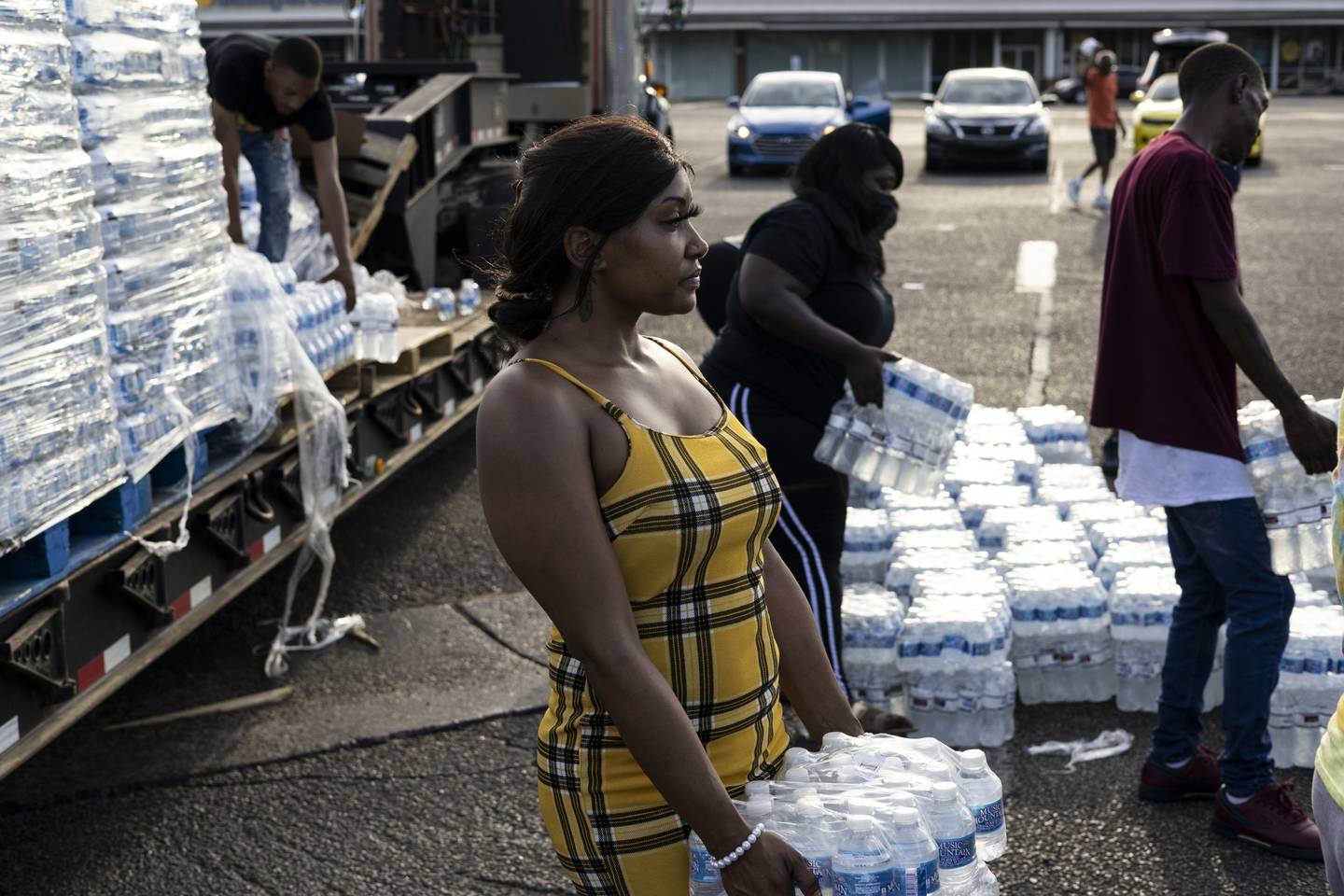 The Jackson Music Scene Matters In The Midst Of Its Water Crisis
64
In the unusually frigid winter of 2021, as the coronavirus pandemic continued to spread across Mississippi and its capital city, Jackson, a historic storm ravished and froze much of the city's notoriously outdated water infrastructure. It not only led to hundreds of thousands of residents losing access to clean water, but many businesses, venues, nightclubs, lounges, and recording studios were forced to temporarily shut down on top of city government-enforced COVID-19 restrictions, leaving many artists and members of the local music industry without places to work. Jacksonians have been hit yet again with an all-too-familiar water crisis in 2022, after the Pearl River flooded in late August from heavy rainfall, and one of the city's two water treatment plants was disrupted. Many residents lost water after a boil-water notice had been in effect for over a month and counting — even as Governor Tate Reeves announced that the water pressure had returned to "normal" on September 5, the boil-water notice is still in effect.
At worst, as we see with the 2022 water crisis, that boil-water timeline could get extended to over a month — to where it would not be safe to drink or bathe — and some concert halls, restaurants, and small clubs would be temporarily shut down, leading performing artists and employees to be out of work and fighting for clean water in order to live. While all of Jackson and its surrounding towns, businesses, hospitals, public schools, and colleges are affected, the crisis hits Black and/or impoverished residents the hardest. And while the water infrastructure has faced a growing number of issues going as far back as the 1980s, the current administration of Mayor Chokwe Antar Lumumba, son of the late mayor of Jackson and famed attorney Chokwe Lumumba, has been fighting to receive the $1 billion needed to for repairs and revitalization.
Many of the musicians, entrepreneurs, and employees within the entertainment sector have either originated or live in South Jackson where these disasters are worst — and Jackson itself is one of the most important hubs for Black and pop music in the United States.
The city is home to a thriving music scene that has recently given us modern national sensations like Dear Silas, The Weeks, Akeem Ali, and the late Lil Lonnie, but it has always been an essential home for Southern music culture. The scene has been through ups and downs, impacted by the decades of government divestments and white flight (which also directly impacted the ailing water infrastructure as Black political leadership and residency grew in Jackson) while also not receiving the same national exposure as Southern hot spots like Atlanta, Houston, Miami, and Memphis, despite being the origin of groundbreaking stars like David Banner, LeAnn Rimes, the Mississippi Mass Choir, and Dorothy Moore.
"When white flight took place and businesses were leaving, it eroded the city's tax base," explains veteran music journalist, author, and poet Charlie R. Braxton, an alum of Jackson State University (JSU) and a resident for nearly 40 years. "So monies that could have been used to fund arts and entertainment when it was critical to help it, they had to re-route those monies to city services. There's certain things the city would do if they had the money, but right now they don't have the money."
Over the past decade, however, as more Mississippi-born artists like Big K.R.I.T. and Rae Sremmurd became nationwide staples, a younger crop of Jackson artists quickly took advantage of social media. Others built their following through the city's nightclub circuit and circulating their music on JSU's campus. A new wave of talent emerged, including Hollywood Luck, Ray Kincaid, Battlefield Pierre, D.O.L.O, Dolla Black, Slimm Pusha, Mike Hustle, Yung Jewelz, Vitamin Cea, and Coke Bumaye to name a few.
The music culture of Jackson is built upon a rich legacy led by the rise of the legendary label and recording studio Malaco Records, which produced numerous Billboard chart-topping albums and singles from Moore, Bobby Rush, and Johnny Taylor, along with its influential blues, funk, rock, and gospel heritage. And as hip-hop grew in the 1990s, Jackson was a popular market for emerging independent artists from neighboring states like Texas, Louisiana, Tennessee, Alabama, Georgia, and even Northern cities like Chicago — think UGK, Maze Featuring Frankie Beverly, Three 6 Mafia, and legendary Southern hip-hop labels like No Limit, Suave House, Rap-A-Lot, and Trill Entertainment — to grow their earliest fan bases.
"[Jackson] was a major market in the Deep South," says Braxton. "If you didn't have Jackson as an independent label trying to make it in the deep, Deep South, you were missing a major market."
Economically, Jackson, affectionately known as the Jack or Jacktown, is home to popular and long-standing concert halls like Hal & Mal's, Thalia Mara Hall, Duling Hall, and the Jackson Coliseum where many of the biggest artists in the world have performed while also being home to its annual celebration, Jackson Indie Music Week. As Jackson's music scene evolved in recent years, entertainment and nightlife have become major revenue drivers for the city, which, by the account of Mayor Lumumba, was "tremendously" affected by the previous water crisis of 2021.
"Music and the events we create around the love of music is a source of revenue that the city benefits from, the establishment surrounding those venues benefits, and so we all suffered," explains Mayor Lumumba when asked about how the previous water crisis and the coronavirus affected the music scene last year.
My ties to Mississippi are deep. Many of my family members live in Jackson and originated across Oxford and Mound Bayou. I graduated from JSU and lived in the city for seven years while covering the music scene for my award-winning school newspaper, The Blue & White Flash, and the progressive-leaning alt-weekly Jackson Free Press. I even worked at the 100-year-old J.H. Fewell Water Treatment Plant part-time for two years. Based on my full experience of living in Jackson and the stories of my friends who had to survive when their water was contaminated, when the news broke about the 2022 water crisis, it all felt disturbingly mundane as if we had been here before. And despite what the headlines may show, a lot of my friends in Jackson are still going about their regular routines like the crisis is an ordinary part of their days.
While the current water crisis feels like a rerun of the same cycle of disaster followed by temporary fixes, I believe that my Jacksonians and the music scene will endure as they have done time and time again. Jackson is still a long way from getting the state and federal financial support its mayor has pleaded for years to receive to fix the water infrastructure. As the weather starts to cool and the national attention begins to divert to the next national crisis, it's important that eyes, minds, and hearts continue to remain on Jackson as the country did with Flint, Michigan. The stern warning that Mayor Lumumba has repeated for years is as real as it's ever been: "It's not a matter of if our system will fail, but a matter of when our system will fail."
If you would like to help Jackson, Mississippi, a few local organizations you can support, amplify, and donate to are the Mississippi Rapid Response Coalition and can be reached at [email protected], and the Mississippi NAACP and the Mississippi Reproductive Freedom Fund, where donations are being solicited via PayPal and CashApp.