Larry June 'Spaceships On The Blade' Is His Most Dynamic Album Yet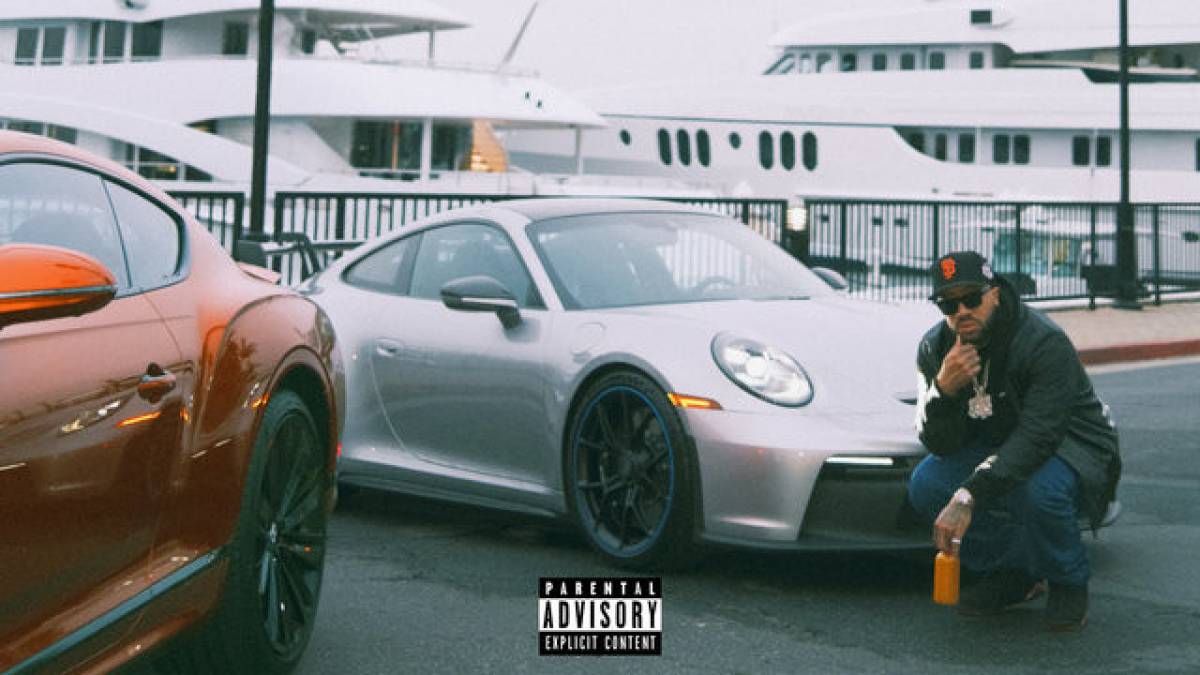 Larry June 'Spaceships On The Blade' Is His Most Dynamic Album Yet
64
It's hard to describe Larry June as anything other than magnetic. His songs initially read as uncomplicated, diaristic snapshots of a guy who's main prerogative is to have a nice time. The San Francisco emcee swears by his orange juice, probably has an immaculate skin care routine, and is perpetually unbothered. He raps about having good credit and taking early morning walks; the beats he chooses are luxurious, oozing like THC-infused hot honey on $30 avocado toast. These aren't just lifestyle raps — plenty of rappers have made careers on describing the comings and goings of their income streams — this is manifesting music. Larry's as much a student of Robert Kiyosaki and Tony Robbins as he is E-40 and Mac Dre, and his albums feel like instruction manuals for not only how to get the bag, but how to invest the bag and triple the gains.
Dig a little deeper into his lyrics, however, and the way he got said bag becomes clear. Spaceships on the Blade, his exquisite new album, is certainly a celebration of opulence, but it's also full of respectful nods to the mud June came out of. He's been a hustler all his life: as a kid in Atlanta, he would rock Dickies shirts and roll in the grass to convince his neighbors he was qualified to do their yard work. As an adult in the Bay, he found other ways to hit a lick. "Another Day Pt. 2" strings together memories of "modified glizzies" and bagging up dope in the kitchen, ending with a description of a sex worker in June's employ emptying a John's safe of everything but the Rollie.
Perhaps this acknowledgement of the necessary grittiness behind the classic American up-by-the-bootstraps story gives Spaceships its depth. June seems genuinely thankful for his current lot in life. On "In My Pockets" he celebrates a beautiful day by going for a joyride, gently encouraging the rest of us to be more in the present moment. "Get off your ass," he says. "It's a life to live." The closer, "Appreciate It All," drives the point all the way home: it opens with the lines "you see the end results/ I really thugged for it." He confesses that becoming a father made him realize the extra legal hustles needed to end, and everything he learned in his previous life could be applied to his new one. Now, he "cops real estate [to] pass it down to the seed," reflectively crooning that though it's been hard, "the game's been good to [him]."
Beyond deepening Larry June's story, Spaceships is his best sounding record to date. Though he curates a dynamic roster of producers that includes Cardo, Jake One, DJ Fresh and The Alchemist, the album is incredibly cohesive. They all understand his brand of elegant trunk music, draping airy synth lines over crisp, thumping drums like a silk scarf tossed onto an Eames lounge chair. Reference points range wildly from blaxploitation soul ("Private Valet") to 90's house ("Don't Check Me") to neo-G funk ("Still Boomin") to droney psychedelia ("Breakfast in Monaco"), but the album's sequence highlights how well these gossamer sounds complement each other. It's a joyously lush record, equally suited to soundtrack winding drives through California hills and eyes-closed, stem-and-a-cap headphones trips.
Of all the projects he's released in recent years — 2020 saw a whopping six Larry June albums — Spaceships feels like the most quintessential expression of his sound. It's a 20-song, 53-minute album that never feels like a slog, as all of his experiments lock into place: he plays with Eazy-E's "Boyz-N-The-Hood" flow; he sings like a more emotionally available Nate Dogg; he raps about green juice and guns with equal reverence; he mixes screwed down tempos with nervy Vallejo bounce. In less capable hands, such variety would come off as chaotic or forced, but June's calm confidence glues it all together seamlessly. Spaceships on the Blade is the ultimate hustler's guide to believing in oneself.
REPEAT ME
FAN FEEDBACK
Larry June music just makes me feel so calm , cool and collective .

— cloudnai (@itscloudnai) August 22, 2022
larry june be making every day activities sound wavy as hell.

— Devin Walker (@Devin_Walker2) August 20, 2022
This Larry June is hitting nicely.

— karliehustle.nah (@THEkarliehustle) August 21, 2022
This the best Larry June project I've heard

— Inigma ☠️ (@JR_Surg) August 20, 2022
Shroom smoothies and Larry june

— RosKo☣️ (@RosKoMotah) August 24, 2022