Tank's 'Tiny Desk' Performance Asserts Him As The General Of R&B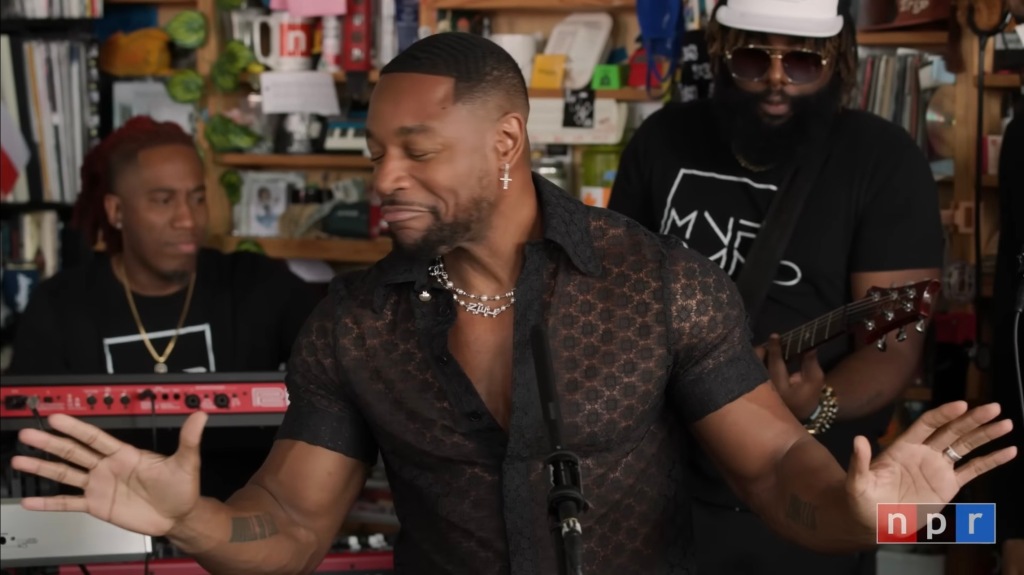 Tank's 'Tiny Desk' Performance Asserts Him As The General Of R&B
6180
After singing background for Babyface during his Tiny Desk, Tank is now front and center with a performance of his own.
"I am Tank. 23 years of a lot of music, a lot of writing, a lot of producing, a lot of singing. Some of these songs make you wanna make up. Some of these songs make you wanna break up and some of these songs make you wanna partake in various sexual activities," he teased before diving deep into the set.
The R&B Money podcast host was joined by Brooke Valentine, Luke James, and Lonny Bereal on supporting vocals as he rifted and ran through his own hits and records he wrote/produced for other R&B acts.
Tank selected 2001's "Slowly" and 2007's "Coldest" to kick off the 18-minute medley. He later interpolated Omarion's "O," Marques Houston's "Naked," and LeToya Luckett's "Regret," between his sultry records, "When We" and "Dirty."
After temporarily exiting "nasty land," Tank got a bit sentimental and issued a "I don't know who needs to hear this" message to men. "I'm all about relationships and love and I'm all about fighting for it. And fellas, we gotta do better. It starts with us. A woman will follow if she knows that you are properly leading," he stated as a precursor to the live rendition of "Can Let It Show."
Though his partner-in-crime, J. Valentine, was not present for the performance of "Slow," his parts were in great hands. When selecting James, Valentine, and Bereal to aid him on background vocals, Tank joked, "I called my friends that are lead singers who wouldn't charge me full price!!..??"
The seductive crooner rounded out his set with "See Through Love" sans Chris Brown, "Maybe I Deserve," its modern successor, "I Deserve," and the perfect closer—his 2007 ballad, "Please Don't Go."
Watch Tank's full Tiny Desk performance below.