Summer Walker, H.E.R., Maeta, And Others Induce Daydreams With Their New R&B Releases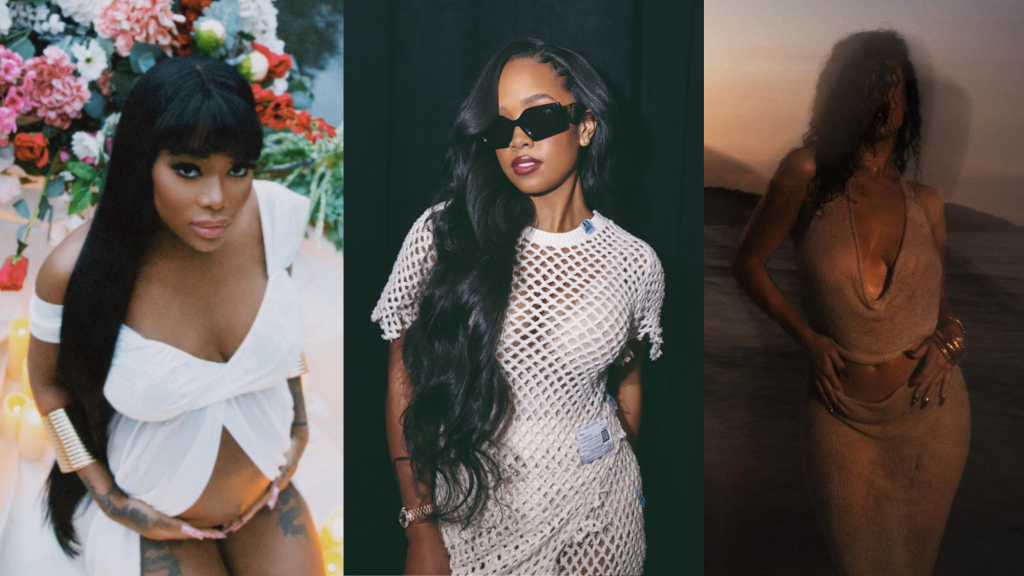 Summer Walker, H.E.R., Maeta, And Others Induce Daydreams With Their New R&B Releases
8240
R&B came through swinging this week! Just as Janet Jackson celebrates the 30th anniversary of janet, Summer Walker, H.E.R., the legendary Angie Stone, and newcomers Saint Smith, Maeta, and Samara Joy all issued new offerings to enchant listeners and welcome new fans into their grasp.
It's a restoring conglomerate of neo-soul, traditional R&B, jazz and more that has us spiraling in new quotable lyrics and hummable melodies. Walker's new installment of her CLEAR series is an on-time interlude between albums while H.E.R. and Queen Naija introduce their audience to the next edition of their musical journeys. But we implore you to give the indie and underrated acts like Smith and Alexia Jayy your undivided attention as you explore their respective discographies.
Fair warning: this week's new selections may prompt you to cuss out an ex as part of your healing journey, indulge in what the soft life means to you, or resist the urge to spin the block for the sake of having your love language spoken. Whatever your mood, any of these new R&B picks will get you right.
Summer Walker – CLEAR 2: SOFT LIFE
Summer Walker's continuation of 2019's CLEAR humanizes the viral rhetoric that "soft life" is enveloped in. The nine-track EP includes features from Childish Gambino and J. Cole, with standout production by Jay Versace, Solange, Steve Lacy, and John Kirby.
"For my new listeners I wanna let it be known that CLEAR Projects are my favorite type of music to make, it's slick the only time I actually have fun making music. it's raw it's real it's live. This for my day 1 fans, the rest of y'all will get y'all auto tune packed radio joints when the album come out lol [upside down happy face emoji]," Walker explained of her new project via Instagram.
Cole's "audio hug" was an apt intro as he praised Walker, Ari Lennox, and SZA for their contribution to keeping R&B dominant, but the focus track, "Pull Up," dismantles the grey area of a toxic situationship. CLEAR was a prelude to her debut album, Over It, which debuted at No. 2 on the Billboard 200 and surpassed Beyoncé's Lemonade as the LP with the biggest streaming week ever for an R&B album by a female artist. If this is a preview of what's to come, we're ready for Walker's third album.
H.E.R. – "The Journey"
H.E.R.'s new single is an inspiring, emotive ballad that sheds light onto the singer's next musical chapter, following the release of her debut album, Back Of My Mind.
"…with this, I just wanted to get out of the way of the song," explained the 25-year-old to Apple Music. "Whatever is there, let's just get out of the way. Don't try to … it is what it is. Let that shine, the lyrics, the vocal. And my thing was just creating the story and the dynamic, and I worked with my band and I was kind of like, 'All right, we need this fill here. This bass should do this line. Give it a little bit of flavor.' […] one of my favorite things about the song is the string arrangements. And it was something I do live that I've never done on records is sing all the string parts."
She also praised the vocal risk she took on the record, highlighting that it was a first take and "an emotional experience." Adding, "I can't really put it into words how everything kind of happened. I really believe it was from God because it's just, it's crazy."
Maeta Feat. Free Nationals – "Through The Night"
Following her sultry tune, "S(EX)," Maeta returns with an equally seductive track titled "Through The Night." Penned by Lucky Daye, the song is the next part of her personal love saga.
"Collaborating with Lucky Daye was such a fun and transformative experience while creating 'Through The Night,'" expressed the rising phenom. "We wanted to capture the bittersweetness of being in a place with someone you know deep down isn't right for you. The song delves into the complexity of that dynamic. It was a journey of self-reflection and growth, both musically and personally." 
Maeta's upcoming EP is set for a June release.
Samara Joy – Linger Awhile (Deluxe Edition)
Samara Joy is an underrated talent who's taken the world by storm and won two GRAMMYs for Best New Artist and Best Jazz Vocal Album earlier this year. She has since released the extended edition of her award-winning LP,  Linger Awhile, with eight new tracks. The deluxe album includes her rendition of Nat King Cole's "I Miss You So" and a tribute to her late mentor, Barry Harris. 
"When we were shooting the cover of 'Linger Awhile' last year, I had NO idea how much this record would change my life," said Joy on Instagram. "This past year I've been all over the world singing these songs, and sharing just a bit more of 'Linger Awhile' with you feels right. Thank you for making these songs a part of your life, thank you for supporting me!! I am forever grateful."
Chxrry22 – "Worlds Away"
Toronto's own Chxrry22's "Worlds Away" is an explosive dive with riveting introspection. She not only finds herself in a trance, but also in a chokehold as she can't embrace the beauty of what surrounds her because she's blindly consumed by her relationship.
"I've been in a long-distance relationship for the last year and it's been a rollercoaster of emotions—and of course, I really wanted to take those feelings and put them in a song," she revealed in a statement. "Sometimes, even as badly as you want something to work, there are factors like distance and time that come into play—and you need to accept it for what it is. But, just because this is a sad situation it doesn't mean the music has to be."
"Worlds Away" marks her long-awaited return since her debut EP, The Other Side.
Queen Naija – "Words Of Affirmation"
Queen Naija is speaking someone's love language with her new record, "Words Of Affirmation." On the ballad, she softly demands "communication, affirmations, appreciation" from a partner who doesn't seem to be registering this simple message.
Though she hasn't offered a drastic amount of insight into the single, it does mark a new era for the singer as noted on her social platforms.
"Words of Affirmation" is another gem from producer Mike Woods, who also produced Naija's 2022 Gold-certified record, "Hate Our Love" featuring Big Sean. That duet peaked No. 1 on Billboard's Adult R&B Airplay chart.
Angie Stone – Love Language
Angie Stone's ninth studio album under her new deal with SRG-ILS Group has arrived. When first announcing the album in November 2022, she regarded it as an "instant classic." With previously released records "Kiss You" and "The Gym" featuring Musiq Soulchild, the LP also boasts a feature from Stone and D'Angelo's son, Swayvo Twain, on "Old Thang Back."
"I have been in the music business for more than four decades, and having a fantastic team brings a certain peace, so when the head of my label and manager, Walter Millsap, suggested that we do this partnership with Claude [Villani] and SRG, I did not blink an eye. Claude's passion and enthusiasm are electric and contagious," said Stone of her recent partnership.
The LP oozes the best parts of neo-soul sprinkled with contemporary R&B, so if you've missed that era, enjoy this newness from an OG.
Saint Smith – Yours, Saintly
"Take Care Of Me," the lead single from Saint Smith's new album, has had us in a chokehold from jump. Now, the Atlanta-based crooner has unveiled his new album, Yours, Saintly.
For those who've been pleading for bridges, interludes, and all the fixings of a classic R&B album, this is one of them ones. Despite being a newer artist, Saint has veteran energy. His LP has a soul-stirring gospel underbelly coupled with elements heard on timeless records like Brandy's "Angel In Disguise." Innately, he's both refreshingly traditional without feeling out of place.
"I feel like I've been preparing for this album all of my life," he explained exclusively to VIBE. "It really captures all of what I adore about R&B in such a beautiful package that I'm proud to present. I am beyond thrilled to exhibit my growth as an artist and a person on Yours, Saintly'"
Rory, Ari Lennox, and James Fauntleroy – "My Phone Can Die"
Rory hasn't missed when it comes to the rollout of his forthcoming album, I Thought It'd Be Different. The podcast host-producer has enlisted the help of Alex Isley, Pink Sweat$, Sinéad Harnett, Jay Electronica, and DRAM on previously released singles that set up listeners for the LP's musical range.
On the final single before the full release, he has tapped Ari Lennox and James Fauntleroy for a sensual ballad about getting so lost in someone that your phone can die without any concern. The Dreamville songbird sings, "Real deal, love in it/ Long when you deep in it" while Fauntleroy trails behind with "You know my love can get long winded/ Don't hesitate, send it/ Silence, the one I want is here, she's right here."
So far, this album is gearing up to be one of the year's most anticipated releases that will be available on May 26.
NxWorries – "Daydreaming"
Anderson .Paak and Knxwledge has issued the lead single off their new album, Stones Throw. "Daydreaming" features a guitar solo that channels the spirit of Prince and whisks listeners away into an animated daydream as the crooner yearns for his lover.
This marks the duo's official follow-up to 2016's Yes Lawd!. Their first comeback single was "Where I Go," featuring H.E.R. NxWorries will also embark on a world tour later this month.
AMAKA – "Leave It Behind"
AMAKA is doing a superb job at differentiating herself from her VanJess past. This week, she's back with "Leave It Behind," a new single rooted in escapism just in time for summer.
"[Leave it Behind] is a song I wrote about letting all your worries go and enjoying life." she explained in a statement. "I wrote it from the perspective of being in that space and wanting whoever is around me to join in and absorb that same energy: having a good time and being present in the moment no matter what life has thrown your way."
It succeeded her Kaytranada-produced debut, "Cruisin," and both are breadcrumbs leading to her debut solo EP Oasis, slated to arrive later this summer.
Alexia Jayy – "Over And Done"
Alexia Jayy's voice induces goosebumps. Following the release of "I Need A Man," she has unleashed her new record, "Over And Done."
Regarding this illustrious offering, the southern belle detailed, "I was in a relationship that was draining me and my go to is music when I'm in my feelings. I started hearing the words to the hook in my head. I took it to the studio, met up with Jay Lyriq, put the pieces together, and the rest is history!"
The budding sensation is in the midst of a healing journey that is vibrant, catchy, and relatable and we're here for it.