Snoop Dogg Reflects On Friendly Competition With Pharrell While Recording 'Drop It Like It's Hot'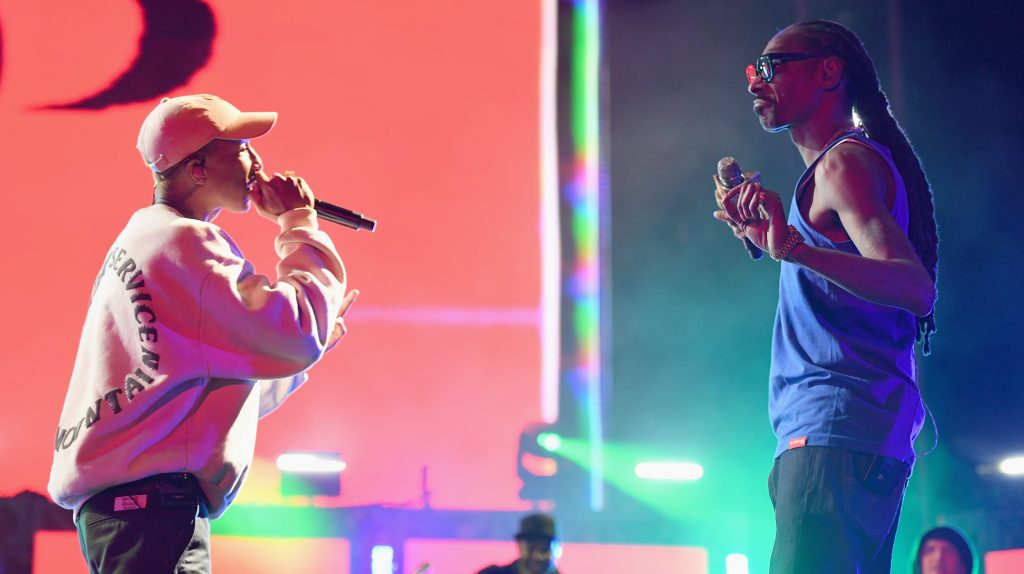 Snoop Dogg Reflects On Friendly Competition With Pharrell While Recording 'Drop It Like It's Hot'
9682
Snoop Dogg is the latest talent tapped for Audible's original series, Words + Music. In his episode titled "From the Streets to the Suites," the rap legend reflected on writing his 2004 chart-topping collaboration, "Drop It Like It's Hot," with Pharrell.
"He in the back with the keyboards, it's just him and the engineer. He ain't even got the beat all the way made," Snoop, 51, recalled. "This how this n***a get down, he don't say words, he just [mimics Pharrell's utterances], so it's my job to make that sh*t make sense!"
After the Virginia native recorded his verse first, the West Coast rapper joked, "This n***a done took the bar all the way … I cannot let Pharrell out-rap me on my motherf**king song!"
Snoop even remembered that he had to rewrite the song's third verse. Pharrell stopped him while recording and expressed, "That third verse … that ain't it."
The Doggystyle rapper later admitted that he was scared Dr. Dre wasn't going to like the song, being that he's a harsh critic of Snoop's music. "This n***a don't like nothing," he declared. "I'm scared he gon' come and say he don't like it!"
Luckily, for Snoop, Dre had nothing except praise for the record. "N***a, this s**t right here off the hook! This s**t bomb, n***a! Y'all did that," said the Chronic rapper.
Snoop Dogg's Words + Music episode was a "fun, heartfelt and inspirational ride," helmed by Angie Martinez that features his "unique style of storytelling" and performances of hit records including "Nuthin' But a 'G' Thang," "Gin and Juice," "Beautiful," and of course, "Drop It Like It's Hot."
Listen to the full episode here.