Saturday Tunes: King Combs, A-Boggie & Fab "Flyest In The City," RMAND Has "Xplicit Content," Kay Anthony Wants To "Float," And 917 Rackz x Nayy Talk "Brazil"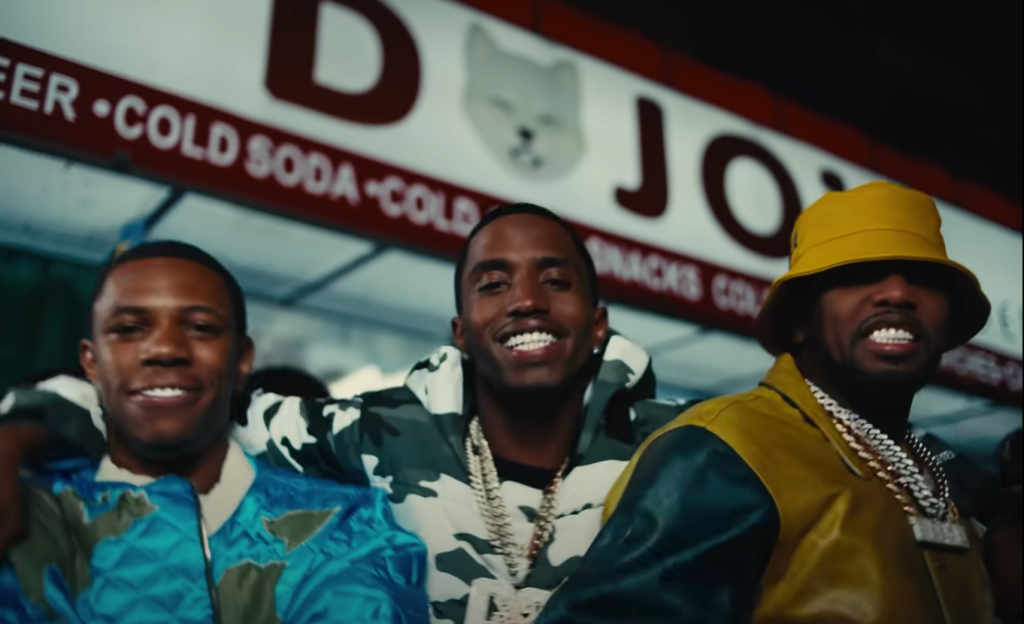 Saturday Tunes: King Combs, A-Boggie & Fab "Flyest In The City," RMAND Has "Xplicit Content," Kay Anthony Wants To "Float," And 917 Rackz x Nayy Talk "Brazil"
14008
King Combs ft. A-Boogie, Fabolous & Jeremih
New York City's triple threat of Harlem, The BX and Brooklyn is activated on this classic Bad Boy reminiscent track. King Combs takes heavy cues from his living legend Dad, Diddy, with "The Flyest in the City." Enlisting support from two of NYC's heavyweights of hits in A-Boogie and Fabolous, K.C. and crew ride around shining through the Big Apple enveloped in '90's R&B trio Total's 1995 beat off their single "Can't You See." Jeremih, of "Birthday Sex" fame, sings on the track as well.
Combs' Diddy Bop tone is damn near identical to his Pop's. Boogie comes through on the hook effortlessly and Fab always brings the sly lines to the fly rhymes. This is one shot from the C3 EP project that K.C. wants you to bang all summer.
For this joint, all our Dominicans stand up!! Wait, hold up…this one by RMAND may require you to lay down. Like all the way down with your partner of choice. The young superstar singer, songwriter, and producer slides on his newest slippery when wet single "Xplicit Content." The title fits the demon time status of the song. This release tees up his forthcoming EP ¡De vuelta al Mundo!
Having worked with various artists like Zion y Lennox and Cardi B., RMAND is well on his way of proving his runner-up status on Netflix's Latin music competition series LA Firma. So much more is to come from the talented creator who is inspired by R&B, Reggaeton, Caribbean, and American trap. Just by peeping the sultry sounds of this single, you know he's going for the ladies and you can't go wrong when they are on your side.
VIBE has been following the ascending career of Brooklyn's Kay Anthony for close to 10 years. Even if it hasn't been that long, it feels like it has, as he is the most consistent when it comes to dropping singles and projects with close emotional ties to heart and spirit.
His newest offering, "FLOAT," takes the same place of introspection that leads to outer thought about misogyny, poverty and keeping mental balance. Kay explains the track and video with this description: "Its mellow beat, produced by Angelo Imani, and smooth vocals make it perfect for relaxing or getting lost in your thoughts. [It's] a great song to listen to when you want to unwind and let your mind wander. The lyrics are introspective and poetic, exploring themes of self-discovery and personal growth. The song's ethereal soundscapes and atmospheric production create a dreamlike atmosphere that is both calming and inspiring."
There are some rappers that want to be seen, but with Kay, he truly wants to be heard…not for the fame, but for the therapy his music gives him and hopefully for others.
The streets have a wave that if you aren't in them, you may not understand the flow. What that means is, if you are not in the streets heavy, stay out the way. Looks and sounds like Nayy and 917 Rackz, are letting you know just that sentiment as they bounce on the rugged drill beat of "Brazil."
Wild part is, the song really refers to scooping up a woman with natural game. Both fellas know they have what it takes to do so rather easily. The collab these guys made sticks to the formula of eq'd autotune for high pitch and low pitch vocals, which balances their individual styles out well. It's a short song, street aimed and sturdy dance inducing which makes for a car speaker winner.
Be on the look out for the two this summer, as a collab match and solo work.