redveil 'learn 2 swim' Triumphs By Weaving A Coming Of Age Story Without Resolution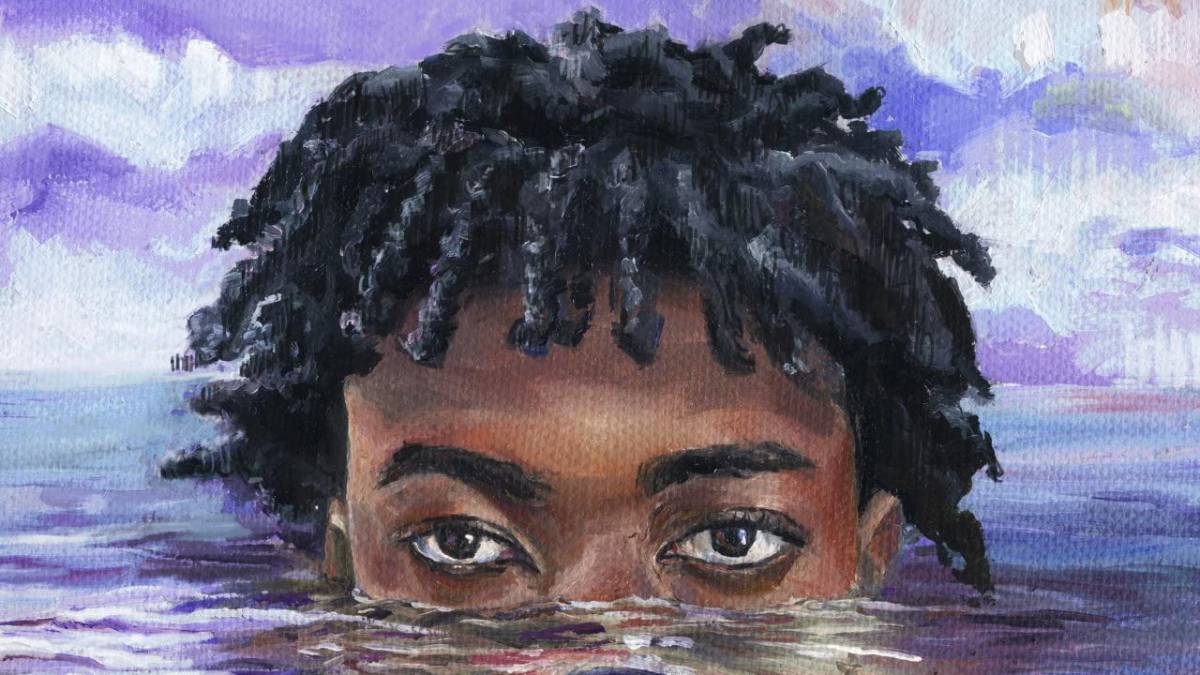 redveil 'learn 2 swim' Triumphs By Weaving A Coming Of Age Story Without Resolution
81
PG County rapper redveil is only 18-years-old but sounds weathered on his latest album, learn 2 swim. The project focuses on the trials of growing older, setting aside childhood and finding yourself as a man. It's a logical step forward for Marcus Morton, who has been pondering life's questions for the last couple of years.
Redveil's first full body of work, 2019's Bittersweet Cry, featured an eclectic collection of songs ranging from the distorted synth-helmed "Brother's Keeper" to the Earl Sweatshirt-esque sounds of "Lonicera." But it was the following year's Niagara which pushed him to the front of rap's new vanguard. Songs such as "Campbell" and "Weight" took off, introducing the DMV rapper to legions of new fans. Niagara may have hinted at where veil was headed (sample-driven and youthful repurposing of nostalgic sounds), but learn 2 swim finds his vision fully realized.
Redveil's latest is a testament to self-reliance, growth and accountability. Self-produced entirely by redveil, learn 2 swim is deeply insular, scrapping outside influences to focus intensely on the interior.
There's a desperation to redveil's raps: he stretches each syllable, dragging slightly behind the beat, forcing listeners to process each word and treat it as essential. The triumphant jazz tones of "together" give urgency to veil's raps about turning down the noise of the outside world and getting lost in his head. Unlike so many of his peers, redveil doesn't rap within the beat's pocket, but rather from atop the production, punching through the drums instead of waiting for an opening.
Where so much of his past work deals with the anxieties and difficulty of self-love, on learn 2 swim, redveil seems to have found more solace: "Watch the weight of my tongue, put my name on my chest /I never shame my reflection" he spits with pride on "together." On "pg baby," one of learn 2 swim's breakout cuts, he raps on the chorus's refrain: "I can't trip 'bout shit 'cause I've fallen." Across the project, redveil sounds confident and comfortable with the realities of failing because he knows through his own experiences that he'll make it to the other side. These moments also cut to the album's core: that growth can only happen when accountability is taken and problems are faced head-on.
It's a special experience to watch someone wade through the depths of purposeless feelings to emerge on the other side stronger. redveil presents all sides of growth: the ugly panic and seemingly never-ending uphill battles as well as the breakthrough epiphanies and the solace of newfound peace. veil lets down all his guards and bares his imperfect self for all to see. The climax of personal understanding hits even harder after having seen the long, broken road the young rapper had just traveled.
When the concept of youth is discussed in art, it's often romanticized, a symbol of innocence and purity – something to be yearned after and remembered. But to redveil, it also represents blindness, an unawareness to the world and the promise of a harsh realization of reality as one grows older. He acknowledges this on "new info,": "My energy, my biggest weapon /A sentiment I understood when I was less irreverent." But he doesn't ascribe to panic or doom. A stunning hook by Mekdelawit on "shoulder" ("Sit and watch my youth wash away") precedes redveil refusing to wallow in the vanishing of his childhood: "Learn to maneuver, we swimming, we never drown."
The album's final track, "working on it,"  sees redveil embracing his challenges instead of avoiding them. The phrase "I don't wanna run no more," loops at the song's opening before he speaks to the therapeutic qualities of creating music: "This the only thing I ever use to clear my filthy head/Toxins had me with the bedrock, can't do that again." Choosing to leave that track for the end of the project gives the album a hazy ending, feeling like the lessons redveil provides are a work in progress and not constrained by the tracklist.
Redveil's production is overall stellar and a strong statement about the importance of independence, but occasionally he falls into traps of nostalgia-gazing without separating his influences from his own work. The beat for "better" sounds like it could come from an early Common album and doesn't provide much life for the raps. Similarly, the "shoulder" sample feels trite. Luckily, the overwhelmingly striking production drowns out the hiccups, complete with beautiful big band instrumentation. Whether it's the clash of the cymbals or the crisp snares, veil creates an audio experience that's full of life.
learn 2 swim is veil's most honest and unvarnished body of work in his young career. The writing is nuanced and sharp: it speaks not only to his own experiences but provides lessons and coping mechanisms to others in similar situations without feeling preachy. The songs may not hit the same commercial benchmarks as some of his breakout tracks from past albums, but learn 2 swim is a sweeping success, an inspiring adventure through one of rap's youngest and most fascinating minds. 
REPEAT ME:
FAN FEEDBACK:
https://twitter.com/rmell_/status/1531660079627485185?s=20&t=TJgZWCeWk6mvb03qgt-LHg
https://twitter.com/spacecowboyhash/status/1530024977734541312?s=20&t=TJgZWCeWk6mvb03qgt-LHg
https://twitter.com/younglacksleep4/status/1535091785499922432?s=20&t=a6wTi1XSet1b2NUogiWH-w