Raphael Saadiq Reunites With Tony! Toni! Toné! For New Tour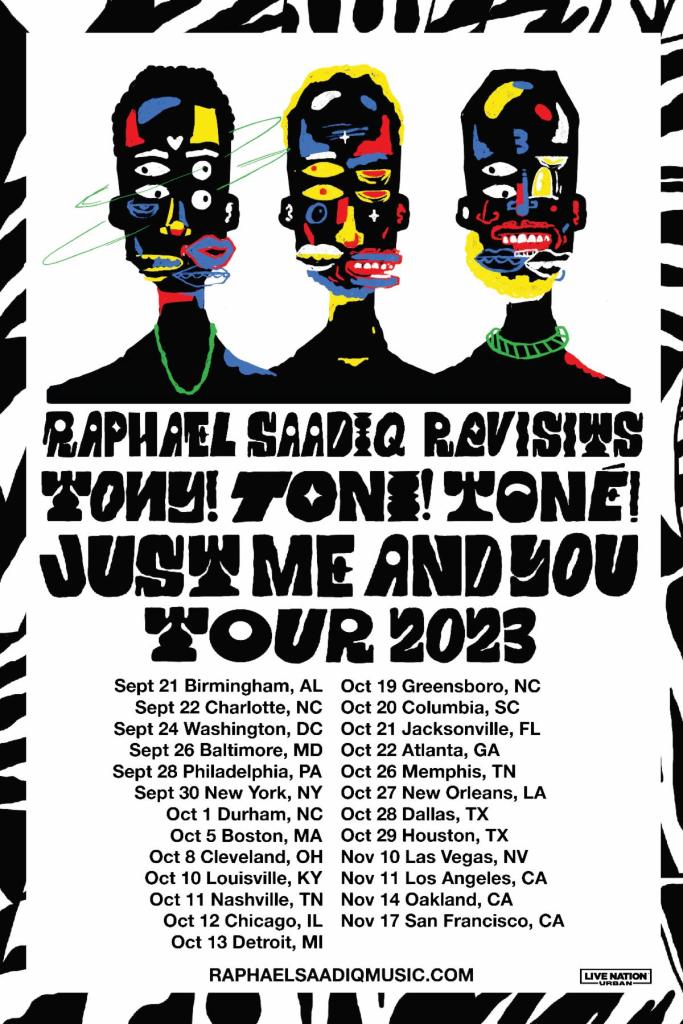 Raphael Saadiq Reunites With Tony! Toni! Toné! For New Tour
5768
In a Black Music Month miracle, Raphael Saadiq and his Tony! Toni! Toné! bandmates, D'Wayne Wiggins, and Timothy Christian Riley, have formally announced their reunion for their upcoming Just Me & You tour. This marks the trio's first time performing together in nearly 25 years.
"I've always wanted to put my family back together," Saadiq expressed in a statement. "Playing with the Tonys again is a thank you to the fans, the Super Tonians, for supporting all my musical efforts. Without those who were with us from Day One, where would I be? But the main reason is that my father, Charlie Wiggins, would've wanted it this way—to see me, D'Wayne, and Tim playing together again."
The 25-city run, produced by Live Nation, will "encompass songs from Saadiq's entire catalog" including "brand new material," his solo records and those with Lucy Pearl, hits he's written for others and, of course, tunes from Tony! Toni! Toné!'s legendary discography like "Feels Good," "Whatever You Want," "Anniversary," and "It Never Rains (In Southern California)."
The tour, that was first announced back in March, begins this fall in Birmingham, Ala. and will land in major cities like New York City, Detroit, Chicago, Nashville, Atlanta, Philadelphia, Los Angeles, and their hometown of Oakland.
A very special artist and Citi presale goes live Wednesday, June 21, at 10 a.m. local time. The Live Nation and Spotify presales will follow on Thursday, June 22, at 10 a.m. local time. General on-sale will be available on Friday, June 23 at 10 a.m. local time.  All tickets may be purchased through Saadiq's official website.
See the full tour dates below.
Sept. 21 – Birmingham, AL – BJCC Concert Hall
Sept. 22 – Charlotte, NC – Ovens Auditorium
Sept. 24 – Washington, DC – The Theater at MGM National Harbor
Sept. 26 – Baltimore, MD – Lyric Opera House
Sept. 28 – Philadelphia, PA – The Met
Sept.30 – New York, NY – Radio City Music Hall
Oct. 1 – Durham, NC – Durham Performing Arts Center
Oct. 5 – Boston, MA – Orpheum Theatre
Oct. 8 – Cleveland, OH – State Theatre
Oct. 10 – Louisville, KY – Louisville Palace
Oct. 11 – Nashville, TN – Ryman Auditorium
Oct. 12 – Chicago, IL – Chicago Theatre
Oct. 13 – Detroit, MI – Fox Theatre
Oct. 19 – Greensboro, NC – Steven Tanger Center for the Performing Arts
Oct. 20 – Columbia, SC – The Township Auditorium
Oct. 21 – Jacksonville, FL – Moran Theater
Oct. 22 – Atlanta, GA – Fox Theatre
Oct. 26 – Memphis, TN – Orpheum Theatre
Oct. 27 – New Orleans, LA – Orpheum Theatre
Oct. 28 – Dallas, TX – Music Hall at Fair Park
Oct. 29 – Sugar Land, TX – Smart Financial Centre at Sugar Land
Nov. 10 – Las Vegas, NV – Pearl Concert Theater at Palms Casino Resort
Nov. 11 – Los Angeles, CA – YouTube Theater
Nov. 14 – Oakland, CA – Paramount Theatre
Nov. 17 – San Francisco, CA – The Masonic