Big Freedia, Lil Wayne, And Boyfriend Conquer Storms In New Song "El Niño"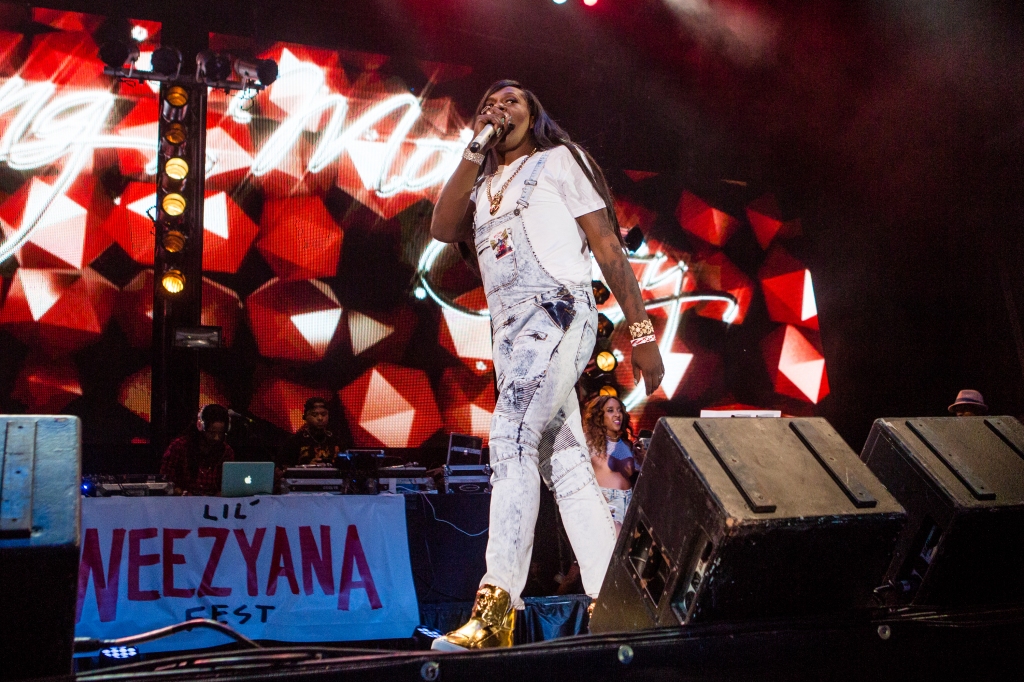 Big Freedia, Lil Wayne, And Boyfriend Conquer Storms In New Song "El Niño"
7210
Queen of bounce music Big Freedia has released her new single "El Niño" featuring Lil Wayne and Boyfriend. In a true full-circle moment, Freedia performed at Wayne's Weezyana Festival in 2015, and is now collaborating with the fellow NOLA legend on wax.
"'El Niño' is about going hard in any storms that come in your life and conquering them!" Big Freedia shared in a press release. "It's one of my favorite songs on this record, it features my longtime collaborator Boyfriend, and it's also my first collab with Lil Wayne, who I've wanted to work with for a long time.
"We put it down for our city, and this song is gonna have everyone blowin down!"
The single, which hails from her forthcoming album Central City, sees Freedia, Weezy and Boyfriend lyricize standing tall during challenges and weathering any storms in their path.
Boyfriend dashes in between verses with, "This bi**h bout to be gone with the wind/ Coming at you with category 10/ This bi**h is really on one again/ This bi**h bout to be gone with the wind," as Freedia repeatedly warns, "I'm bout to go El Niño!"
Weezy comes in strong on the track delivering a fire verse as he raps, "I'm bout to go El f**king niño/ I'm bout to go Hurricane Katrina/ The top of my cup light purple/ Looking just like Megan Rapinoe/ The stick long like El Camino, it stay within arm's reach/ If I step a foot on ya'll street, I'll be the wolf on ya'll street."
Listen below:
"El Niño" is the fourth single from Big Freedia's second studio album set to release this Friday (June 23). Created through her own imprint Queen Diva (ADA Worldwide), the 16-track LP includes features from the aforementioned along with Faith Evans, Ciara, Kelly Price, Kamaiyah, Sonyae, and The Soul Rebels. Freedia has also notoriously worked with Beyoncé, Drake and more.
In addition to her big album release, Big Freedia is also set to go on tour this summer. The Central City trek will kick off in Brooklyn, NY on June 23 before concluding late in August in Columbus, Ohio.
Check out tour dates below and find tickets here.
6/23: Brooklyn, NY at Ladyland Festival 
6/24: San Francisco, CA at Great Northern Pink Block Party
6/25: Denver, CO at Denver Pride 
7/13: Chicago, IL at Millennium Park
7/15: Detroit, MI at Soundboard at Motor City Casino Hotel 
7/20: Asheville, NC at The Grey Eagle 
7/21: Knoxville, TN at The Bijou Theatre 
7/22: Memphis, TN at Growlers 
7/23: Little Rock, AR at Black Pride 
7/28: Napa, CA at Blue Note Jazz Festival 
8/4: Newport Jazz Festival 
8/5: Montgomery, NY at City WInery 
8/19: Charlotte, NC at Charlotte Pride
8/25: Columbus, OH at Wonderbus Music and Arts Festival