Railey And Seazynn Gilliland Bring Tegan And Sara's 'High School' Story To Life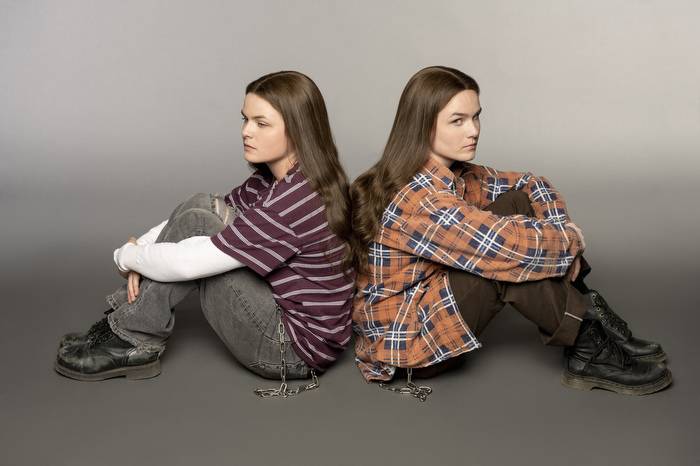 Railey And Seazynn Gilliland Bring Tegan And Sara's 'High School' Story To Life
76
Los Angeles, Calgary, London, the Toronto International Film Festival — the impressive globe-trotting done by 21-year-old twin sisters Railey and Seazynn Gilliland in the past year is all thanks to pop duo Tegan and Sara. Their new series, High School, a biographical coming-of-age tale based on the group's 2019 memoir of the same name, stars Railey and Seazynn as teenage versions of the musical Quin sisters as they navigate one of the most formative periods of life. Brought to the screen by Clea DuVall and Insecure's Laura Kittrell, the show is a poignant, quiet exploration of Tegan and Sara before they became critically acclaimed musicians, and the Gillilands helm it exquisitely. "This completely changed our lives," Railey says. "Every day they tell us our schedule or the things we're doing. It's like, how is this even real? Life seems so surreal."
If there is any shock in tone here, there's sufficient reason — neither Railey nor Seazynn had even considered acting before this year. The two were working at a pizza shop in their hometown of Fresno, California before being cast in spring 2022. How did they get from making pies in the Golden State to premiering a television show at TIFF and landing it on streamer Freevee beginning October 14? TikTok.
Seazynn and Railey weren't looking for fame when they posted videos to the platform. Railey's account is filled with short vlogs talking about something that happened in her day, or sometimes a fit check that she would drag Seazynn into. "TikTok wasn't our job," Seazynn explains. "It was just something to do when we were bored after work. Sometimes we would post a dancing video together." Nevertheless, the two exuded a natural charm that drew people in — and one of those people happened to be Tegan Quin.
The duo was in the midst of trying to cast their high-school selves when Tegan stumbled across one of Railey's videos. "She immediately thought, 'This is the younger me,'" Seazynn says. Tegan and Sara were determined to make the situation work in spite of everything; Railey and Seazynn would need acting classes, some musical training — and they'd have to learn who Tegan and Sara were. "I think it made it easier that we weren't familiar with them. We knew nothing about these people," Railey says. "It helped me not be in my head about it. We got to know them as friends and got to know them through the script."
While Railey and Seazynn became acquainted with the real-life Tegan and Sara, the decision on who would play who seemed to come easily to everyone — with Railey as the headstrong Tegan and Seazynn as the more secretive Sara. Tegan came to that conclusion the minute she came across Railey's TikTok account, and when Railey read the script sent over before their audition, she felt the same. "I hadn't even looked at the scripts yet," Seazynn mentions. "Railey had, and in the first one she read, Sara was being mean to Tegan and starting a fight. Railey was like, 'You're playing Sara.'"
Railey, bubbly and with a voice reminiscent of Alexis Bledel's Rory Gilmore, plays Tegan with tender desperation that is heart-warming at times and heart-wrenching at others. She's curious and fiercely protective of her sister, and it's hard to not notice the similarities to the person portraying her. The simmering intensity that Seazynn embodies for Sara is striking, and she masterfully delivers the dramatic moments of the show — like one where, while high, Sara manically analyzes the lyrics to The Smashing Pumpkins song "Disarm" while Tegan uncomfortably watches on.
"For me, it didn't really even feel like I was playing people in real life," Seazynn says. "It was so well written by Clea and Laura that it didn't feel like I was playing a real-life person who was sitting 20 feet away from me. There were very few times where I didn't feel the script was relatable to me." This made the experience so appealing to Railey and Seazynn, and it should for viewers, too. You get the feeling that these girls could be your neighbors, your peers, your friends; whether it's Tegan lying about being sick to stay home and teach herself guitar by watching Nirvana on MTV, or Sara telling people that Tegan isn't her sister during their fight, the show is full of moments to see yourself in.
Being twins helped connect Seazynn and Railey to the story, but so did the fact that both of them are gay as well. With Tegan and Sara as icons in the queer community, there was no doubt that their story would substantially explore this area of their lives. Telling a gay coming-of-age story is something that both sisters speak about with gravity. "I would have loved to have this show when I was 16," Railey emphasizes. "Being able to play a part in being that representation for other people just means so much to me." These are two sisters who have lived a very specific experience, and Railey and Seazynn understand it better than most.
Their bond is clear. During the conversation, Seazynn leans slightly back in her chair, cool and more reserved than her sister who is perched slightly behind her. At one point Railey trails off, poking at Seazynn and quietly urging her to talk about a fight scene that she loved (a standout moment between Sara and her step-father Patrick, played by Kyle Bornheimer). Later, Seazynn lists it as her favorite scene to film and gushes about the experience of working through it. The sisters make it known that having one another there was vital to the experience. "I couldn't have done it without her," Seazynn insists. "I wouldn't have done it without her."
And yes, the Gillilands now have a list of favorite Tegan and Sara songs. Their words crash into one another as they rattle off tunes like "Sentimental Tune," "100x," and "White Knuckles." "I can't name a bad song by them," Seazynn states definitively.