Quavo and Offset attend party to honor Takeoff's 29th birthday [PHOTOS]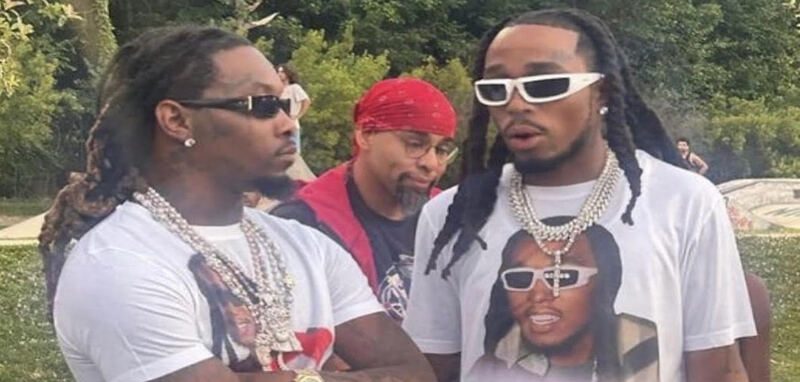 Quavo and Offset attend party to honor Takeoff's 29th birthday [PHOTOS]
7004
Quavo and Offset celebrate Takeoff's birthday in Atlanta
On Sunday, fans and loved ones of Takeoff celebrated what would've been the late Migos rapper's 29th birthday.This comes seven months after the fatal shooting of him, outside of a Houston bowling alley.
Meanwhile, Quavo and Offset went on to show Takeoff plenty of love on social media, to celebrate his life. Furthermore, a party was also held for Take in Atlanta, as both Offset and Quavo also attended. This comes after Migos split as a group last year, as Quavo and Offset's friendship also reportedly became damaged.
A photo of Quavo and Offset at Takeoff's birthday party also went viral on social media, on Sunday evening. Both were pictured wearing t-shirts which contained images of Takeoff on them. Both rappers had sunglasses on, but it's unclear if any conversation was made between the two.
Quavo and Offset both celebrating Takeoff's birthday on Sunday definitely seemed to be significant progress in repairing their friendship. The two reportedly got into a physical altercation backstage at the Grammys, in February. That was reportedly as a result of Quavo not letting Offset be part of his tribute performance to Takeoff.
Check out a closer look at Quavo and Offset at Takeoff's birthday, below. 
Quavo and Offset came together today
to celebrate Takeoff's 29th birthday ?? pic.twitter.com/8IHhiawklr

— AuxGod (@AuxGod_) June 19, 2023
Quavo and Offset celebrate Takeoff's birthday in Atlanta