Musiq Soulchild on New Album 'Victims & Villains': Interview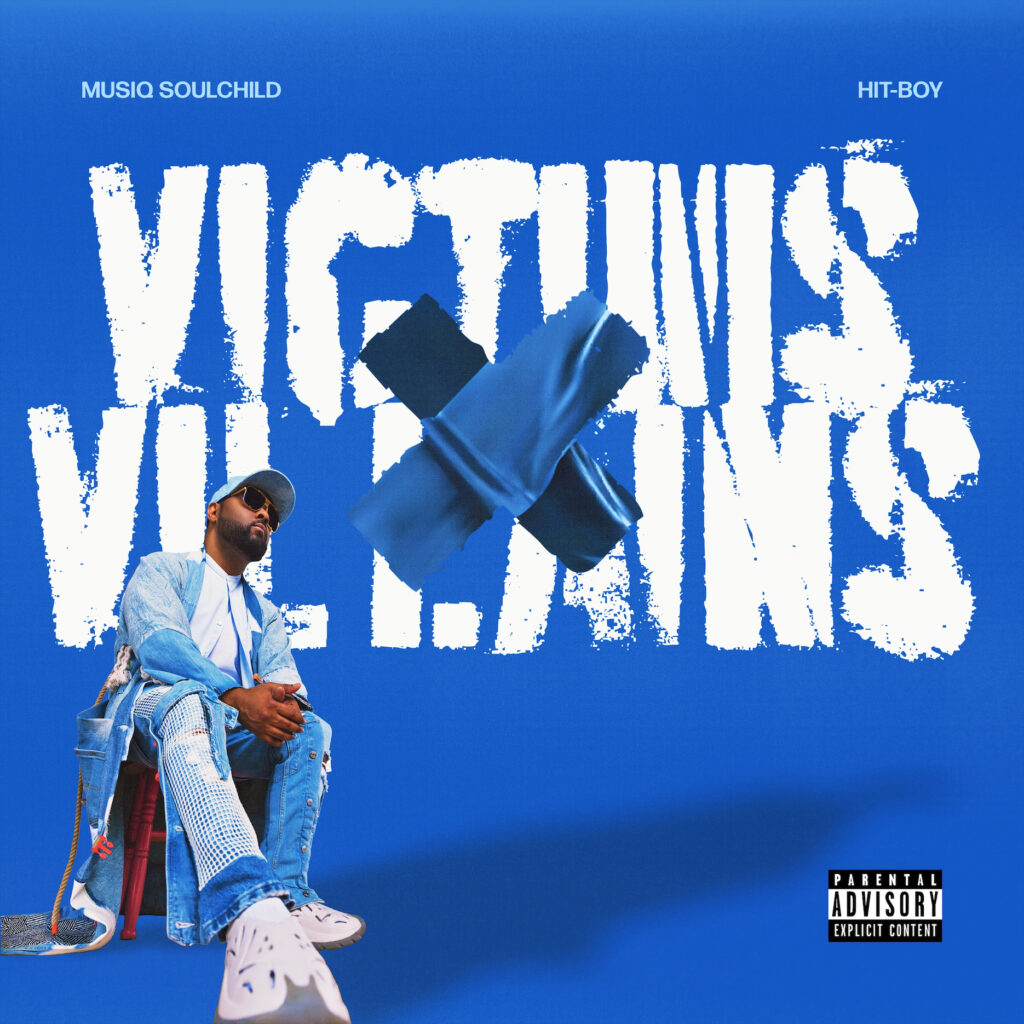 Musiq Soulchild on New Album 'Victims & Villains': Interview
55
"I didn't originally set out to write an album," Musiq Soulchild reveals to Rated R&B. He's talking about Victims & Villains, his collaborative project with producer Hit-Boy, out now. It's Soulchild's first album since 2017's Feel The Real, marking his longest gap between releases. The delay was somewhat intentional. He simply was not motivated to release an album.
No, it wasn't because he lost his passion for music. He never stopped recording songs. Since Feel The Real, Soulchild appeared on songs with Marsha Ambrosius ("For Better or Worse"), Kehlani ("Footsteps"), Ty Dolla $ign ("Your Turn") and Robert Glasper ("Everybody Love"), to name a few. He even quietly dropped a mixtape inspired by J. Dilla, Tha Soul Brotha Series Vol. 1: Dewitt4Dilla, and formed a new group, Lumi Trice, composed of himself, singer/songwriter A-Lex and producer David Luke.
"Recording wasn't the thing that I lost the fire for; it was more so putting something out to be consumed, critiqued, judged, misunderstood, talked sh*t about, and [me] having to over-explain," says Soulchild. He's referring to the notion of defending the depths of his artistry, which includes exploring sounds beyond the neo-soul stamp he was given when he debuted.
Soulchild emerged on the scene in 2000 with "Just Friends (Sunny)," which first appeared on Nutty Professor II: The Klumps (Original Motion Picture Soundtrack), then later as the lead single from his debut album, Aijuswanaseing, released on Def Jam's Def Soul imprint. Soulchild was among the crop of artists that were part of Philly's neo-soul movement at the start of the millennium.
[embedded content]
Yet, even then, he was adamant about not limiting the possibilities of his artistry. In a 2002 interview with CNN, Soulchild expressed he didn't want to be confined to what people thought he should be. "There's so much music out there and I refuse to allow myself to just stay in one space," Soulchild told CNN's Keona Humphries. "I like R&B music. I like hip-hop music. I like jazz music. I like rock music. I like gospel music. I like reggae music. I like music. I want to be able as an artist to tap into all of those areas."
Soulchild's genre-spanning musical palette informs his core sound, which he prescribes as hip-hop soul. While typecast as a neo-soul artist, he believes hip-hop soul is a more fitting description of his sound. "The first thing you ever heard from me was a beatbox," Soulchild points out about the intro of "Just Friends (Sunny)."
Throughout his career, Soulchild has incorporated hip-hop sensibilities into his music. Albums like Aijuswanaseing, Juslisen, and Soulstar all open with a hip-hop-influenced track. "B.U.D.D.Y.," the lead single from 2007's Luvanmusiq, pulls inspiration from rap group De La Soul's "Buddy (Native Tongue Decision)," which samples the bassline on Taana Gardner's "Heartbeat." Soulchild even melodically raps the verses. There are many other examples, but for the sake of brevity, we'll keep it short.
[embedded content]
Soulchild decided to experiment more with hip-hop via The Husel, another facet of his artistic identity that he formally introduced in 2014. Little did he know he would receive strong criticism from some fans and critics. Most notably, when he visited The Breakfast Club to talk about The Husel, host Charlamagne Tha God didn't waste any time telling Soulchild his unwarranted opinion. "I cannot respect The Husel. Musiq Soulchild is a great R&B singer; why conform to what these kids are doing today?" Charlamagne said to Soulchild at the start of their interview.
The interview was essentially 30 minutes of Soulchild defending his artistic freedom to explore different musical styles. Charlamagne later doubled down on his unsolicited opinion in his 2017 book, Black Privilege: Opportunities Come to Those Who Create It. "I offer my de-motivational speaking services free of charge to anyone I see chasing the wrong dream," he wrote.
Soulchild admits he was taken aback by all the adverse reactions to The Husel, mainly because he's always incorporated hip-hop stylings in his music. "I overestimated the creative support that I would've gotten from people and underestimated people's ability to transition over from one brand to the next," he expresses to Rated R&B before reflecting on how he would've corrected his approach (more on that later).
Soulchild went on to release The Husel's project, Husel Music, and his other alter-ego Purple WondaLuv's The Eternal Peace EP, in 2015. The latter identity, as Soulchild described, is a cross between Bob Marley and Sade, who sings about peace and love. "At that point, I was like, 'I think people don't want me to do anything different. So I'm just going to stick with the Musiq Soulchild thing,'" Soulchild shares.
He returned as Musiq Soulchild and released Life on Earth in 2016 and Feel The Real in 2017. Both albums scored him a Grammy nomination. Feel The Real was nominated for Best R&B Album at the 60th Grammy Awards, while "I Do" from Life On Earth received a nod for Best R&B Performance at the 59th Grammy Awards.
After his Feel The Real era, Soulchild didn't have the desire to release a proper album. As someone who has always been vocal about creating freely and unapologetically, it became uninspiring to be confined to one version of himself. But Soulchild no longer feels that way. "I liken it to the last 20-something years I've been doing my job proudly. Now, I want to do me," he declares.
Soulchild says working on Victims & Villains was the motivation he needed to release a body of work. "This is helping me get my footing back. It's the thing that 'gets me out of the house,' if you will," he notes.
All ten tracks on Victims & Villains, including the previously shared "I Remember You My Ex" and "Beat of a Slow Dance," were produced by Hit-Boy. The California-born producer has worked with rap heavyweights such as Jay-Z, Kanye West, Lil Wayne, Nas and Nicki Minaj, as well as R&B mainstays like Beyoncé, Brandy, John Legend and Mariah Carey.
Hit-Boy's familiarity with hip-hop and R&B and Soulchild's inclination to explore different soundscapes make for an ideal collaboration; it's why Victims & Villains flows seamlessly as an album.
Victims & Villains proves that the possibilities are endless when there's chemistry between a producer and an artist. The album is cohesive, yet each track plays like an episode of an anthology series, where Soulchild narrates vignettes of love, relationships and everything in between. By the end of the 38-minute set, you'll be eager for a second season from the singer and producer pair.
In Rated R&B's interview with Musiq Soulchild, the Grammy-nominated singer discusses Victims & Villains, reviving The Husel and reflects on his On My Radio, which turns 15 later this year.
What's the story behind linking with Hit-Boy for Victims & Villains?
It was an opportunity that presented itself, and I just leaned into it. I got in contact with Hit-Boy, picked some beats [and] came up with some cool concepts with my writing partner. I didn't originally set out to write an album. I was just recording songs to kind of keep myself busy long enough to — you kind of lose it a little bit… lose the passion, lose the fire. But I was like, "Why not? It's been a minute. It'll be cool to put something fresh out in the streets."
Did working on this album reignite that flame you once had?
Well, it wasn't recording that I lost the fire for; it was more so putting something out to be consumed, critiqued, judged by people, misunderstood, talked sh*t about, and [me] having to over-explain.
You described Victims & Villains as a conversation piece. What sort of conversations did you have with others, if anyone, when you were writing and recording?
[I had conversations] with my writing partner A-Lex. [Victims & Villains] is a reflection of the series of conversations we tend to have about relationships and life in general, specifically interactions with other people concerning concepts of getting along, understanding each other [and] communicating with each other. Also, there's the concept of intimate and romantic spaces, situationships, or whatever type of activity you might be a part of in that space because that's a spectrum. Not everybody is really together; they kind of sorta is, but then again, not really. You don't know what to call it. It's a lot of that going on.
I think the [dating] landscape has changed so much, especially in the world of social media and people living out their fantasies, even though it's not sustainable or realistic. I want to inspire conversations so people can take stock of what the hell is happening, instead of getting on these platforms, talking a lot of sh*t and complaining about stuff. It's like, "Okay, I feel you but what are you going to do about it? We could talk about these things, but you might want to consider that you might be the problem."
A lot of people think they're the victim, but really the villain. And a lot of people think that sometimes whoever's telling the story about the villain might be the victim. It's all a matter of perspectives and what you choose to subscribe to — myself included. Sometimes people take it like you're wagging your finger at them. It's like, Nah, I'm included in that as well. That's where it's coming from. I did my own assessment. I've had conversations with people I respect to get their opinions and perspectives. Sometimes it's not comfortable, but it is what it is.
[embedded content]
You brought back your hip-hop persona, The Husel, for the album. What made The Husel the right fit for "imreallytrnaf*ckwichu"?
That's a bold move to bring up The Husel (laughs). Most people don't want to talk about The Husel. I've had to accept that sometimes when you're sensitive about your stuff, it feels like everybody feels that way. I had to shift my perspective to realize that it's just a loud minority of people that would be perfectly fine if The Husel never did nothing else again. But I still got time for that offering. I will admit I didn't put a lot of thought or prep into The Husel. I overestimated the creative support I would've gotten from people and underestimated people's ability to transition from one brand to the next.
What would you have done differently for The Husel?
I should have presented it differently. It had a lot to do with the fact that I hadn't released anything as Musiq Soulchild in a while, so to come out as The Husel is like, "Bro, this is not what we want." I don't feel like The Husel got a fair shot. I'm assuming accountability because I could have had a better rollout process. I was like, "Nah, my people [are] going to get it." A lot of people did get it, but I was so turned off by the negativity. Social media can be a wildfire, and not to completely put it on that, but that wave just hit me at the wrong time. It was a lot of personal stuff happening at the time. I just threw the whole thing in the trash. But then I was like, "Nah, that's not fair."
Does The Husel appearing on the album mean we will hear from your other alter ego Purple WondaLuv?
Look at you, Mr. I Did My Homework (laughs). For the record, I really appreciate your line of questioning because I don't get that a lot. I was thoroughly convinced nobody gave a f**k about The Husel, so that's kind of why I left it alone. But I still got love for The Husel in my heart; that's why I can't let it go. I just had to restructure and actually A&R The Husel. I had to sit back and say, "If I'm going to do this for real, how should I go about it?" I'm still formulating that plan, but for my last album and this album, I saw an opportunity. It was like, "Well, while I'm in the process of figuring that out, I think this would be cool." I brought The Husel into Musiq Soulchild's world. I did the same exact thing with Purple WondaLuv, but it's not surprising at all that people gravitated more to Purple WondaLuv. But at that point, I was like, "I think people don't want me to do anything different, so I'm just going to stick with the Musiq Soulchild thing." I feel differently now.
[embedded content]
How would you describe the sonic experience of Victims & Villains?
This is not your typical R&B experience. Lowkey, I never really was an R&B artist. I just happened to be R&B adjacent enough that people adopted me into that fold. I've just been doing my best to live up to that.
For those who may not know, what type of artist do you see yourself as?
I've always said it's hip-hop soul. If you're thinking of Musiq Soulchild as strictly R&B, I can understand why The Husel could be a hard left.
What do you want your fans and listeners to take away from Victims & Villains?
I want them to have an open mind. I don't want them to feel like it's supposed to be this or that. You rob yourself of the experience when you do that. There's enough on this project for a multitude of demographics to appreciate. I'm just trying to introduce the concept that some artists want to do more than what you know them for. I don't mean that to say I'm doing a bunch of crazy sh*t on this project. I'm speaking from an aesthetic standpoint. This may not fit your concept of what traditional R&B may be. I don't consider it R&B. I accept it if that's what you want to call it, but I think it's hip-hop soul. If you frame it in your mind as hip-hop soul while you're listening, you will enjoy it more.
Your album On My Radio turns 15 this year. One of my favorite joints on the album is "Radio."
It's funny that you brought that up because that was the beginning of The Husel, but I didn't have the name. I didn't have whatever it all started to become. All I had was Musiq Soulchild doing this different thing. That's basically a snapshot of the beginning of what ultimately became The Husel.
[embedded content]
You also teamed with Mary J. Blige on the duet "If U Leave." What do you remember about the recording sessions?
Her feature came later. I actually recorded the whole song myself. There was a push to make that song a single. I don't know who specifically, but somebody got the bright idea to be like, "Yo, we should make this song an event. How can we do that?" I wasn't part of the conversation, but I heard little murmurings here and there. Some ideas got thrown around and somebody landed on putting Mary J. Blige on it. I mean, I'm not going to say "no." Take my verse off. I don't care. Put her on there! It was dope that she decided to do that. She didn't have to do that. She was already GOATED. The fact that she was willing to put time aside to contribute to my timeline, I will forever be grateful for that. I really appreciate her doing that. She Mary'd it, you know what I'm saying? You couldn't ask for a better combo at that time. I've been a fan basically my whole life and appreciate that moment.
[embedded content]
Have you started thinking about your next solo Musiq Soulchild album, or are you just taking in this moment?
Right now, I think this is working for me. To your question earlier, this is helping me get my footing back. It's the thing that "gets me out of the house," if you will. I'm personally excited to work with Hit-Boy. He's a genius. I think he has a lot of undiscovered talents, musically. He's already accomplished a lot, but he got a lot of range. I'm grateful that I can be a representation of that range. I think it's a cool project. I'm more excited for what we [are] working on next. Not to be greedy. I know I got food on my plate and I'm thinking about my next meal, but I'm really excited. I haven't been this excited in a very long time.
Stream Musiq Soulchild and Hit-Boy's new album Victims & Villains below.