Megan Thee Stallion wax figures revealed by Madame Tussauds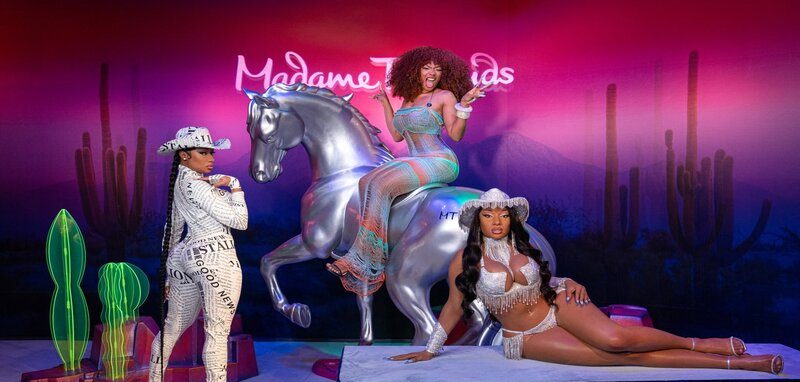 Megan Thee Stallion wax figures revealed by Madame Tussauds
6077
Madame Tussauds unveils Megan Thee Stallion wax figures
The Madame Tussauds wax museum frequently trends on social media, due to the various was figures of celebrities that they create. They have museums worldwide, which includes North America and Europe. The latest celeb to have their own made of them, is Megan Thee Stallion.
Three different Megan Thee Stallion wax figures were revealed, as fans praised these designs, due to their impressive accuracy. One figure has Meg wearing an outfit which promotes her 2020 debut studio album, "Good News." Another has Megan sporting an aqua-colored outfit, while she's posing with peace signs. The third wax figure displays Megan with her Tina Snow character vibes, as she has a cowgirl hat on, as well as a sparkling crop top.
Meanwhile, Megan has been back on the scene, after taking a hiatus from November-February. She's since performed at the NCAA March Madness Festival AT&T Block Party in her hometown of Houston, and even visited Vice President Kamala Harris' home. Megan also threw out the first pitch at a Houston Astros game, which heavily trended on social media.
Check out the new Megan Thee wax figures created by Madame Tussauds, below.
Madame Tussauds unveils Megan Thee Stallion wax figures