Mary J. Blige on Season Three of 'Power Book II: Ghost': Interview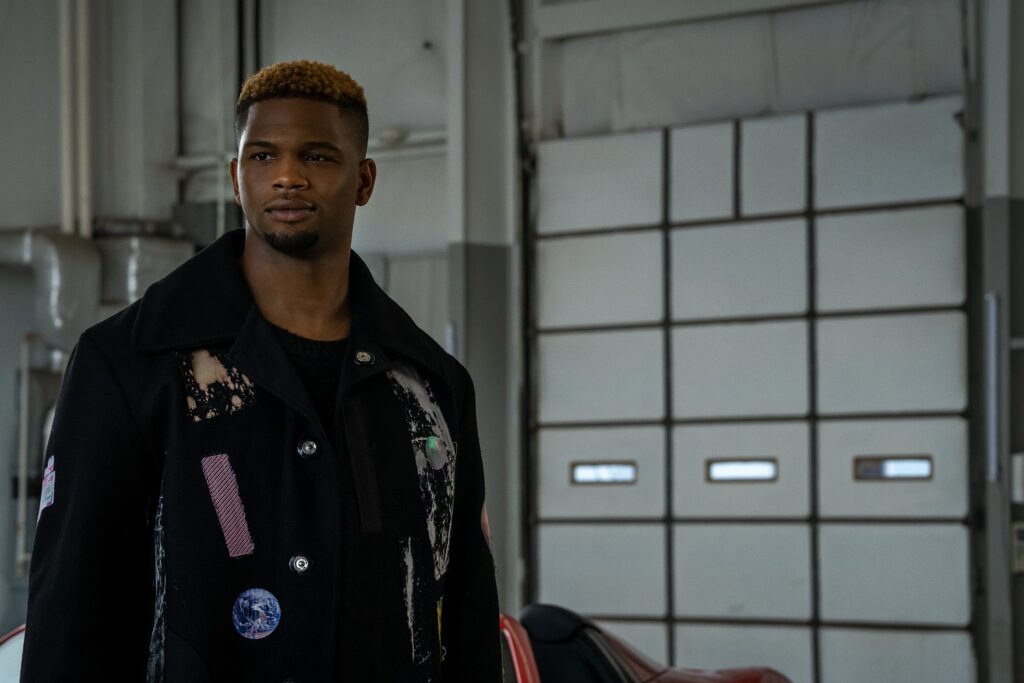 Mary J. Blige on Season Three of 'Power Book II: Ghost': Interview
63
Sporting a red mock neck sheer top and large gold hoops, Mary J. Blige is iced-out late Wednesday afternoon for our interview in anticipation of the upcoming season three of Power Book II: Ghost on Starz.
The Queen of Hip-Hop Soul, who stars as Monet Tejada, the matriarch of a family drug enterprise, is fresh off the heels of six Grammy nominations, each in support of her 2022 album, Good Morning Gorgeous (Deluxe).
A regal Blige delivered an anthemic performance of "Good Morning Gorgeous," the self-loving title track, at the 65th Annual Grammy Awards in early February. Oscar and Grammy winner D'Mile co-produced the affirming tune with H.E.R.
D'Mile also produced Blige's collaboration with rapper Dave East, "Rent Money," a jazz-induced song that charted a period in which she paid alimony to her ex-husband and manager.
[embedded content]
Blige says the hip-hop soul track answers Monet's way of thinking this season following the fatal mistaken case of identity involving her nephew-turned-son, Ezekiel "Zeke" Cross (played by Daniel Bellomy).
"Right now, it would be 'Rent Money' from the Good Morning Gorgeous album because right now someone has to pay," Blige tells Rated R&B of what song from her catalog reminds her of Monet this season. "Something is due to Monet so she can feel better."
Zeke goes into the season two finale feeling betrayed after learning in the previous episode that Monet is not his aunt but his mother. He wants nothing to do with his family, specifically her.
With his first year at Stansfield University nearly complete, Zeke decides to leave college early for the NBA draft. However, his actual age of 23 is revealed, which costs him his meal ticket.
Dante Spears, a.k.a. Mecca (played by Daniel Sunjata) — part drug supplier for the Tejada family and an unhinged former teenage lover of Monet — (and also a government informant) — makes himself known to Zeke as his estranged father.
Learning of his draft dilemma, Mecca gains Zeke's trust by promising him a shot at playing professional basketball overseas as he awaits a chance to play for the NBA.
But before those seemingly surefire plans can come to life, the plot takes a tragic turn for both Mecca and Zeke. Zeke is mistakenly gunned down from behind by Monet's husband, Lorenzo (played by Berto Colón).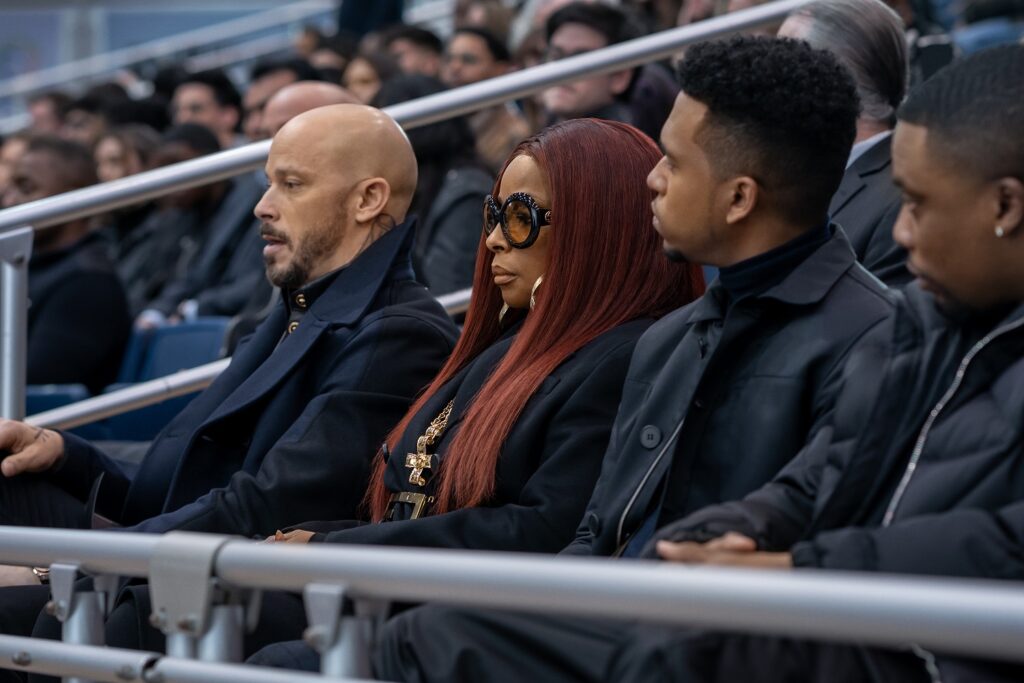 In Character
Fast forward to the first episode of season three: "Your Perception, Your Reality." For episode one, directed by Geary McLeod and written by Brett Mahoney and Ashley Victoria Hudson, the logline, in part, states, "Monet grieves the loss of Zeke."
Method Man, who plays defense lawyer Davis MacLean in Ghost, took part in the 50th-anniversary hip-hop segment at this year's Grammy Awards. He built excitement for Blige's character this season on the Grammy red carpet, saying she "has a brilliant arc; you guys don't want to miss it."
Blige, whose fans have experienced a merciless queen pin in seasons one and two, concurs with Method Man with respect to fans seeing a different side of Monet this season.
"What changes is the fact that people get to see she's a human being," Blige says. "She's mourning over Zeke, but she's also sad at the fact that she can't get out of the game when she was trying to get out. Now, she's super vulnerable but [has] suppressed anger because she's trying to figure out what's her next plan, what she's going to do now."
In a November 2021 interview with Tamron Hall, Blige reflected on her dark headspace ahead of her headlining Essence Festival in 2017. "When I saw you, I was smack dab in the middle of a huge divorce, which is a heavy thing; it's like a death," Blige told Hall.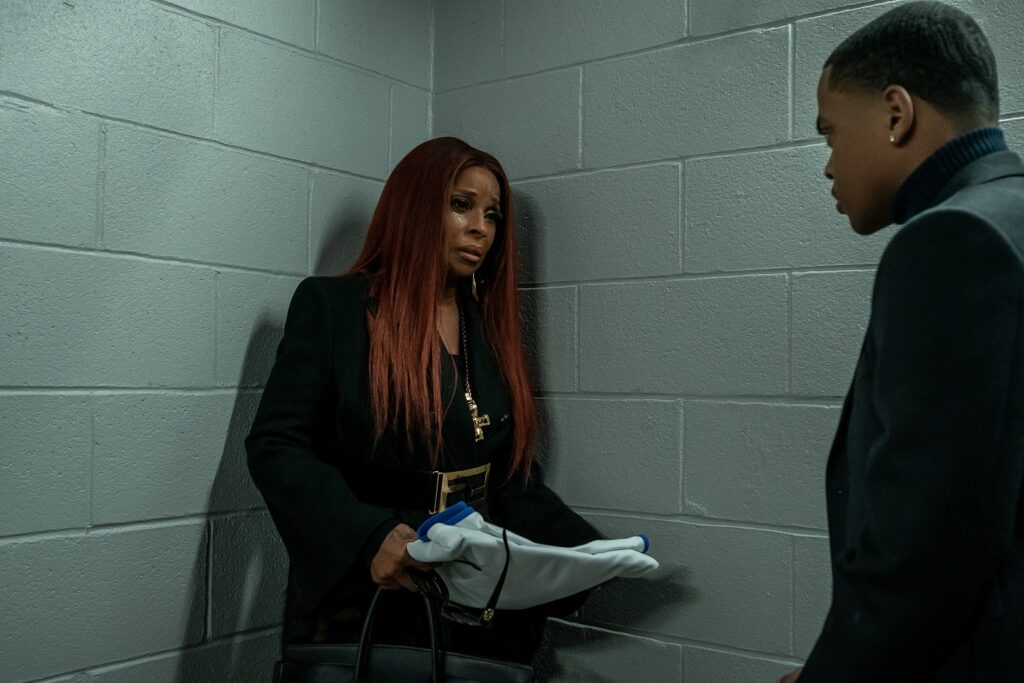 Inviting those fiery feelings back into one's life for the sake of art can be painful, but it's how heartfelt songs such as "Enough" and "Love Will Never," from Blige's Good Morning Gorgeous album, are born. It's also how Blige gave Monet a relatable presence this season.
"The place I draw [from] to even make that character come to life is just remembering how certain people or [a] certain person [made me feel]," Blige reflects. "I always say I wouldn't wish divorce on my worst enemy because that's the place of mourning where you have to give [it] to Monet, and I have to draw from those places for that to look real like that because that's a real situation."
Being Unfiltered, Uplifting Women and Celebrating Music
Starring simultaneously in two shows on different networks is not unusual. During our interview, Blige shifts her focus from Starz to BET, debuting the first episode of The Wine Down with Mary J. Blige, a new unscripted series under her production company Blue Butterfly, that evening.
As Monet, Blige comes off on screen as thick-skinned and hardhearted to those close to her. But The Wine Down grants more access to Blige than ever before. She gets candid about life, sex and relationships with close industry friends.
Award-winning actress Taraji P. Henson and rapper Yung Miami of City Girls joined Blige for episode one, while rap mogul and Power co-creator 50 Cent chatted and sipped Blige's Sun Goddess wine in episode two.
Earlier this month, Blige announced the return of her Strength of a Woman Festival and Summit, in partnership with Pepsi and Live Nation Urban. What started as a three-day affair last Mother's Day weekend has now blossomed into a four-day event, uniting different generations of fans to a dynamic mix of musical performances, panel discussions, a Sunday brunch and more.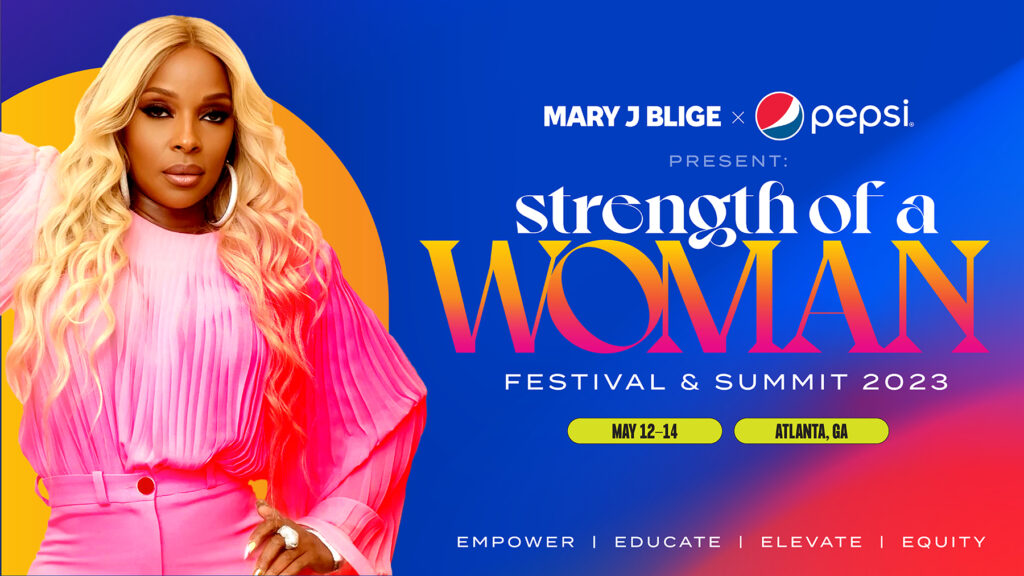 When it comes to embracing a new class of artists, particularly in genres such as R&B and hip-hop, Blige always extends her hand to give emerging stars a stage to tell their stories. Previous tour supports included Usher, LeToya Luckett, Miguel, Jazmine Sullivan, Ro James, and most recently, Ella Mai and Queen Naija, who were part of her Good Morning Gorgeous Tour last fall.
Kiana Ledé, MK XYZ, City Girls, and Rubi Rose were among the fresh faces on the 2022 Strength of a Woman Festival and Summit lineup. And like the inaugural edition, Blige keeps the new generation top of mind for year two, enlisting Summer Walker, Lucky Daye, Coco Jones and Muni Long to share their gifts.
Similar to the legendary group The O'Jays, Blige says she's merely giving the people what they want. "[I'm] just inviting some of the new artists that are making an impact in the R&B world and hip-hop," she notes.
"And just bringing the entertainment that people want to see and hear and having panels and strong women discussions and the whole thing that we did [last year] but just to another level with other artists that we love and respect and that people love and respect."
Celebrating hip-hop is something that Blige has always done, going back to her first album, 1992's What's the 411? released 30 years ago. With hip-hop in its 50th year, Blige plans to recognize its staples on night two of the festival, which she will headline by playing B-sides from her stacked catalog. It will also include sets from Jeezy, Method Man, Busta Rhymes, Jadakiss and more.
When asked one hip-hop pioneer she would collaborate with for a best-of-both-world album, Blige pauses. "Oh, that's a tough question," she replies. "Dead or alive?" she asks. Then, with approval, she confidently selects four lyricists: "Biggie, Jay-Z, Method Man and Nas. Top four."
Another milestone this year is The Tour, Blige's first live album recorded during her Share My World Tour. The LP turns 25 this summer.
Full of songs from her first three albums as well as remakes of soul favorites ("Misty Blue," "Day Dreaming") that are close to her heart, The Tour is a live set of flawed vocal performances. The lavender costume worn on the cover artwork stands out the most in Blige's mind 25 years later.
"I will never forget that I got my heel stuck in the beads or something that was on [the train]," Blige remembers with a laugh. "My fans, they were like, 'It's cool.' I didn't fall — it was just a moment where I got stuck, and that's the album cover outfit."
Season three of Power Book II: Ghost premieres Sunday, March 17, at 9 p.m. ET on Starz. Watch the trailer featuring Mary J. Blige below.
[embedded content]