Man picks a woman up, after the woman asks what he'd do if she wanted to go home with him, and then he accidentally dropped her [VIDEO]
Man picks a woman up, after the woman asks what he'd do if she wanted to go home with him, and then he accidentally dropped her [VIDEO]
13390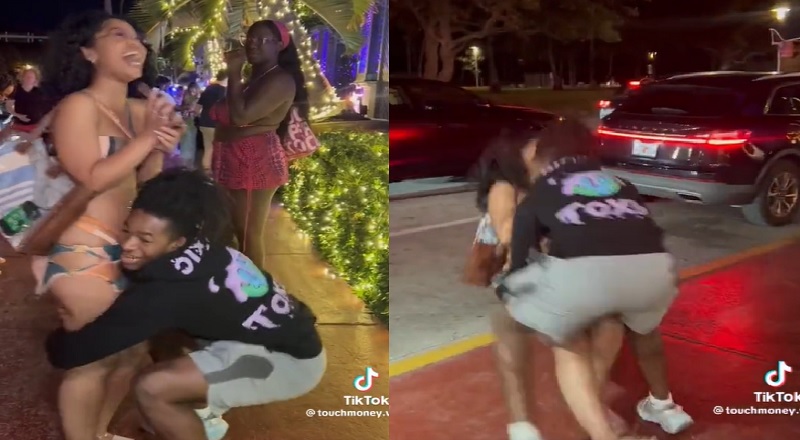 Man smoothly picks a woman up and then literally drops her
Some people are blessed with the gift of gab, meaning they say the right things at the right times to the right people. Honestly, a lot of these TikTok-style interviews are conducted by men who want to talk to women. In most cases, without the phone and the camera, these women would not talk to them so openly. One man went about doing this, but the woman began asking him questions. When she asked what he would do if she wanted to go home with him, he literally picked her up. After that, he accidentally dropped her.
Everybody has different gifts and the ability to hold a conversation is one. Plenty of people talk and talk a lot. However, most of the time, what they have to say isn't worth it. None of that means people should stop trying. What has happened, though, is that people have used social media as a new way to communicate. As a result, people are getting over their barriers, and building relationships in that manner. For one man doing TikTok interviews, this worked. After all, he knew what to say and he knew what to do.
Had things gone slightly different for this TikToker, he would've gone down in history. This man was interviewing a woman and she flipped the script. As the man was asking her questions, she only asked him one question. She asked the man what he would do if she wanted to go home with him right now. This guy wasted no time picking the woman up and putting her over his shoulder. However, he undid all of this progress when he wasn't able to hold onto her, and accidentally dropped her on the pavement.
Man smoothly picks a woman up and then literally drops her