Kiana Ledé, Victoria Monét, Ambré, And More New R&B To Set You Straight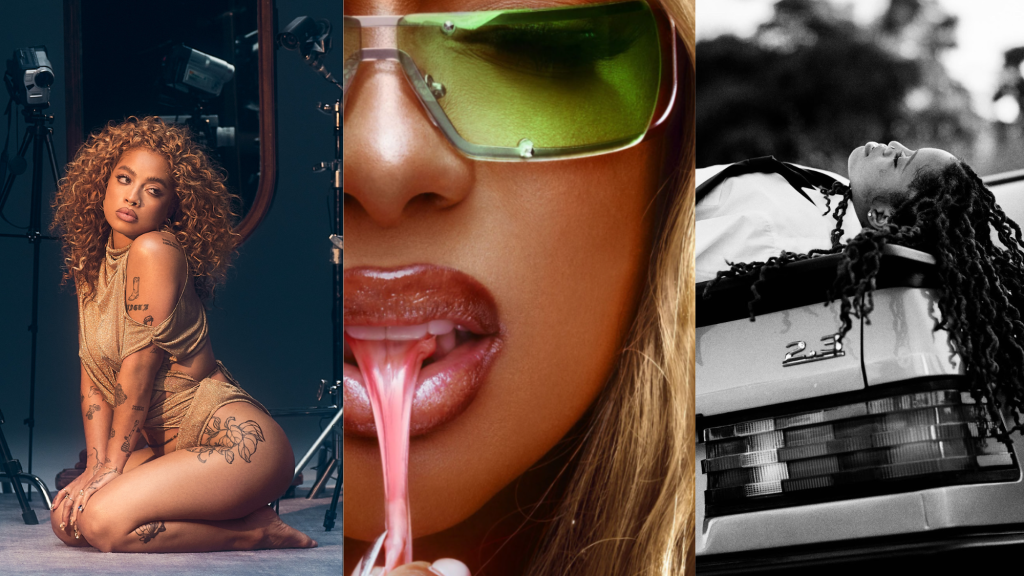 Kiana Ledé, Victoria Monét, Ambré, And More New R&B To Set You Straight
6901
This week's R&B releases prove the genre can be just as fun as it is therapeutic, sensual, and loving.
Victoria Monét unveiled her highly-anticipated single, "On My Mama," from her upcoming album, JAGUAR II. Kiana Ledé confronts her one-sided resentment through lust, heartbreak, and rewritten endings with her sophomore album, Grudges. Meanwhile, Alex Isley and her father, Ernie Isley of The Isley Brothers have released their first duet together titled "Brown Eyed Girl," just in time for Father's Day.
Ambré feeds fans' craving between projects with her new EP, who's loving you, just as PHABO, ASTN, and JAHKOY put on for the men of R&B. Leigh-Anne is our one pop outlier because the Little Mix alum has returned to the music scene with her solo debut. Her newfound freedom isn't out here on its own because Asiahn is celebrating the same thing with her new single, "Do Bad." Not to mention, newcomer Samyra has shared her newest record, "Tequila In My Room," which can be paired perfectly with Meshell Ndegeocello's Blue Note debut, The Omnichord Real Book.
Whether you need something to help fight a flame, name your problems, nip something in the bud, or justify where your heart and head is at, may this week's new R&B selections get you together.
Kiana Ledé – Grudges
Kiana did her big one with Grudges. At her most vulnerable, she also gives us her best, which is love. The LP is a sensual, reflective, slightly toxic, but overall honest story of self-inflicted growth. She revealed to VIBE that the album was initially titled Closure, but that didn't accurately encapsulate everything being discussed.
"It was more wishful thinking and looking into what I want my future to look like. I was definitely on my way there, but I didn't feel complete closure until the album was actually done. I think you have to name what the problems are first before you work through them. This album is basically just me talking about all the grudges, so I can get to that real closure," she explained.
With the help of Bryson Tiller, Khalid, Kyle Dion, Joyce Wrice, Sinead Harnett, and Destin Conrad, Grudges "represent her most unfiltered, unbreakable, and undeniable vision thus far."
Victoria Monét – "On My Mama"
It's JAGUAR season as Victoria Monét goes 3-for-3 with the arrival of her newest single, "On My Mama." Per RCA, this will be the final single before fans can fully indulge in JAGUAR II. The summer anthem is a brilliant spin of Chalie Boy's 2009 classic track, "I Look Good." Not to mention, it is a dynamic conclusion to the album's single trifecta.
"'On My Mama' is the soundtrack to positive affirmations!" Monét explained in a statement. "Singing the lyrics about yourself will change your frequency and elevate a positive mental state. The words speak not only to physical features but to a feeling too because I believe when you feel good, you look even better! Give yourself the words you need to hear because it's true—you look good! There's no one like you and that's on ya mama. Enjoy being yourself witcha fine a**!" 
The record was first teased live at Monét's first headlining show in Los Angeles on March 31.
Alex Isley And Ernie Isley – "Brown Eyed Girl"
When we spoke with Alex Isley in 2022 for our Lineage series, she talked about one day partnering with her father musically. "I don't know when and how that would turn out, but of course, my dad and I especially have talked about creating together. Hopefully, in the near future, that'll take place."
The time has come. She and Ernie Isley have reimagined the Isley Brothers classic "Brown Eyed Girl" for their first-ever collaboration. The original song was a deep cut from the group's 1974 album, Live It Up.
The cover was presented by Soulection and paired with a live performance. When first teasing it on Tuesday (June 13), Alex wrote on Instagram, "Something special with my favorite songwriter, my Dad. This is the very first time my Dad and I have recorded together. Thank you Dad for such beautiful music & lyrics you wrote for you and your brothers years ago."
Ambré – who's loving you?
Following the release of Ambré's 3000°, she has gifted fans with its extension in the form of a new EP titled who's loving you?. The initial LP was an emotive ode to New Orleans classics, Juvenile's 400 Degreez and Lil Wayne's 500 Degreez.
"'who's loving you?' is a question I'm asking myself and asking the audience," Ambré said about the thorough introspective. "What does it feel like? What does it sound like to be loved? This project felt very free and open in the creative process. I made this with the intention of having fun and being open. I wanted to create something that felt like 'b-sides' or 'deep cuts,' almost like a mixtape. Still very intentional but it was very easy to make. The project begins where '3000°' ends."
Additionally, the EP comes ahead of her highly-anticipated Tiny Desk performance.
PHABO – Don't Get Too Cozy
PHABO's Don't Get Too Cozy is an alluring conglomeration of the emotions associated with new love and deep insecurities. It's his "earnest pursuit" of a new romantic prospect, coupled with intoxicating lust, and a silky, intimate duet featuring U.K. sensation, Shaé Universe.
The album also boasts of guest appearances from Ambré, Kalan.FrFr, and the previous release, "Stay" featuring Arin Ray. After the release of Soulquarius, the crooner himself declared he'd "never get too cozy with one project." He explained to Wonderland Magazine, that after that LP, " A lot of my emotions were wrapped in a jaded cloud. So I bottled up a lot of these frustrations and felt the only way to grow through them was to write them out in song form and share it with the masses."
Don't Get Too Cozy is also "more grown and sexy, more forward and less playful."
JAHKOY – "Man On Fire"
Following Healing Phase, Toronto-based crooner Jahkoy is back with another single, "Man On Fire." With a smooth undertone, the song is vocally reminiscent of Mario and Omarion as Jahkoy lures you into his state of mind.
He explained in a statement, "'Man On Fire' is about someone who feels a spark with that other person. Not only is there just a spark with that person, but there is a fire blaze from within. Feelings become so ignited that he is now a walking flame full of love (a blaze). It's an over-exaggeration of the feelings a man feels when he sees potential in a true lover that gets your mentally & emotionally. Not sure if she feels the same, but with hope that one day the feeling can be on fire together."
This is the lead single from his new project, Pretty Conversation, slated for release on August 16.
Asiahn – "Do Bad"
Asiahn is in her rightfully selfish era with new single, "Do Bad." Her airy vocals float throughout the track with a dominating 808 as she welcomes her devoted audience into her new musical era.
When teasing the record on Instagram, she wrote, "Guess what time it is?!?! Release time!! And I'm releasing all the shyt that don't serve me!! Let go of my last relationship, my last label, friends that weren't real friends annnddddd New Music!!"
She later added, "Surrender….. Let Go….. Choose different…I hope you know it's never too late to do what's best for you… In this season I recognize what flags I overlooked, what boundaries I let people cross, and that if someone shows you who they are—believe them (the FIRST time). I have never done bad by myself so I damn sure ain't about to start with someone else! Now that I've learned my lessons, I gracefully embark on this new chapter. I embrace the fall because sometimes when you fall you end up right where you're suppose to be."
ASTN Feat. Alex Vaughn – "How Soon (Remix)"
This dreamy duet from ASTN and Alex Vaughn is R&B at its finest. The pair share their distinct perspectives on when it's time to move on after a breakup.
For ASTN, he's attempting to make sense of his emotional capacity post-split as he questions, "how soon is too soon to get with someone?" Meanwhile, Vaughn—who is known to not let anyone play in her face as heard on The Hurtbook—displays a more hardened approach as she questions, "What you mean too soon?/ Did you think that I would make you stay especially when things ain't the way they used to be?"
Overall, the remix is described as an "impassioned rumination about coming to grips with a relationship that has run its course, and what that struggle looks like for two different people." ASTN's full-length project will arrive later this summer.
Meshell Ndegeocello – The Omnichord Real Book
This week, singer-songwriter Meshell Ndegeocello shared her masterful new album. Her Blue Note debut is soulful, jazzy, and soothing with a splatter of vibrancy.
"This album is about the way we see old things in new ways," Meshell explained in a statement. "Everything moved so quickly when my parents died. Changed my view of everything and myself in the blink of an eye. As I sifted through the remains of their life together, I found my first Real Book, the one my father gave me. I took their records, the ones I grew up hearing, learning, remembering. My mother gifted me with her ache, I carry the melancholy that defined her experience and, in turn, my experience of this thing called life calls me to disappear into my imagination and to hear the music."
We implore you to listen to this with an open mind, especially for newer fans of the legend.
Leigh-Anne – "Don't Say Love"
Leigh-Anne, formerly of Little Mix, is reclaiming her space as an artist with the help of her solo debut single, "Don't Say Love." The spirited track is a nod to her closing out her previous musical chapter as she embraces and marks her enlightening rebirth.
"'Don't Say Love' is about no longer seeking external validation and regaining my confidence and sense of self in a world where I often felt misunderstood and unheard," she explained. "This video is a visual representation of me finding my voice. I'm excited to continue to do so with my first love, music." 
Samyra – "Tequila In My Room"
Samyra is one of this generation's most talented artists. She has the range to be playful with a melody while delivering a guttural punch with her rifts and runs.
With her new single, she cathartically explores how she chooses to cop with a heartache as she simultaneously drags her ex for filth with the track's fervent lyricism.
"This is the most raw song I've ever written and recorded. Conveying this story both vocally and visually has allowed me to explore my artistry in a way I never have before," wrote Samyra on Instagram of the record. Though she hasn't announced any full-lengths projects, we anticipate the success of this record will serve an impetus for that.