Janelle Monáe, Mahalia, JoJo, Maeta, And Other New R&B For Life's Ebbs And Flows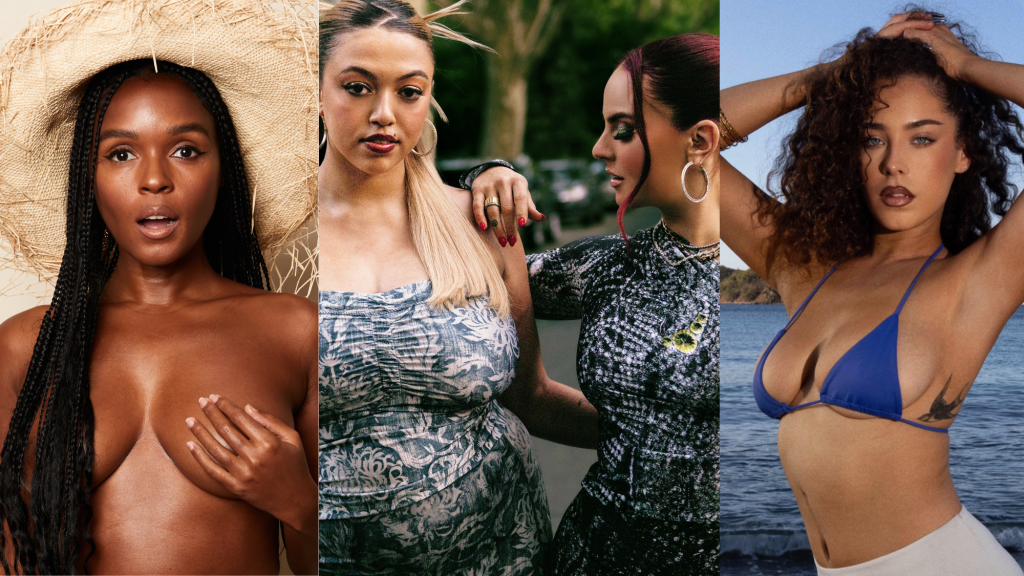 Janelle Monáe, Mahalia, JoJo, Maeta, And Other New R&B For Life's Ebbs And Flows
7622
Life can be extreme in nature. One minute, you may be inclined to run naked on a beach while in another, you may find yourself having a "come to Jesus" moment with yourself about self-imposed nonsense you're now consumed by. It can be a lot, but music doesn't just chronicle or soundtrack life. It can also serve as free therapy to get you through it.
This week, Janelle Monáe aptly unveils her fluid sound of freedom with The Age of Pleasure while BLK ODYSSY toys with the question of whether it's better to be love or lust. Surprise drops from Tiffany Gouché and LAVI$H have us wondering if we either need to escape for rediscovery or stand bold in the face of exploration.
There's a lot of joy with the week's new R&B selections, despite Mahalia and JoJo coming to each other as a woman on their catchy collab, "Cheat." Yet, it's the dreamy nature of ADIV and India Shawn's duet and B.K. Habermehl's meditative musing that have our attention as well.
Regardless of which end of life's spectrum you're on, get in where you fit in with our top new music picks.
Janelle Monáe – The Age Of Pleasure
The album rollout for Age of Pleasure might have reached the maximum nipple quota. However, the "free-a** motherf**ker" couldn't care less about the reactionary pearl clutching. Janelle Monáe's album amplifies the freedom embodied in the first two singles "Float" and "Lipstick Lover." Welcoming a new era for the 37-year-old, Age Of Pleasure combines genres and musical styles found across the African, Caribbean, and Black diaspora for a refreshing journey through sultry, sapphic, stanzas over steel drums.
"Most people don't understand what's going on in my brain," they explained. "Community has been so helpful to me; it's beautiful that I have a title called The Age of Pleasure because it actually re-centers me. It's not about an album anymore. I've changed my whole f**king lifestyle."
As confirmed by Monáe ahead of its release, the Age Of Pleasure represents exactly what the title signals. Across the 14 tracks, they manage to combine into just over 32 minutes, the Grammy-nominated performer establishes a space dedicated to prioritizing self-expression and satisfaction. With R&B, afrobeats, Hip-Hop, reggae, and blues influences, standout tracks include "Only Have Eyes 42," "French 75," "The Rush," and "A Dry Red." Features include Grace Jones, Sister Nancy, Amaarae, Doechii, Nia Long, Ckay, Seun Kuti, and Egypt 80. – DeMicia Inman
Maeta – When I Hear Your Name
Maeta is in her bag. As a self-proclaimed daydreamer and hopeless romantic, this EP is the next chapter in a romantic entanglement that she can't fully rid herself of. However, the Roc Nation signee was more than ready to unleash new music instead. "These songs [were] the soundtrack of my life for the past two years, I'm just ready to let them go," the 23-year-old explained to VIBE.
Despite the toxic nature of today's dating scene and a particular relationship, Maeta is embracing love's complexities as there's an eerie comfort in knowing that nobody really has it all together.
With features from Free Nationals, Ambré, James Fauntleroy, Ty Dolla $ign, and Lucky Daye, Maeta still asserts that this is her world we're being welcomed into. She is in the driver's seat of her music and life, regardless of who may think otherwise. – Mya Abraham
Mahalia Feat. JoJo – "Cheat"
In the similar vein of Brandy and Monica's "The Boy Is Mine," Mahalia links up with JoJo to expose the unintentionally shared custody of a man and embrace the power of solidarity. The infectious tune follows the release of the British songbird's lead single, "Terms and Conditions," from her new album, IRL.
"I can't quite believe this one is real. I have been a fan of JoJo for as long as I can remember so having her on this record really is a dream come true for me," Mahalia expressed in a statement about the record. "I love watching people come together through hardship and everything about this song represents that. For me, it is a song about strength, power, and letting go."
Of their first collab, JoJo adds, "I loved teaming up with Mahalia on this fully infectious bop. Not only can I not get the melodies out of my head… but I've BEEN THERE. And it feels good to be singing with my friend about this very real part of growing up: Realizing that some boys are for the streets and will never change."  
The sophomore LP will continue to be a testament of what's transpired in Mahalia's life while also celebrating those who've helped her along the way. "I'm so proud of this album, and so proud of how much I challenged myself to just let those stories out," she concluded. – M.A.
BJ The Chicago Kid Feat. Freddie Gibbs – "Liquor Store In The Sky"
"Liquor Store In The Sky" is a heartfelt tribute about reuniting with those you've lost in the earthly realm. Anchored by the riveting sample of William Bell's classic ballad, "I Forgot To Be Your Lover," BJ has finally breathed life into a concept near and dear to him.
"My songwriting often draws from personal experiences, honoring the memory of Al Howard, a childhood best friend lost tragically in a car accident," BJ shared in a statement. "This song resonates with anyone who has lost someone special, particularly with those who yearn for a cherished drink with their favorite person, hoping that one day they might reunite at the 'Liquor Store In The Sky.'"
For those trekking through the delicate nature of grief, pour one out for them as you indulge in BJ's new release, ahead of his forthcoming album. The next LP is described as a "journey through soul" and will be one of the best projects to come this year—trust us. – M.A.
Tiffany Gouché – The Found Album
Being a fan of Tiffany Gouché is acknowledging that you have great musical taste. The underrated singer has quietly released her new album, and we are launching the campaign for far more public recognition.
Gouché's innate ability to encapsulate euphoria while also playfully romanticizing the joys of intimacy and introspection is something to be studied. The LP is jazzy, sensual, sexy, grown, reflective, and punctual. Standout tracks that we've admittedly gotten lost in include "Love On You," "Fan," "My All," "Identity," and "Get Up Again."
As the sister of Davion Farris, SiR, and D Smoke, we hope that answers new listeners' question of why she sounds so familiar. After a series of collaborative releases with Masego, Robert Glasper, and more, The Found Album is Gouché's first solo full-length project since 2015's Pillow Talk. – M.A.
ADIV Feat. India Shawn – "Perfect Time"
This soothing, ethereal duet feels like a warm breeze on a romantic spring day. Ever just hear two voices that mesh so well together? India Shawn joked that she "forced ADIV into a friendship then coerced him into letting me sing some harmonies on this song which was originally meant for him."
"Perfect Time" was created during their first session together in the studio. When defining the record, ADIV told We Are Soul, "There is no 'perfect time'. Whatever you want to do, do it. Whatever you want to say, say it. Don't wait for that moment that you have built up in your head. We all have these moments that we will build up in our heads like 'Oh, when I've reached X, I'm going to do this.' Every crazy thing that's ever happened to me has happened at my lowest points or inopportune moments. Whether it's relationships, business, careers, artistically; there is no perfect time. Just make sure you do what you want to do at that moment."
The single is part of his forthcoming EP, Liberty, set for release this fall. – M.A.
B.K. Habermehl – Mirro Neurons
California native B.K. Habermehl shares her innermost musing on her debut EP, Mirror Neurons. The six-track project showcases her talent as a singer and songwriter. Through each song, B.K.'s vocal talent is strong and soulful enough to command attention and amplify the passion showcased in the personal lyrics. It's gentle and warming enough to reassure listeners "it's all going to work out," as repeated on "Caramel."
"I feel like I like to create music with a bunch of different influences and bring it together. That's something that's uniquely me," the singer explained to VIBE.
Featuring production from my close collaborators Money Jezu$, DJ Khalil, Amaire Johnson, Gorden Campbell, and more, Mirror Neurons weaves together stories of playful sexuality, meditative regret, and ultimately, joyful triumph. – D.I.
BLK ODYSSY – DIAMONDS & FREAKS
BLK ODYSSY's new offering Is an unexpected delight. As the erotic audible novel unfolds, it obviously takes you on a journey about a man blinded by lust and consumed by love, but it's also a tale of innocent infatuation, weighted grief, and moral strife.
This project was his "Come to Jesus moment regarding addictions and what I decided to let infiltrate my mind and body." He explained, "My mom used to always tell me to guard my mind, guard my body, and guard my tongue. Trauma in any capacity makes you latch on to the nearest thing that feels good and to not let it go. We learn along the way that not all things that feel good to us are good for us. My drug of choice is lust. It's so common that we've normalized it as a simply a characteristic of being a man."
Within the LP's four acts—"DOPAMINE & HENNESSY," "COOCHIE & BIG BOOTY," "THE DIVINE STANK," and "DIAMONDS & FREAKS"—BLK pleads for help from a higher source while also making sense of religion through biblical-themed tracks titled "ADAM & EVE," "EPHESIANS," and "JUDAS & THE HOLY MOTHER OF STANK." The former is about his first sexual experience that he goes into greater detail about via an open letter.
The album raves of features from Bootsy Collins, Cory Henry, Rapsody, Eimaral Sol, and others. Yet, BLK leaves fans navigating a similar tug-o-war to ponder this thought: "I'm afraid that some scars and things can't be undone. Maybe time can undo them. For the first time in my life, I regretted trading love for lust […] I'll ask a question that is frequently asked in the record—This is what love feels like, and this is what lust feels like. Now tell me…which do you like more?" – M.A.
LAVI$H – You Made A Big Mistake
This EP is wholly captivating. It pierces the psyche and will force one to listen to it in its entirety after first listen. Arguably, we'd say you'd be making a big mistake if you didn't stream this project.
"I used to always say 'I'm gonna disappear and make some of my best music ever.' It wasn't until I met [Capo] a few years ago that we did just that," LAVI$H explained on Instagram. "We put our heads down & came up with a body of work so incredible that life drastically changed. Energies shifted and s**t got REAL."
The layered artist credited his team turned found family for helping him get to the point of being able to pen the album. "This is a project built off unquestionable belief, sheer will, simply trying things & LOVE," he added. "A billion thank yous to everyone involved." – M.A.