Erykah Badu's 'Unfollow Me' Tour Is A Delightful Ascent Into A World Of Her Own Making
Erykah Badu's 'Unfollow Me' Tour Is A Delightful Ascent Into A World Of Her Own Making
8549
From singing Chaka Khan in the mirror as a child to resonating with generations on stage as a certified "Queenager," Erykah Badu is duality personified. On stage, she's eccentric, playful, nostalgic, and refreshingly original, all to the sounds of timeless records. This was made evident during the Los Angeles stop of her Unfollow Me Tour featuring yasiin bey.
As the diverse crowd packed into the Crypto.com Arena on Saturday (June 17), it was as though someone saged the venue in preparation of what was to come. A lighthearted energy—and a potent whiff of Mary Jane—consumed the air as women giggled amongst themselves, giddy over which records Badu would perform. Men embraced their dates gently and eagerly before the show began. 
Brooklyn native yasiin bey's 45-minute set opened with "Priority," from his 2009 album, Ecstatic.  The rapper was delighted to support his Soulquarian comrade as he declared, "You coulda been anywhere in the world but you're here with us. Give it up for my sister, E. Badu." Donned in all-black and constantly spinning in his own orbit, he joked, "You can refer to me as local talent." 
While running through his effectual catalog, the triad of "Casa Bey," "Hip-Hop," and "Mathematics" found yasiin humbly basking in his own glory as he expressed, "Life is amazing and full of miracles." Moments later, he surprised the audience with Black Star's other half, Talib Kweli, as they performed "Respiration" sans Common. Knowing that the crowd was fully enamored with him by that point, yasiin teased, "If we had more time, I swear to God, we would hold you hostage with this dopeness."
Before bidding us adieu, the 49-year-old wrapped up his set with a power-packed finale featuring "Ms. Fat Booty," "No Hay Nada Mas," "UMI Says," an unreleased record dedicated to his mother, a prayer, and a vibrant dance break.
With the crowd's enthusiasm peaked, it was frustrating for many to wait for Badu. Several people took the extended pause between the two sets to reup on their drinks and spark a J. When the neo soul pioneer's performance finally started, the opening visual looked like something meant to hypnotize viewers. It must've worked because 15 minutes sneakily passed by before she appeared on stage.
Part of Badu's ensemble glowed in the dark as the 52-year-old seemingly floated to the mic, kicking off her almost two-hour show with "20 Feet Tall." Joy splattered across the faces of attendees who were witnessing Badu for the first time, though we were all collectively spellbound by her abstract visuals, tribal sounds, and witty zingers.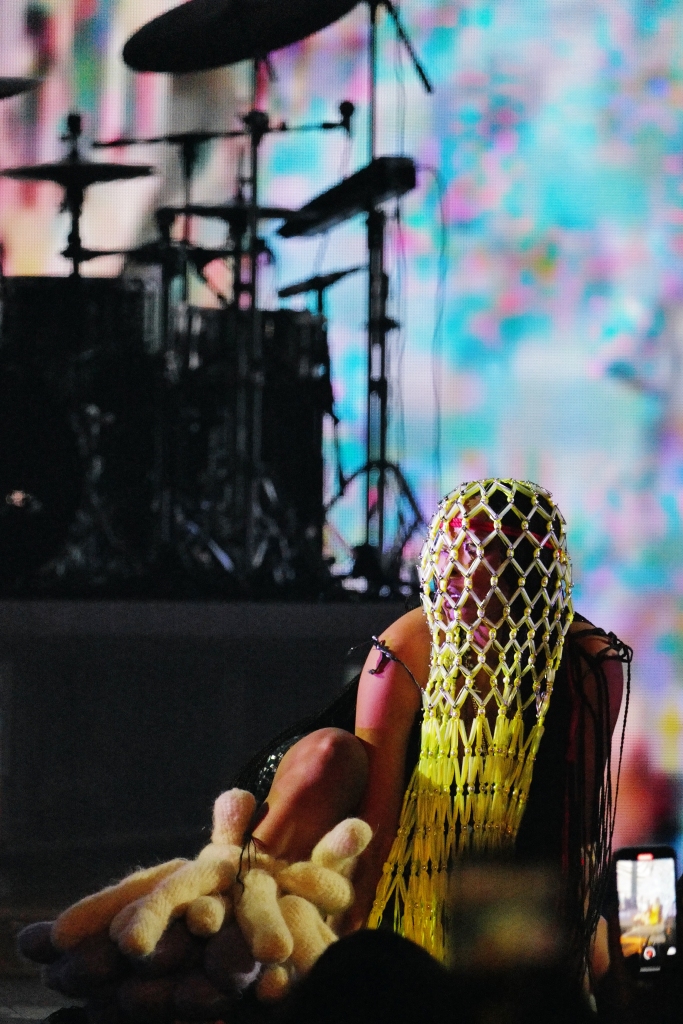 "LA, y'all don't feel this s**t? All my people over there, throw ya hands in the air. All my people on the right, we can go all night. All my people up top, come on ya don't stop. All my people in the middle, wiggle just a little. All my people in the back, f**k ya lookin' at?," she joked midway through "On & On" from her debut album, Baduizm. 
Commenting on the LP, she confessed that she wrote it for the '90s babies. She was pregnant with her eldest child, Seven, at the time and penned it "as a means of communication." However, the set didn't solely include records from the Grammy-winning album. She performed newer offerings of "Me," "Love Of My Life (An Ode To Hip Hop)," "Kiss Me On My Neck," and "Didn't Cha Know." 
Seated on a beanbag strumming her guitar to the sweet lullaby of "Orange Moon," Badu embodied her sentiment that performing is therapy. "I show up cause y'all show up. We become one living, breathing organism. It's like I have 10,000 shrinks in the audience I feel safe with," she explained.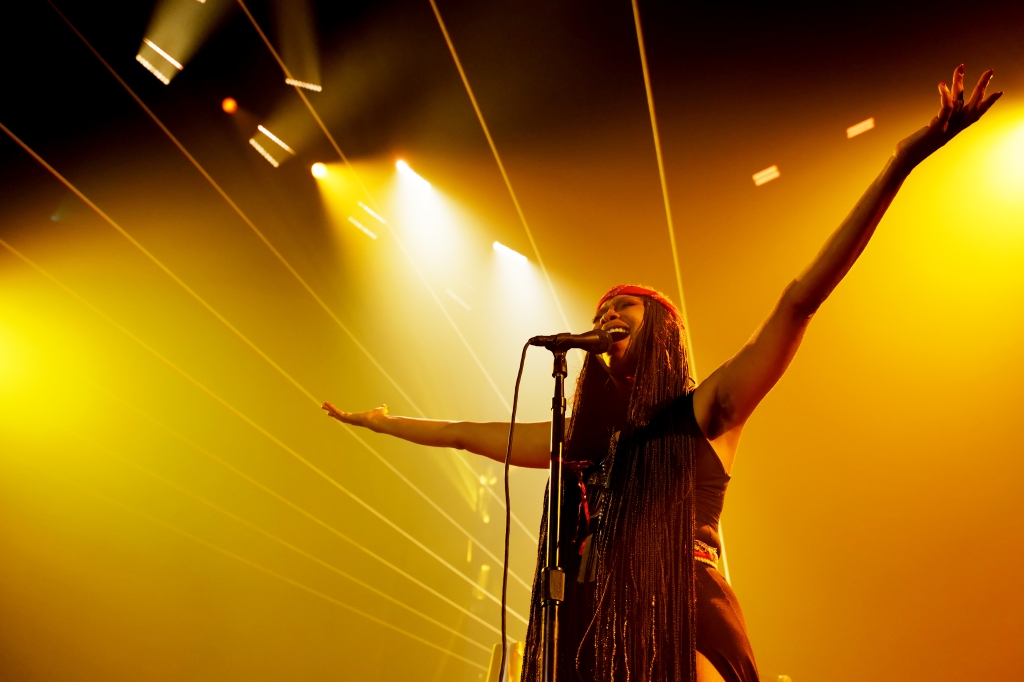 Later in the evening, the show turned into an endearing moment to praise others. Badu interpolated Ari Lennox's "Whipped Cream" into "Window Seat," giving flowers to the First Lady of Dreamville—who is currently Badu's favorite singer. As she introduced her band and supporting vocalists, the Dallas superstar praised the "incomparable" Durand Bernarr, whom she affectionately dubbed her "child," and Rashad "Ringo" Smith, the visionary producer behind hits like The Notorious B.I.G.'s "One More Chance/Stay With Me," and Total's "Can't You See."
Badu concluded the evening with an affirming finale, urging fans to "believe in yourself right from the start. Believe in the magic that's inside your heart. Believe all these things not 'cause I told you to, but just believe in yourself as I believe in you." This glimpse into her musical circuit may have only been a few hours long, but the whimsical, cosmic journey's impact will last into the next lifetime.