Coi Leray 'Trendsetter' Shows Her Talent But Follows Trends Rather Than Sets Them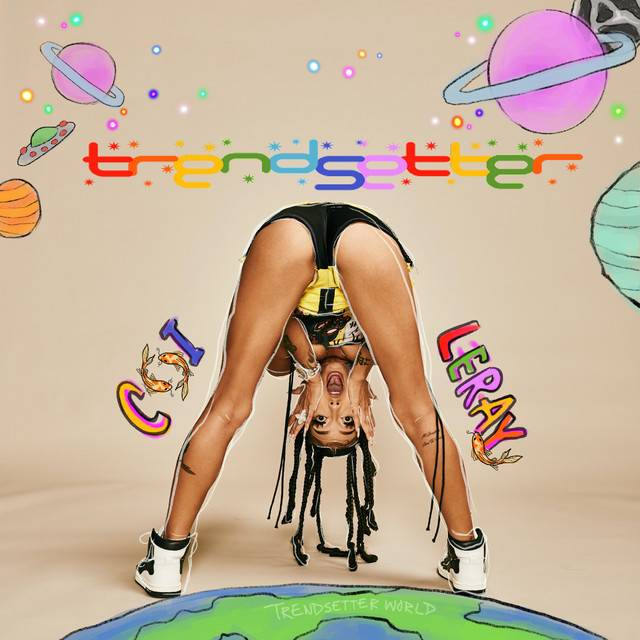 Coi Leray 'Trendsetter' Shows Her Talent But Follows Trends Rather Than Sets Them
79
As a child, Benzino's daughter Coi Leray witnessed the former the Source co-owner's rise and fall from grace and the dissolution of her family after he and her mother divorced. Years went by and Leray, now 16 with dreams of making it in music, dropped out of high school in 10th grade and picked up a job in sales.
She was adamant about success without her father's involvement, in and out of music. Frustrated by working-class limitations, she released the song, "GOOFY ASS N-GGAS" — an anthem about fake love and blue hundreds — on SoundCloud, the early stages of the fiery persona that would lead her to become one of the most polarizing new rappers of the past couple of years.
In 2018, she released two mixtapes a year apart from each other: Everythingcoz and EC2. Experimenting with bubble gum melodies akin to Lil Uzi Vert and falsetto chirps that called back to Playboi Carti, the music latched onto the depths of SoundCloud, further pushing her away from traditional rap ideas despite her family background of bar-for-bar boom bap.
Since then, Leray released a series of singles — "No More Parties," "BIG PURR," "TWINNEM," "Anxiety" and "Blick Blick," showing her versatility and acceptance from her peers with features from Lil Durk, Nicki Minaj and Pooh Shiesty. In her most recent Breakfast Club interview, she explained her debut album, Trendsetter, is supposed to help comfort moods and connect with her fans. And while parts of the album accomplishes her goal, the overall experience feels like two separate projects fighting to co-exist.
Trendsetter arrived in the form of 20 tracks filled with the some of the industry's top names — G Herbo, Polo G, Yung Bleu, A Boogie, Fivio Foreign and Lil Tecca — proving Leray is well tapped in but ends up being a double-edge sword. "Hollywood Dreams" opens the album with Leray stretching her vocal capabilities using Auto-Tune and setting the tone for what the album is supposed to entail: a celebratory victory lap while also letting fans know who the real Coi Leray is. The problem is these two ideas clash with each other. The next six songs are jam-packed with guests that outshine or drown her out.
Coi Leray does manage to hold her own on "Blick Blick" with Nicki Minaj but still plays second fiddle to the tenured rapper. "Thief In the Night" features a god-awful opening line by the usually sound G Herbo:"I ain't got no Covid test, but a n-gga's sick." Meanwhile, Leray tries to keep up using robotic money flexes that fade into the background of Herbo's verses. She feels like the featured guest on her own song, diminished to an afterthought.
For an album titled Trendsetter, it's disappointing she follows trends rather than sets them. On the Brooklyn drill-inspired "Mountains" featuring New York City rappers Fivio Foreign and Young M.A., Leray couldn't sound more out of place. With drill being sublimated into the mainstream in the form of Rap Caviar — bad R&B samples and pop cadences — having non-drill artists deliver drill cosplay has become a trend that's worn and tired. On the dancehall-inspired "Aye Yai Yai" with Yung Bleu, their vocals melt into each other, but the song lacks innovation and feels cookie-cutter compared to the style it borrows from.
"Clingy" is an exception, with Coi Leray's chorus sticking to the ribs — it's catchy with a strong vocal performance. She leaves the Auto-Tune to Nav, who doesn't take the shine away from her but supports her stylistically. Leray isn't a very compelling braggadocious luxury rapper but is much more interesting when detailing the more personal subjects of love, relationships and mental health.
That side of Coi Leray makes up the bulk of the second half of the album, bookended by her Wallo267 & Gillie interview last year when she boldly claimed to be rap's "chosen one." From here, aside from some previous singles, she offers mostly solo tracks — where she starts to break the mold. "Lonely Fans" shows her rapping at her most comfortable and focused, while revealing the emptiness behind the VVS diamonds on her wrists. "Want to go somewhere vacant, Nobody can see my pain" she spills out after her opulent braggadocio.
Coi Leray's broken heart from a cheating partner brings out the album's most poignant moment on "Heart in a Coffin." The piano keys cry in the background while she maneuvers through the cracks and crevices of her fractured love. She confesses her loss of feelings, lack of trust in men and the reason why she clings to luxury. "I don't fuck with n-ggas, I don't trust 'em/The only thing I trust is my money," she belts with sincerity.
The faults in Trendsetter come mostly because she relies on the star power brought by her guests but negates her ability to identify herself within the music. She's somewhat talented; songs such as "Anxiety" and "Too Far" are filled with personality and help paint the picture of who Coi Leray is as an artist. She likely has a future in the industry, but to stand on her own, she will need to start setting the trends, rather than following them.
REPEAT ME
FAN FEEDBACK
Took some time out to listen to @coi_leray other projects today, (which I've listened to before) it was such a vibe to listen to again , she is a very talented woman and so versatile #Trendsetter UNSTOPPABLE BABY ⭐️?⭐️?⭐️?⭐️?⭐️?⭐️

— LIPSLOADED™ (@Lipsloaded) April 8, 2022
Overall I give the album an 8/10. @coi_leray had some great features on the album and she did come through with the bars. I liked majority of the songs. She should be proud of this one. #Trendsetter pic.twitter.com/JvbGXMZUnR

— ???'? ??? (@Liptonators) April 8, 2022
#TrendSetter was a good album, I think @coi_leray should have started with an EP because she's not established yet as an artist, she is still new to the scene. She has to gain more of a fanbase and have her name reach out to more people.

— Heyy De'John ??✨ (@dejohnlamar) April 18, 2022