Coco Jones, Justin Timberlake, Mahalia, And More New R&B To Ride A Lovers' Wave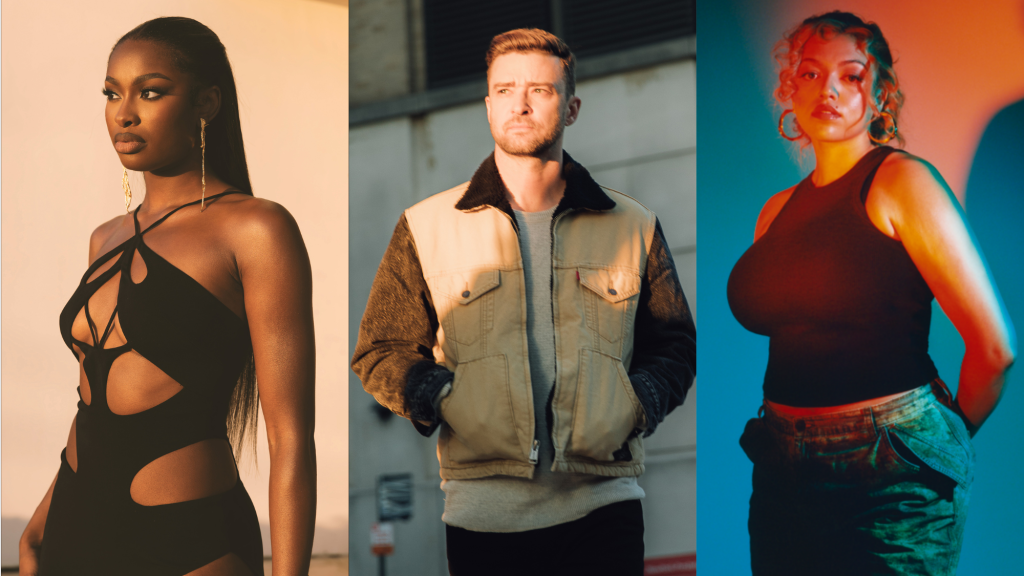 Coco Jones, Justin Timberlake, Mahalia, And More New R&B To Ride A Lovers' Wave
7622
Calling all lovers—this week's releases in R&B is all for you.
Coco Jones kicked things off nicely by summoning Justin Timberlake's R&B tether back into orbit with the highly-anticipated "ICU" remix. Mahalia has unveiled her long-awaited sophomore album while rising stars like Mack Keane, ASTN, Lehla Samia, Idman, Williams Singe, and Debbie add their own flair into the R&B melting pot of new singles and full-length projects.
VIBE's new R&B selections are a labor of love as the artists dissect their stories, piece their hearts back together, and still hold out hope for new romances, all to dynamic soundscapes.
Coco Jones Feat. Justin Timberlake – "ICU (Remix)"
After revealing she wanted J. Cole to appear on the "ICU (Remix)," Coco Jones took to social media days later to subtly unveil who the actual featured artist was. Fellow Tennessee native Justin Timberlake joined Jones for the long-awaited remix of her hit record. The pair compliment one another in the vocal arrangement by Kenyon Dixon. Though many were hoping Jazmine Sullivan or Usher would hop on the remix, the new offering is refreshing and still keeps all the feels associated with the original ballad in tact. "ICU (Remix)" is a win for Jones as "ICU" continues to climb charts and gun for a Grammy nomination.
Mahalia – IRL
Mahalia's sophomore album is here. IRL is a bold, vulnerable trek into where the British songbird is musically and emotionally and speaks to how she wound up here following her decade-long career and her debut album, Love & Compromise.
The 13-track LP features previously released singles like "Ready," Cheat" featuring JoJo, and "Terms & Conditions" plus other guest appearances from Joyce Wrice, Stormzy, Destin Conrad, and more.
IRL "is how I've grown," she tells VIBE. "That's how I've lived my life…If we're talking about how I place myself in this world to the masses, this is it. You can share whatever you want; I will probably share s**t with you… it's all in love."
Mack Keane – "Chances"
Mack Keane is stepping back into his own with their new single, "Chances." The soulful ballad is a raw tune that explores the aftermath of letting go and getting grounded in the present where one has to accept what's beyond their control. After creating 12 different variations of the song since its inception in December 2021, the Los Angeles native feels this final iteration is the best representation of the song's true intent.
"'Chances' was definitely a labor of love," Keane explains in a statement. "The record means a lot to me. It's a real story and a timestamp of that period of my life, which is always the intention of my music. The lyrics in the second verse are my favorite because it's something that I'm still learning to do in my life today: letting go, accepting the things that I can't control, and staying present and grounded in this reality. I'm really happy to finally get this one out in the world."
ASTN – Where Do We Go From Here?
ASTN first caught our attention with the remix to his ballad, "How Soon," with Alex Vaughn. Now, the crooner is back with his new EP, Where Do We Go From Here? The 8-track project has his range on full display. Whether you're drawn to the clever, uptempo jam, "Be So Cruel," the romantic "Element," or the amorous "Starlight," this is a solid introduction into ASTN as he breaks ground in the R&B world.
"Thank u for listening to my stories and allowing me to do what i truly love most. this project has my heart and is an extension of myself," expressed the singer on Instagram.
"Element," he adds about the leading track. "This record man… where to start? it has simultaneously caused me so much stress.. yet so much freedom.. so much angst.. yet so much peace. i often write from the heart, but this felt more like writing FOR the heart. last year i was lost, and amidst that phase in my life a clear cut vision was born. i spent a lot of time with myself for the first time in my adult life. for the better part of two years i felt that i was living two lives, ASTN & john austin sanders. a reborn young man ready to say yes to anything.. & the quiet, soft spoken music kid from the south. that duality was a starting point for this vision. i was living with it everyday and is now apart of me. i am happy."
Williams Singe – "Have To Be"
As Williams Singe continues his reign of virality, the Australian-bred crooner is set to release his new album, Where Do Birds Go At Night? later this month. However, he's introducing the LP with his single, "Have To Be." The newstalgic ode to the early 2000s is an audible love letter to an ex who helped shape the man he is today and serves as the foundation for what he wants to sing about: love and honesty.
Singe said in a statement, "With 'Have To Be,' I'm bringing forth the music that truly resonates with me. It's a song that embodies the essence of the music I enjoy creating—soulful, heartfelt, and authentic." 
He added about the new album, "With 'Where Do Birds Go At Night?,' I wanted to create an album that blends the soulful R&B sound that my fans are accustomed to with a raw and vulnerable storytelling approach. It's a collection of songs that chronicles the ups and downs of a past relationship and the transformative path I traveled to arrive at the present moment. I can't wait for my fans to immerse themselves in this musical narrative and experience the emotional depth of this project."
Debbie – "No Way"
Debbie is one of those R&B singers whose church influence still permeates your soul, despite her music being secular. Despite only being 23, she has the makings of a seasoned vet with her meditative lyricism and captivating vocals. Both of which are heard on her new single, "No Way."
The gripping record toes the line of begging R&B as she questions her competition when it comes to herself, her lover, and a third party.
"This song is special to me because it's such a full circle moment," said Debbie on Instagram. "Having your trust broken sucks a** and I've never been one to look for revenge, but this feels pretty sweet (and less destructive). I hope you love it as much as I do."
Idman – Risk
Idman has such a mesmerizing voice. Their debut EP, Risk, is the culmination of their deeply personal truth backed by resonating melody. Previously released singles, "Good Life", "Hate," and "Still", coupled with a devious interlude and new tracks, "Beach" and "In My Feels" ooze with layered musical intersection and intricate storytelling.
"I'm so excited to share this complete story, with all its context. I feel honored to introduce myself through this body of work—it unfolded in the perfect way, and it's truer than I could have imagined. I am figuring out whether the risks I have taken have been worthwhile, and I feel no shame in sharing what I have discovered, for better or worse," Idman expressed in a statement.
Risk displays their artistic versatility and intentional exploration of self and interpersonal relationships.
Lehla Samia – LOVERS WAVE, VOL. 1
We could've stumbled upon anyone, but we came across Lehla Samia and have been hooked ever since.
Her debut EP, LOVERS WAVE, Vol. 1, showcases her talent as vocalist and songwriter. With production by London on Da Track and a record co-written by hitmakers like The-Dream and Sevyn Streeter, Samia is on the path to greatness.
The EP, overall, is infectious, sultry, and jazzy just as much as its bold and soulful. Standout records include "Miss Me," which boasts of inevitable regret. "Boomerang" is just as seductive as its cinematic predecessor. "