Cam'Ron & A-Trak 'U Wasn't There' Is A Worthy Snapshot Of A Bygone Era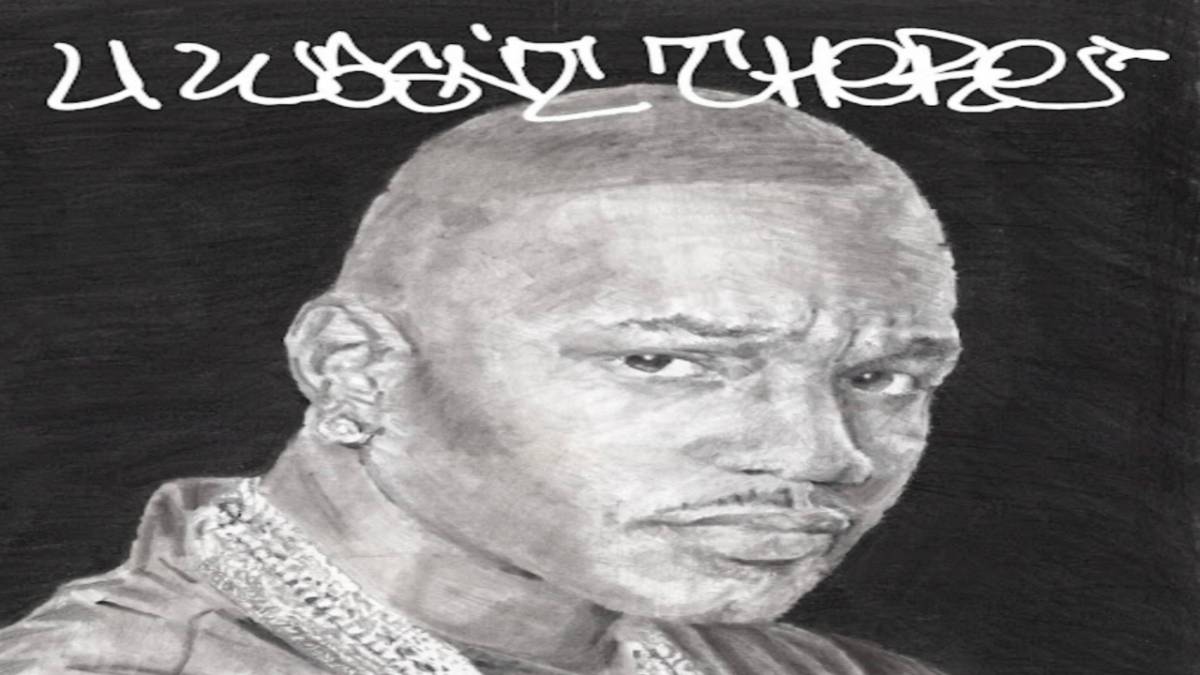 Cam'Ron & A-Trak 'U Wasn't There' Is A Worthy Snapshot Of A Bygone Era
64
Toward the beginning of his first verse on his new single "All I Really Wanted," Cam'ron lets loose an epic existential humblebrag: "By the time I turned 30, I completed my whole bucket list."
It's a flex and a reminder. Since high school, Killa Cam has oscillated between hood clichés on his way to becoming a cross-functional emblem of ghetto dreams. He's been a hoops prodigy and a trap star. He collected platinum plaques and founded The Diplomats. He made pink cool. Above all else, he's rapped his ass off, rendering life experiences through an inimitable blend of flamboyance, Harlem charisma, dexterity and absurdist humor. In the process, he's situated himself as one of rap's underrated legends.
That legacy is at the center of U Wasn't There, a svelte new album from the Dipset boss and Fools Gold Records co-founder, A-Trak. The LP was originally announced after Cam and A-Trak formed a friendship in 2014, but it hadn't seen the light of day until now. Laced with soul samples, nimble flows, adventurous wordplay and sharp autobiographical detail, U Wasn't There spills out like quintessential Cam, even if it doesn't reach the heights of his best work.
Working at its best, U Wasn't There meshes pristine technique with humor, flashes of humanity and the unrelenting cool that could only come from Cam himself. The project opens up with an alternate version — or perhaps, the original iteration — of "This Is My City," a Purple Haze 2 track that distills Cam's origin story with bloody specifics. Coasting over a sample from a church choir, Killa unleashes tales of frayed friendships and a young criminal's evolution, name-dropping Big L and Max B to make his point. His reminiscences seep out with the sort of detail that can only come from experience: "Reggie White took me on my first stick up/15 years old, can't front I caught the hiccups." Cam can be as zany as he is tough, but bars like that one add a layer of mortality to his narratives, separating him from the 2-dimensional gangster bluster of lesser writers.
When focusing on more celebratory fare, what stands out is Cam's wit and all-around conversational ease. Regardless of how epic the tale, it always sounds like he's been there before. On "Dipset Acrylic," he lets loose the type of luxurious bar you'd have to be rich to come up with. "The coupe's cute, but the trucks got nothing but space/Girls get in, be like, 'I love what you've done with the place," he spits, his confidence floating above a stylish reggae sample. For "What You Do," Cam continues the extended pat on the back he began with "All I Really Wanted." Circling his way around serpentine keys and grandiose horns that could soundtrack a Blaxploitation flick, he invokes his infamous Bill O'Reilly argument, his beef with Nas, and his contributions to fashion all within a few bars. His quips are as funny as they are factual, earning IG caption status without being trite aphorisms.
After over 20 years in hip-hop, keeping things fresh can be a little easier said than done, and for his part, Cam seems more interested in getting flows off than remaining in lockstep with trends of today. From the topics, to the flows to the features — Jim Jones and Juelz Santana, as well as Cam's one-time Roc-A-Fella boss Dame Dash, make appearances, adding context to Cam's continued self-mythology— U Wasn't There is heavy on throwback vibes. It's a map of Cam's long-since established stylistic palette. He goes from chipmunk soul ("This Is My City") to '80s rock samples ("Dipshits"), recalling Dipset glory days as he tells familiar tales. A-Trak does a great job re-creating Cam's signature soundscapes.
The beats aren't innovative, but to call them dated would be reductive; since Cam and Dipset helped popularize them, let's say they're classical. Still, they rarely stand out, and paired with Cam's occasionally lethargic delivery and predictable bar setups, the tracks ultimately sound like less polished versions of offerings from Purple Haze 2, which itself was an obvious couple of steps down from Purple Haze. Cam's rhyming is generally sharp, but spurts of lackluster punchlines ("Got the gift, no Christmas tree") sometimes derail otherwise strong verses, and no hook here is particularly memorable.
Still, Cam's latest is successful when it comes to conjuring the spirit of a bygone era. If you're not a fan of mid-2000s NY rap, this isn't really the project for you. If you were always more into Capo and Juelz than Cam, then at least you can hear them on the project. If you've been rocking with Cam for a while now, you're probably just happy to hear Killa talk his shit. After all, he's been at this rap thing for a long time.
Having rapped for the likes of Biggie, beefed with Jay-Z, hung out with Monica Lewinsky and done just about everything in between, Cam's career now spans multiple eras, making the title of his new project, U Wasn't There, particularly appropriate. Depending on your age or proximity to rap culture or the streets of Harlem amid the crack era, there's a good chance you weren't there. But with its spurts of vivid storytelling, conversational slick-talk ("Dipset Acrylics") and Technicolor swagger, Cam's latest can make it feel like you were.
REPEAT ME
FAN FEEDBACK
dame interlude on the new cam'ron is the best skit i've heard in years my GOD

— Patrick Lyons (@p_lyons_) September 23, 2022
Cam'ron got his gap fixed and he sounds 10 years younger and clearer .. even when he raps fast it's so clear . " u wasn't there " is slapping ! Killa!

— William Butcher (@WILLAVELLI) September 23, 2022
KILLA back! Cam'ron on repeat until further notice… or until I get tired of it ? pic.twitter.com/M0Xs3gJ2ta

— Adobo Loco Papo (@fonzy_flee) September 23, 2022