Babyface Glides Through Dual Discography On NPR's 'Tiny Desk'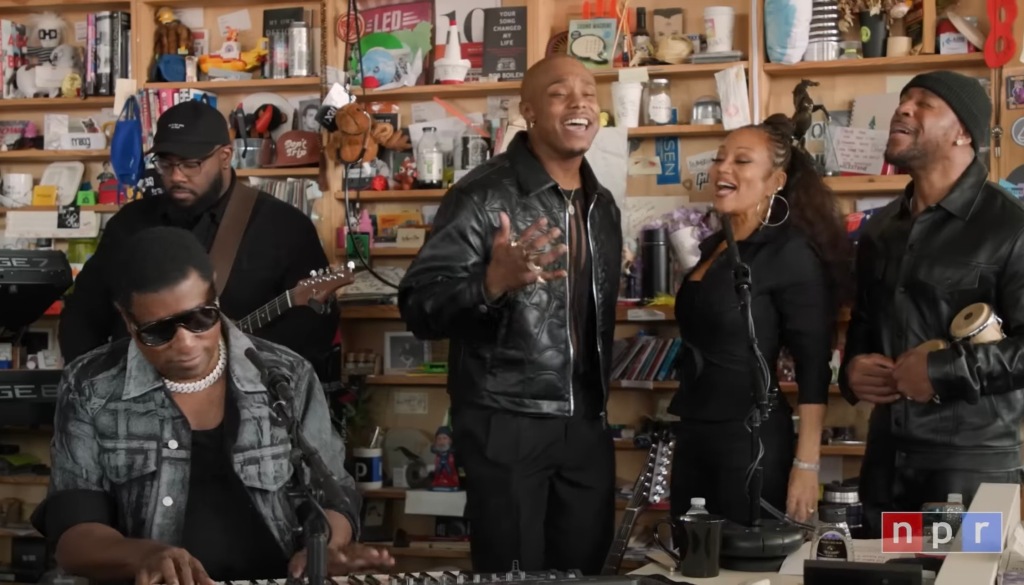 Babyface Glides Through Dual Discography On NPR's 'Tiny Desk'
5974
Babyface has penned several hits for himself, as well as crafting timeless tunes for other artists ranging from pop and rock to his wheelhouse of R&B. This was made evident on his Tiny Desk performance from Friday (June 9).
The highly-anticipated 30-minute affair was part of NPR's Black Music Month lineup.
The crooner was joined by Avery Wilson, Chanté Moore, and Tank on supporting vocals. "This is fun to do because I got such great singers to do it with. 'Cause I hate to sing these songs; it ain't easy," said Face during the segment.
He began the show with one of The Deele's biggest commercial successes, "Two Occasions." Face was part of the group from 1981 until he and L.A. Reid left in 1988 to launch LaFace Records the following year.
The 64-year-old effortlessly slid into his solo classic, "Whip Appeal," before enlisting Tank, Wilson, and Moore to aid him in singing Karyn White's "Superwoman," Mary J. Blige's "Not Gon' Cry," Tevin Campbell's "Can We Talk," and the Eric Clapton duet, "Change The World."
In a crossover moment, the singer-songwriter also performed Madonna's "Take A Bow" and Fall Out Boy's "Thnks fr th Mmrs." Rounding out the show, Face and his equally talented team did chilling renditions of Boyz II Men's "I'll Make Love To You" and "End Of The Road" before wrapping everything up with Whitney Houston's "Exhale (Shoop Shoop)" from the Waiting To Exhale soundtrack—a record that almost never got made.
Babyface revealed that the late vocalist didn't even want to sing on the soundtrack, but ultimately changed her mind. It's why the song barely has a chorus. "I hadn't gotten to that part yet," he teased, as Houston joked that he "finally ran out of words."
He added, "It felt so good and only felt so good because it was Whitney Houston."
Adam Blackstone, Ambré, Amaarae⁠, Brandee Younger, and a "a VERY SPECIAL guest" are all set to partake in NPR's Black Music Month celebration. Charlie Wilson kicked off the month-long event. Last year's observance birthed Usher's "watch this" meme and more iconic memories.
Watch Babyface's full Tiny Desk above.