Ari Lennox Bares All at The Fillmore Charlotte: Concert Review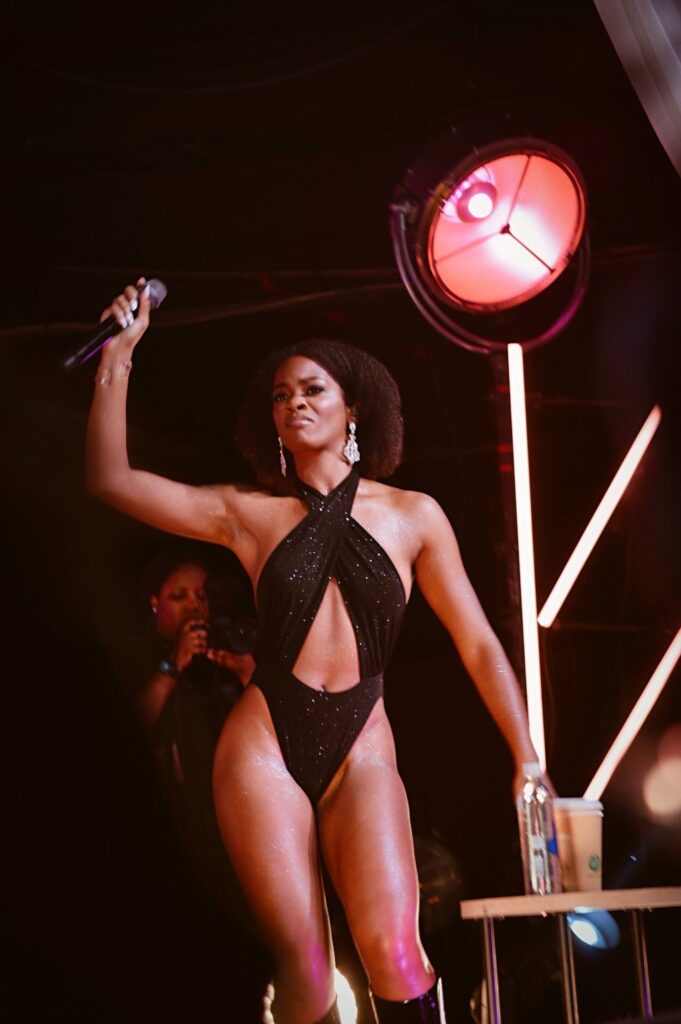 Ari Lennox Bares All at The Fillmore Charlotte: Concert Review
61
Charlotte, North Carolina, was once home to Ari Lennox. The Grammy-nominated singer reminded a packed room at The Fillmore Charlotte of her roots in the area on Monday night, at her age/sex/location tour stop.
While living in the Queen City, Lennox worked at Planet Fitness on South Tryon Street. She even wrote "Cascade," a SoundCloud favorite here, she voices to the audience, following "Waste My Time," for which she slips out a black latex trench coat into a twist high-neck black one-piece swimsuit.
Before Lennox's 20-song set, rising singers Jai'Len Josey and Alex Vaughn warmed up the stage. As everyone packed the venue, Josey, who co-wrote Lennox's hit single "Pressure," walked onto a smoky stage at the start of show time.
Sounding richly soulful from the first note of "She Got It," Josey, wearing a lime green pantsuit with black and white lapels, had attendees close by immediately locking eyes with their neighbor to ask who she was and her Instagram handle.
Josey's bubbly intro about herself to the following song, "When We Jump," from 2020's Illustrations EP, gained the audience's trust, permitting them to be willing participants in the call-and-response she encouraged at the song's outro.
Josey's five-song set, all of original music, convinced the bustling crowd she doesn't need a band or showy stage setup to confirm her star quality. Her impressive vocal runs are enough.
Nostalgia permeated the air like a sweet fragrance when Alex Vaughn stepped on the stage to share toxic love tales with tight mixes of R&B classics.
Take, for instance, "Keep That Energy," which Vaughn opened her set, singing a piano rendition of Ashanti's "Foolish."
Vaughn does the same shortly after "Do You Ever," for which she tied in Destiny's Child's "Cater 2 U" to round it out. Best of all was the addition of Michael Jackson's "I Can't Help It," following "Junkie" from her Voice Notes EP.
Vaughn also previewed her upcoming single with Muni Long "If You Know, You Know," which is dropping soon. If you have not seen Vaughn in concert or heard her honest storytelling through her music, now is the perfect time to explore.
Demand was high for Lennox in Charlotte upon entry. The lines, fast lane access, and general admission were like winding roads on a service road, as early as 7 p.m. The crowd intensity escalated for Lennox to perform when things seemed to be behind schedule after a set design was revealed around the same time sounds of drummer warm-ups. "We want Ari," chants began 30 minutes after Vaughn exited and raised in volume more than ten minutes later.
But as soon as the electric crowd grew restless for its R&B queen, Lennox started with the opening notes of "POF" from behind a large red curtain on a cozily lit stage with neon-colored signage of her name as the backdrop.
By the time Lennox finished "Waste My Time," a song Tim Suby and LOXE co-produced for age/sex/location, she was baring almost all in a revealing bikini.
Five songs into her set, Lennox is halfway through her sophomore album, age/sex/location, with "Boy Bye," a thrilling highlight. Not because Lucky Daye, its original duet partner, makes a surprise appearance, but because Dexter, Lennox's lone male backing vocalist, is a creditable stand-in.
Dexter, a Charlotte native, who sings soprano, alto and tenor, isn't the only supporting vocalist of the background trio to serve as a duet substitute. Kristen and Lennox trade seductive verses, first on "Leak It," on which Chlöe appears, and then "On It," a certified-gold collaboration that features Lennox and Jazmine Sullivan.
The crowd belted the loudest to "New Apartment" and "Broke," two songs from Lennox's 2019 debut album, Shea Butter Baby, named the best R&B album that year by Rated R&B.
Lennox spent more time on her first album, before shifting her focus to "Backseat" from her 2016 PHO EP. "I feel like I had the most sex of my life in a Kia Soul in Charlotte," Lennox revealed to fans.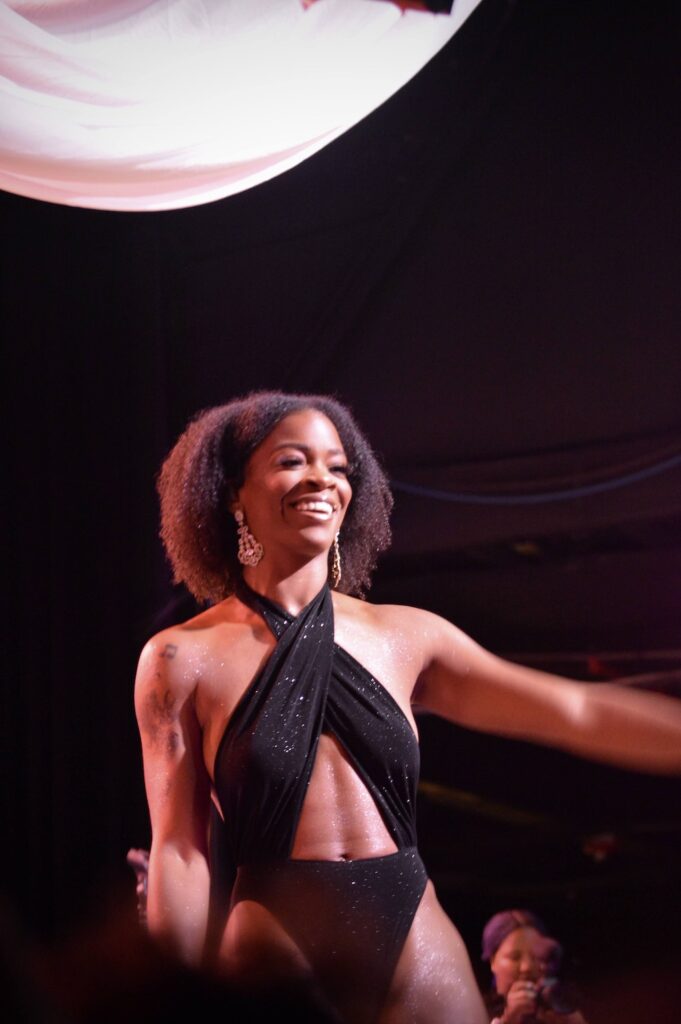 After a fan lovingly presented Lennox with a Party City blonde wig and a pair of black panties — yes, panties — she went into "Shea Butter Baby," a song in which she said "changed [her] life." It wasn't the set finale though, as many fans presumed who filed out hurriedly to beat the parking lot chaos.
Lennox concluded with "Pressure," the lead single from age/sex/location. Those who were present, and hollering for her to return for an encore, heard the song performed in its entirety, while those who didn't notice that it was missing from the initial setlist rushed back to catch the remainder of the performance.
All in all, Lennox's stop in Charlotte was more than another date on her itinerary. Similar to performing in Washington, D.C., her hometown, this visit was also a welcome home. She reminisced and reconnected to the local love she felt years ago in a city that was instrumental in the making of a leading woman in R&B.
Lennox's age/sex/location tour continues in North America until March 29; and then U.K./Europe in May. She will also perform at the Jazz in the Gardens Music Festival and the Dreamville Festival this spring. Tickets for select tour dates and festivals are available at arilennox.com.