Zendaya Thanks 'Anyone Who Has Loved A Rue Or Feels Like They Are A Rue' At Emmys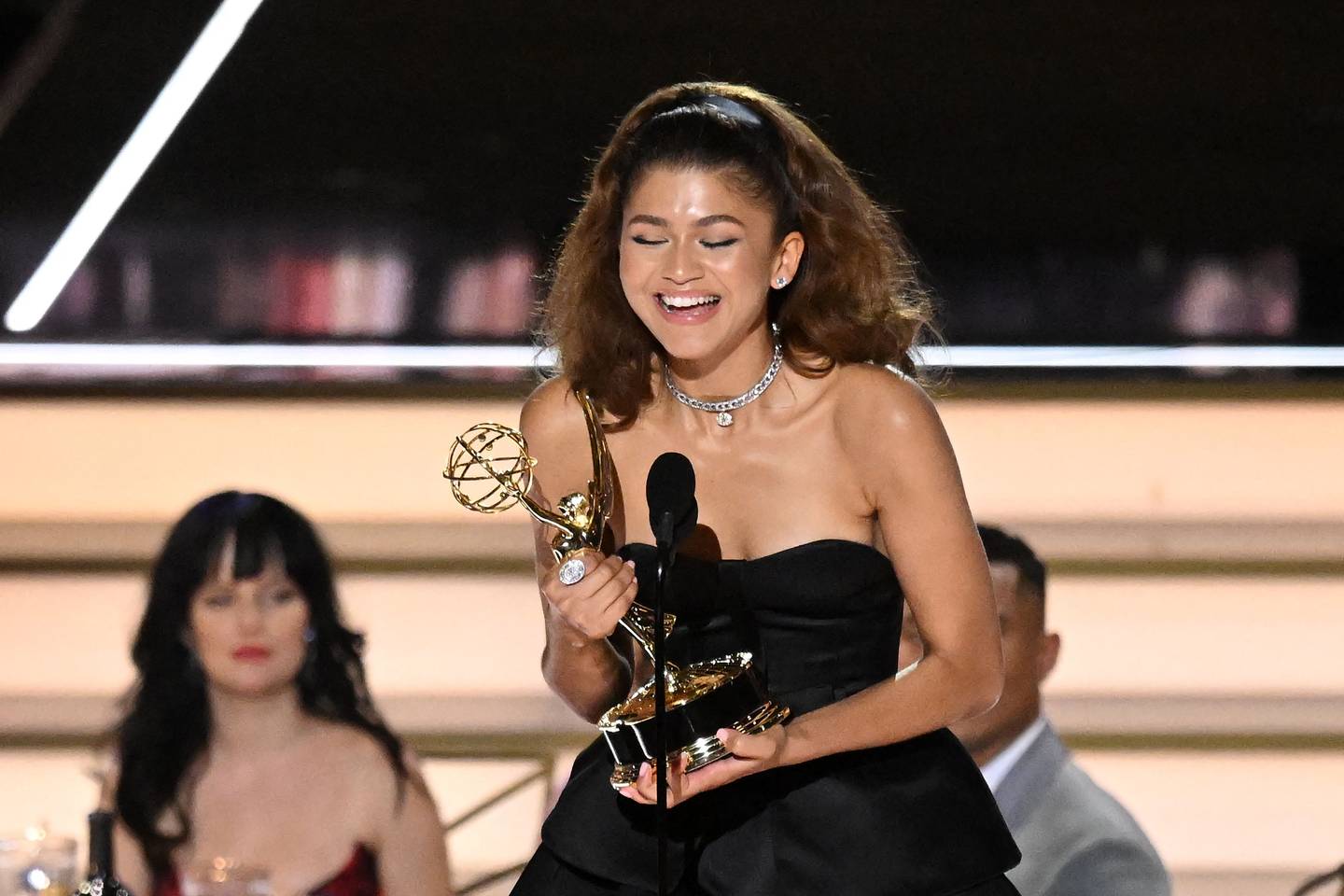 Zendaya Thanks 'Anyone Who Has Loved A Rue Or Feels Like They Are A Rue' At Emmys
79
Back at the 2020 Emmys, Zendaya took home a trophy for Outstanding Lead Actress in a Drama Series at age 24, making history as the youngest-ever recipient. She made sure not to waste her moment, even though the ceremony was primarily held through Zoom (given that it aired during the height of the COVID-19 pandemic).
"I know this feels like a really weird time to be celebrating, but I just want to say there is hope in the young people out there," she said in her acceptance speech back then, in September 2020. "I know our TV show doesn't always feel like a great example of that, but there is hope in the young people."
Two years later, on Monday night (September 12), nearly two weeks after her 26th birthday, she officially added another to her ever-expanding awards shelf. Once again, Zendaya took home Outstanding Lead Actress in a Drama Series. And once again, she made sure not to waste her moment.
Onstage in a classic black dress, she showed her appreciation to the fans, her family, show creator Sam Levinson, her fellow actors, and in a notable moment, the folks who might find the descent into relapse and drug dependency of her character, Rue, close to home. "Anyone who has loved a Rue or feels like they are a Rue, I want you to know that I'm so grateful for your stories and I carry them with me and I carry them with her," she said.
Zendaya thanked Levinson, who wrote and directed every episode of Season 2 of Euphoria, for "sharing Rue with me, and believing in me."
"Thank you for making such a safe space to make this very difficult show," she said. Indeed, since its premiere in 2019, Euphoria has racked up as much acclaim as controversy for its graphic sexual content, drug abuse, and violence. But the star power and gripping performance of Zendaya often carries the series into a plane of transcendence.
"My greatest wish for Euphoria was that it could heal people, and thank you for everyone who has shared your story," Zendaya concluded.
Euphoria also garnered a major nom in the Outstanding Drama Series category, while Sydney Sweeney earned her one of her first-ever nods in the Outstanding Supporting Actress in a Drama Series category.
The 2022 Primetime Emmy Awards was held at Microsoft Theater in Los Angeles, broadcasting on both NBC and Peacock. Kenan Thompson served as the host for the show.