YDE Knows Being Human Is Enough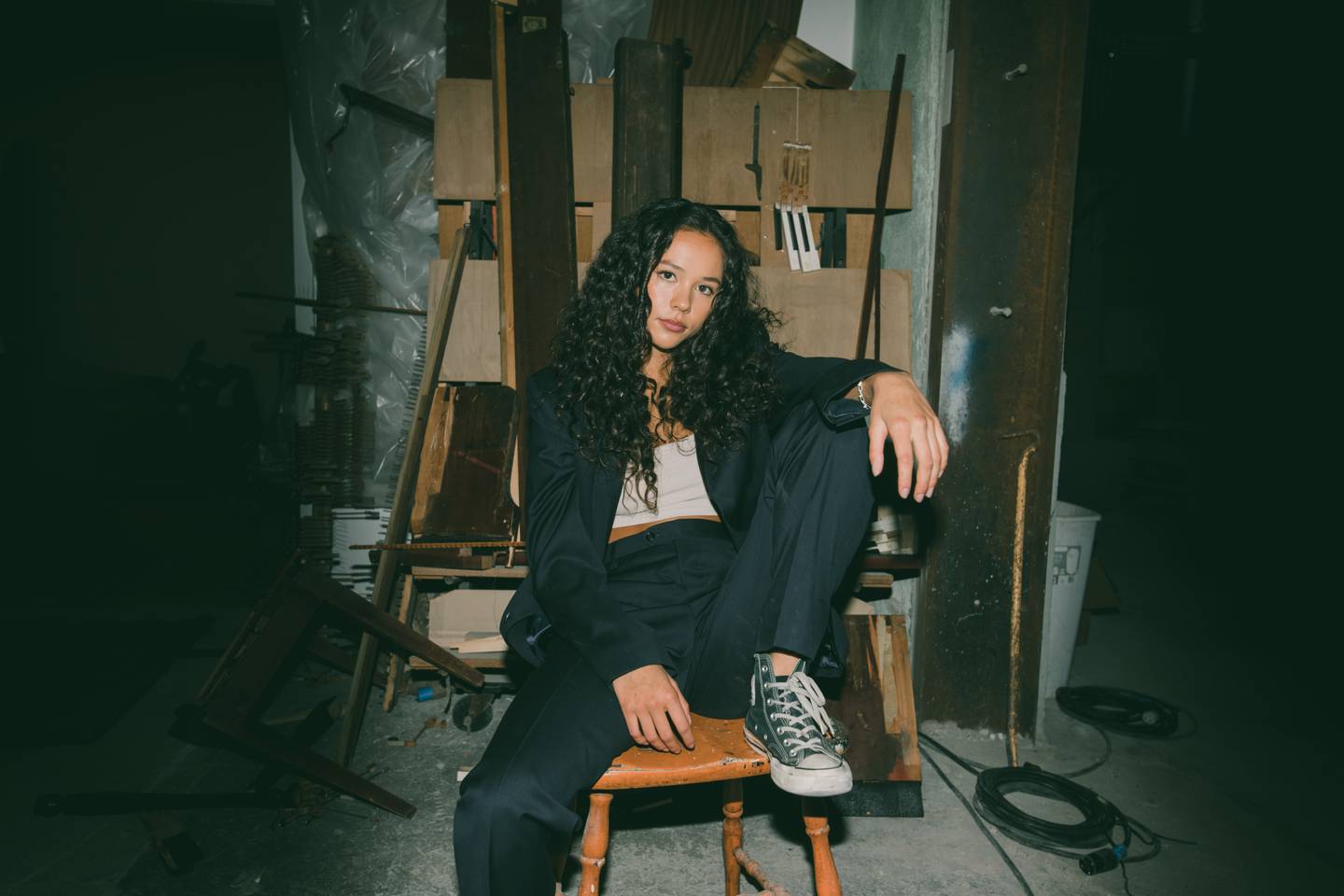 YDE Knows Being Human Is Enough
31
YDE spent a week last month in London and Paris. While there, her brother was robbed, one friend chipped a tooth on a scooter, and another friend lost a laptop on the train. The unfortunate series of events mirrored the innocent and organic origin for the title of the 19-year-old Australian pop artist's debut EP, Send Help, out today (September 9).
The day she met pop savant and Facet Records founder Justin Tranter, her primary co-writer, in March 2019, YDE told them about how she'd recently broken her wrist.
"I just kept repeating the phrase, 'Send help,'" she tells MTV News over Zoom from her Los Angeles home. "That day, we wrote a song called 'Send Help,' and as we continued to write more and more and more, we were writing about so many deep, worldly issues. I kept coming back to this idea, like, ooh, we need help."
In July, YDE (whose first name is Breanna) released the strings-based ballad "People Can Change." The galvanizing single captures the helplessness of a generation suffering chronic gun violence and annual wildfires, but YDE refuses to grow numb to the trauma. "What's the point of fighting if we're fighting for a lie?" she sings in the chorus. "I need to believe that people can change."
Send Help strikes a balance between cleverly giving visibility to sociopolitical issues and avoiding coming off as preachy. Tracks such as June single "Old Her" and last month's "Normal to Feel" find YDE grappling with her own humanity. Like everyone else, she's confounded by coming of age. The EP presents a young woman brave enough to give voice to universal pain but also to ask the same pressing questions of herself. If anything, the project's call to action is for a return to fundamentals.
YDE is the project's lone executive producer, but songwriters Teddy Geiger and Tranter each contributed to several tracks. Tranter taught YDE the importance of telling her story in the most direct and authentic way possible, while Geiger pieced together powerful instrumentation. This elevated the evocation of "Normal to Feel" without "trying to force it and tweak it meticulously until it's perfect," YDE says. The lessons learned during the Send Help sessions would have been formative for any young artist. Yet it was a particularly crucial experience for YDE, who began acting at 9 years old and grew up appearing on Nickelodeon's The Haunted Hathaways and School of Rock.
"You're left in this weird headspace where your existence is based upon your ability to be productive," she says. "That's also a capitalistic methodology, our value as human beings based on our productivity and what we can offer, and that is an incredibly hard mentality to escape."
YDE and her family moved away from Sydney to San Diego when she was a toddler, but she always returns home when she can. During her adolescence, they bounced back and forth between San Diego, Las Vegas, Los Angeles, and Sydney. While stateside, her mother regularly drove her to L.A. for auditions. She remembers exactly where she was when she first felt pulled toward music.
"I saw [Lady] Gaga perform in San Diego when I was 6, and I thought that that was the coolest thing on Earth," she says. "I was so fascinated by it, and I was such a shy kid. I was unable to have any conversation with anybody." When her parents would leave town and hire a babysitter, YDE would hide in her closet. "The one thing that I always found solace and joy in was music, sitting in my room and singing and performing for myself in the mirror."
Her parents put her into an after-school creative program, which naturally progressed into acting; she's still upset that an audition for Kidz Bop at age 7 didn't go her way. Nickelodeon offered the right path toward her ultimate purpose. She remembers being exposed to the network's philanthropic work, even traveling to Uganda in her early teens to star in its Together for Good Wildlife Special. She cultivated a vast worldview. Then the pandemic forced YDE to return to the silence of being a shy, quiet kid.
YDE had written all but one of the Send Help tracks, but she didn't immediately connect with them. She describes her songwriting process as dissociative — "intellectualizing the situation rather than feeling the situation" and then unpacking it from a third-person perspective. She needed time to unplug from acting, recording, and promoting to sit with herself, which lockdown provided. She says the experience "allowed me to learn that I'm human, and that is enough." Once she saw her songs through that lens, she began cutting down the tracklist at her desk in Sydney.
"I realized that the intention for making music was so much deeper than what's cool. That is not gratifying enough for me to put out music because it sounds good. Everything for me needs to be grounded in something that's real and true to me," she says. "The beautiful thing about making music is that we are merely the canvas, and the music just works through us. Whatever we're meant to tell, if we are vulnerable enough and willing enough, it will come out of us eventually."
In the EP's evocative, confessional fourth track "Uncomfortable," YDE apologizes for becoming cold and for "the unreciprocated thoughts and words left unsung." She even second-guesses, "Can people really change?" Four tracks later, in the uptempo, melodic "Never Too Young," YDE subtly calls out the patronization of her generation, as well as the pharmaceuticals industry, within a sweet love story: "You're never too never too young / To fall in, to fall in love / With all the prescription drugs we're taking / Hearts are racing."
"I have very, very strong feelings about big pharma and the way that we approach mental health," she explains. "When we're constantly trying to fight the byproduct of something deeper, we're missing the entire issue itself. That song really, for me, represents going through hardship is what it is to be human. And you are never too young to have problems. You're never too young to feel excruciating pain. You're never too young to experience what it is to be human. The second you're alive, you are human."
Since breaking out musically with the satirical "Stopped Buying Diamonds" and the alt-pop, end-of-the-world anthem "BlindLife" in late 2020, YDE has generated praise as a pop voice of her generation. It's a label she appreciates but balks at accepting. She isn't trying to be a Gen Z poster girl. She's trying to be the best person she can be.
"It's important to recognize that, you know, I can resonate with a 72-year-old man who was born in Italy just like I can disagree with some kid who's born two houses down two days before me," she says. "I'm not trying to leave an imprint in your brain. I'm not trying to get a message across. All I hope to do is what music has done for me, which has given me a safe space to feel that it's OK to express myself. I hope that this music gives you the courage to live your truth."