Xscape to Receive Lady of Soul Award at 2022 Soul Train Awards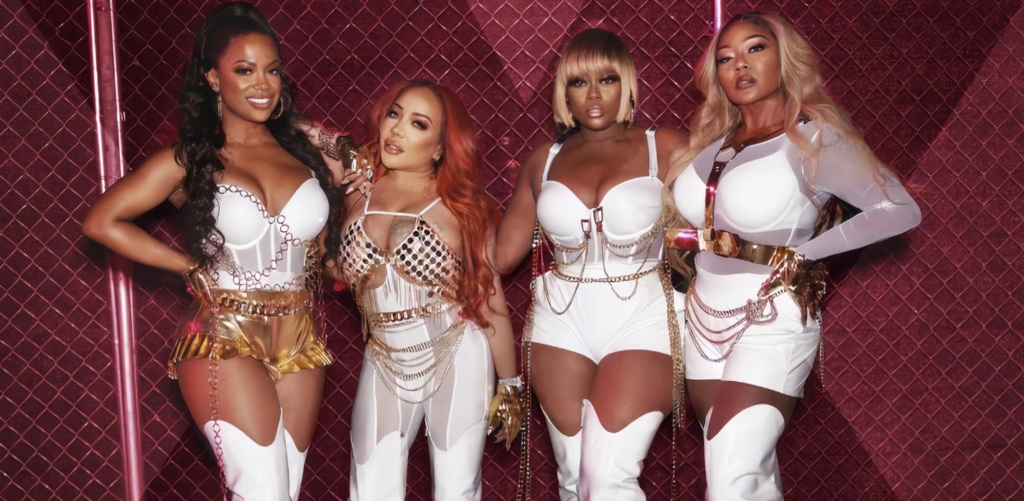 Xscape to Receive Lady of Soul Award at 2022 Soul Train Awards
62
Xscape will be honored with the Lady of Soul Award at the 2022 Soul Train Awards. The legendary R&B group comprises Kandi Burruss-Tucker, Tameka "Tiny" Harris, Tamika Scott and LaTocha Scott.
Xscape is the second group to be honored with this award. SWV received was honored at the 2017 Soul Train Awards.
Past recipients of the Lady of Soul Award include Jill Scott, Brandy, Faith Evans, Yolanda Adams, Monica and Ashanti.
"Given how important Soul Train is to all of us, we're so thankful to be honored with the 'Lady of Soul' Award this year. It's going to be an amazing night, and we can't wait to see you all there," Xscape said in a joint statement.
"Xscape is one of the most notable R&B supergroups of all time. Their powerful vocal harmonies laid the foundation for '90s R&B and some of today's chart-topping hits. Their sound is undeniably unique and masterful. We look forward to honoring these multi-talented artists collectively on R&B's biggest stage, Soul Train Awards," shared EVP Specials, Music Programming & Music Strategy Connie Orlando.
Xscape rose to superstardom on the strength of their 1993 debut album, Hummin' Comin' at 'Cha.
The platinum-selling album entered the Billboard 200 at No. 24 the week of Oct. 30, 1993. It peaked at No. 17 in the Nov. 20, 1993, issue.
The album's first two singles, "Just Kickin' It" and "Understanding," peaked within the top ten of the Billboard Hot 100, with the former making it to No. 2.
Both songs went to No. 1 on the Hot R&B/Hip-Hop Songs chart (then known as Hot R&B Singles chart).
Xscape's next platinum release was 1995's Off the Hook, which generated a third top ten Hot 100 single, "Who Can I Run To" (No. 8). It did not disappoint on Billboard's R&B/Hip-Hop Airplay chart, topping the list for six weeks in the fall of 1995.
Another Hot 100 top ten ("The Arms of the One Who Loves You") came with their third album, Traces of My Lipstick, released in 1998. It, too, was certified platinum by the RIAA.
Noted in a previous Rated R&B article, Xscape capped the decade in 1999 with the most top ten singles (4) for a female R&B group on the Billboard Adult R&B Airplay chart. Included in the batch are:
"Who Can I Run To" — No. 2
"Understanding" — No. 3
"Just Kickin' It" — No. 4
"Am I Dreaming" with Ol Skool and Keith Sweat — No. 6
After parting ways for a few years to pursue solo endeavors, Kandi and Tiny won a Grammy, plus topped various Billboard charts for co-songwriting roles on TLC's "No Scrubs."
Kandi also landed a writing credit on Destiny's Child's "Bill, Bills, Bills." It marked her second written creation besides the TLC girl-power anthem to be crowned atop the Hot 100 in 1999.
Kandi, LaTocha and Tamika have released solo music. In 2020, Kandi shared the Todrick Hall and Precious-assisted "Used To Love Me." She recently issued a previously unreleased tune ("It's You") featuring the late Gerald Levert.
LaTocha's last presentation of solo music came in April 2021 when she released the gospel-indebted "Full Time Love."
Meanwhile, her sister Tamika put out an EP titled Family Affair in 2019. It was reissued and remastered this summer.
Excluding solo music, Kandi and Tiny teamed up this year to share a response record to dvsn's controversial single "If I Get Caught." The song appears on the R&B duo's fourth album, Working On My Karma.
In 2018, Xscape briefly changed its name to XSCAP3 and released an EP (Here for It) that featured the moderate hit single "Memory Lane." Kandi was not part of the trio.
Since then, Xscape returned to its original stage name and has performed on several major stages together, including Essence Festival of Culture and, most recently, Mary J. Blige's Strength of a Woman Festival & Summit.
View this post on Instagram
This fall, Xscape is the lineup for a series of concerts dubbed the R&B Music Experience Tour. Other R&B veterans set to perform include Monica, Tevin Campbell, Tamar Braxton, 112 and others.
Another television show, this time that features SWV, is set to premiere on Bravo soon.
The unscripted series, currently under the working title XSCAPE/SWV, will be executive produced by Mona Scott-Young's Monami Productions. It is set to air this winter on the network.
Circling back to the 2022 Soul Train Awards, Mary J. Blige and Beyoncé are the most nominated with seven each. Ari Lennox, Chris Brown, Silk Sonic, Muni Long, Maxwell, Chaka Khan and more are among the nominees.
The 2022 Soul Train Awards are set to air Sunday, Nov. 27, at 8 p.m. ET on BET and BET Her. Comedian/actor Deon Cole will host.
View this post on Instagram