Westside Gunn 'Peace Fly God' Is Built For Seasoned Griselda Fans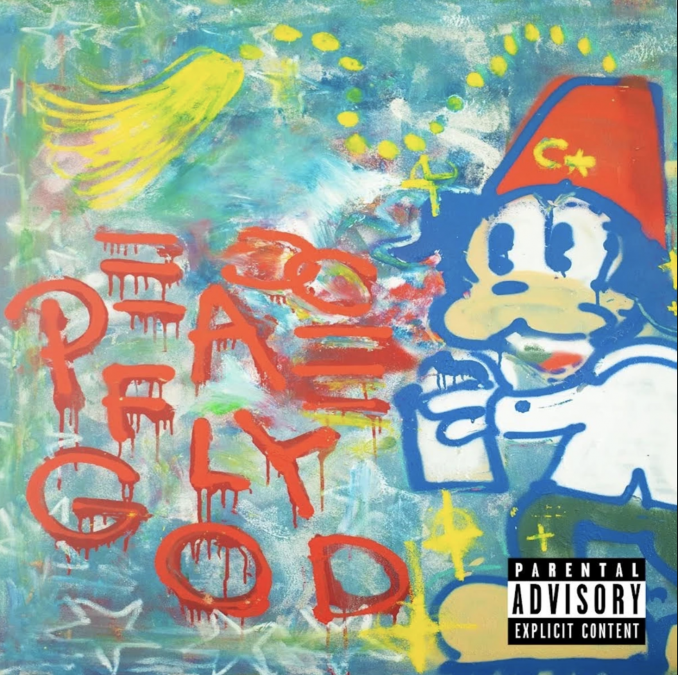 Westside Gunn 'Peace Fly God' Is Built For Seasoned Griselda Fans
63
For Griselda mastermind Westside Gunn, it's not unusual for projects to come together quickly following a flash of inspiration. In fact, his first Paris Fashion Week experience inspired 2020's Pray for Paris, his most commercially successful project to date.
Upon returning stateside after 2022's Paris Fashion Week, Gunn locked in with one of his imprint's most buzzing new signees, Stove God Cooks, and Boston native Estee Nack for his latest project, Peace "Fly" God. Though far less polished than any of his recent works and less accessible than PFP, the resulting effort is no less well-curated. Completed in two days, the project is meant to be an appetizer for Michelle Records, which the Buffalo MC has been promoting on his social media.
Produced by Don Carrera, the elusive Madlib and Daringer (who crafted the out Flip V. Phil featuring Eastside Flip), the project feels incredibly stripped back and raw, far less slick and rich in attention to detail. While this approach doesn't necessarily hamper lyrical performance, sonically it does (at points) feel low-energy.
For the most part, Gunn allows Nack and Stovie to bask in the spotlight. Although not necessarily a square peg in a circle hole analogy, they deliver two different listening experiences. As his fans already know, Nack is slightly more unconventional stylistically (his latest release GL1TCH with Al Divino is a good example).
Gunn is no stranger to switching things up and tinkering — whether it suits his strengths or not. This is seen in past collaborations such as Hitler Wear Hermès 7's "Banana Yacht" or the ultra-polarizing "Frank Murphy" on Gunn's Shady debut Who Made The Sunshine, where he joins Stove God, Elcamino and Flee Lord over an off-key, slightly frustrating loop.
The first song on Peace "Fly" God, the soulfully lo-fi "Jesus Crack," for example, is a commitment. Nack performs lyrical gymnastics for over three minutes solo on the looped vocal sample before Gunn and Stove God add their two cents (pushing the track to over eight minutes). His complexity takes a few listens to absorb — something casual listeners likely won't want to endure. But for those already converted, it's fruitful ("Rocket Pack Nack damage is ambidex/Aerial attack amateurs asking questions").
The song that follows, "Ritz Barlton," does offer more energy, with Nack and Gunn going back-to-back on Don Carrera's wobbly keys and distorted saxophone. However, "Bobby Rhude" is Nack's best showing here. He laments his come-up over a soul sample brimming with emotion, dropping bars such as, "It hurts when your friends become addicts and don't want any help/Rest in peace, my n-gga that died with his gun in his belt."
Still, it's hard to argue Cooks doesn't steal the show across the concise offering. Continuing his campaign for rap's most alluring cocaine-focused mouthpiece, he seems to add zest to everything Gunn puts him on — whether it's his long-overdue chorus over six minutes into "Jesus Crack" or his appearance on the Madlib-produced gem "Derrick Boleman."
Ultimately, Gunn himself provides the album's most significant moments. The first is the Don Carrera-produced "Big Ass Bracelet," where Gunn slides over a soulful groove (one he's become quite comfortable in) with bars such as, "Greeted my fiends with As-salamu Alaykum, Moms was a basehead, could blame it on Reagan." The second is the project's crown jewel, the Madlib-helmed "Horses On Sunset," with its gutter drums and Stovie's haunting chorus serving as the cherry on top.
Part of Westside Gunn's process has always been taking chances. It's partially why his expansive catalog sees him collaborating with a spectrum of artists, from Cannibal Ox's Vast Aire and the late MF DOOM to Fat Joe and Busta Rhymes. Fans have come to understand that, much like the visual artists he works with (Isaac Pelayo, for example), his projects are art pieces in his mind. As such, he seems to accept not everyone can see what he sees at that moment.
While Bro A.A. Rashid proclaims on the album intro a lack of understanding may be a "you problem" ("All you gotta do is adopt the understanding that a great mind is able to recognize great things … maybe these n-ggaz minds' ain't great"), Gunn doesn't always make it easy.
This is especially true when his approach to curation sometimes means listeners have to get acclimatized to production before they can soak up the messaging. The stripped-back, almost monotonous vibe of "Jesus Crack" paired with its extreme length could easily send an on-the-fence listener packing. The same could be said for a few other moments in the project's first half.
The approach is taken purposefully, though, and – as one can see from perusing his social media – devout followers seem to get it. For those who like Hip Hop tailored for easy consumption, Peace "Fly" God is certainly not playlist-bound as a whole and may not command revisits. But for seasoned Griselda fans and those willing to sit with it, Peace "Fly" God offers a few jewels worthy of becoming WSG staples and further builds up anticipation for Stove God Cooks' upcoming album.
REPEAT ME
FAN FEEDBACK
Westside Gunn and Stove God Cooks -Peace "Fly" God (2022) pic.twitter.com/oc6ntBAjmr

— Jon Dxe? (@jondxe32) July 8, 2022
Man @EsteeNack will never be forgotten after what he did on peace fly god

— Tj (@t__redacted) July 9, 2022
No disrespect to the rappers, but i reeeaaallllyyy want an instrumental version of Peace "Fly" God

— jakob (@HovDaGoat) July 12, 2022