26AR 'Flyest Oota' Tries New Styles From A Brooklyn Drill King — With Varied Results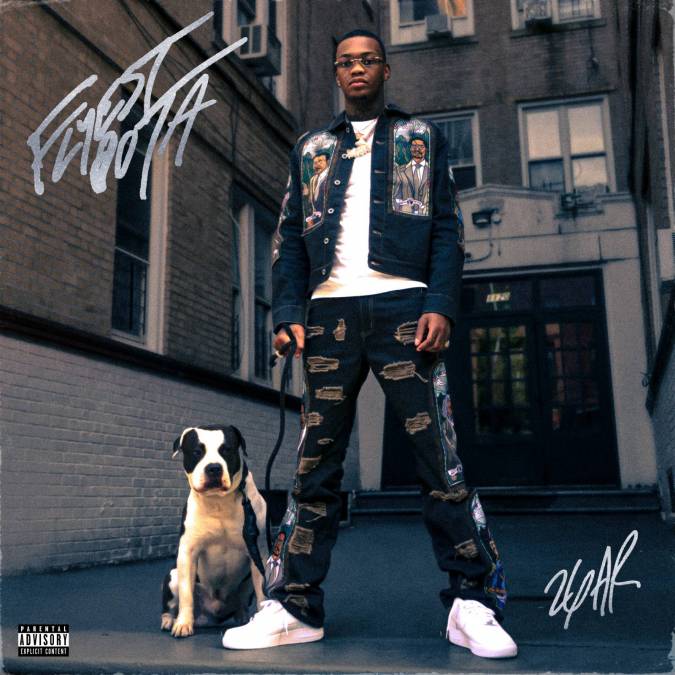 26AR 'Flyest Oota' Tries New Styles From A Brooklyn Drill King — With Varied Results
80
26AR's prolific run these past two years saw him exit jail and promptly become a New York City star, mastering the sound and speed of post-Pop Smoke Brooklyn drill. With slamming production and slash-to-the-hoop raps, he earned a reputation for consistency as the subgenre branched out from its Chicago origins, into UK type beats and sample drill.
AR flashes timeless qualities. He isn't strictly about drill stereotypes like beefs, bragging about being deadly, or super-busy rapping — although he has engaged with all of that in the past. He's about clarity, intelligence, good ears and precision. Sprinkled in amongst his good songs are transcendent ones, like the minimal "Maneuver" with Rocko Ballin, and the Maxwell-sampling "Roll It."
His videos have six- and seven-figure views, probably all coming from people within a ten mile radius. But "local legend" isn't enough for 26AR.
When we spoke earlier this summer for the Finals blog, he said he wanted to be the biggest artist in the world. That was his new goal since signing to Def Jam in the spring.
And he seemed uncertain about the label "drill rapper" going forward. Understandably so, in the context of prominent artists getting murdered and locked up, drill concerts intermittently banned in New York and in Chicago and media and politicians frequently scapegoating drill for society's ills rather than seeing it as symptomatic, a stylistic innovation, similarly violent as a lot of mainstream pop culture, or as a launchpad for careers.
"Sometimes I feel unsafe calling myself [a drill rapper]," AR said, "because once you label yourself people get a picture in their head of what it is, like a menace."
So it makes sense that his new album Flyest Oota, his first on Def Jam, would be something of a departure. Indeed it shows him moving into more straightforward street rap that tamps down NY drill's sliding 808s/"Kill Shit"-inspired stuttering hi-hats. The songs aren't big on samples, either, and feature almost none of AR's usual producers or guest vocalists (no A Lau, no Rocko Ballin, no Tazzo B, for instance). That's a lot to leave behind. But the album works because critical things remain: the beats go hard, the content is relatively unchanged and most importantly — AR's rapping is still airtight.
In this way, he now has something in common with Lil Durk and Fivio Foreign who started their careers with drill but have since diversified into a broader sound (Durk) and more sensitive topics (Fivio). For AR's rebrand –– seemingly just on this project, since he's been releasing drill loosies lately –– he mainly shifted his rhythms and personnel.
However, there are still a select few nods to the sound of his Brooklyn come-up. For example, sample drill pops up on "Walk Em," and there's a direct link to AR's indie rise with the Lucas-produced "WTF Going On," the same producer who made "Roll It," which successfully experiments with staccato bass over drill percussion patterns.
That's about it for the out-and-out drill music, save for the best song on Flyest Oota, "Nobody Safe," which goes back to the oddly delicate "Roll It" template. Over angelic acoustic guitar and dive-bombing bass, 26AR creates a unique type of music that's as light as it is fierce. He sounds so good on "Nobody Safe," it's a shame it's an outlier.
Several of the non-drill songs work, too, especially "Money Hungry," where he scientifically puts down other rappers: "My energy kinetic and their energy potential." Another highlight is the contemplative "Mention," produced by ForeveRolling and Flex on Tha Beat, where AR reminisces on his "misguided" teenage years that ended with him going to jail. The mellowness of the track doesn't mean he won't talk his shit, though, in tight rhymes that get extra points for AR pronouncing baguettes like "bag-etties," and for including consent in his bar about being a ladies' man:
"Mention I get busy and my cubans is baguettes/mention I got aim, any sitchy hold it steady/I'm sliding if it's petty and I'm spinning til I'm sweaty/mention that I'm slime, I fuck your bitch if she let me"
"Hottest In My City" features New Orleans mainstay Rob49 and shows AR can rap over a dramatic trap beat, even if he and Rob are two dope rappers that don't have a ton of chemistry (AR doesn't gel incredibly well with PGF Nuk either, on "Finish," although videos of them in the studio together shows they're real bros, and not simply some label-created partnership). And "In Position" has a buoyant bounce buried somewhere in it, which AR also raps well on. The versatility is apparent.
Flyest Oota is probably not going to make AR the biggest rapper in the world –– there are zero "for the charts" concessions: it's all rap, no pop. But it might be a step toward that goal. A different strategy might have been more refinement of what was already working and then mixing in some new ideas, not the other way around. Because it's often what makes a rapper most idiosyncratic and the most "you" that resonates with people.
But we should also try to think from AR's perspective, regarding his branching out. Because why wouldn't he want to sign to a major and try something different? Imagine being a 22-year-old, and the label is saying they can make you a superstar. They're selling a dream – but it's hard not to buy in. It's cool being the most famous guy on Bergen Street, but what if becoming a worldwide phenomenon was a possibility? The move requires a change in sound to be more palatable outside the home scene. But this compromise comes with the potential to reach heights never dreamed of, so why not make some edits and give it a shot?
A major label debut for an already-established artist is a tricky proposition, a creative dance of subtraction, addition, keeping what works and implementing new ideas. It's a collaboration between an artist and a business. Sometimes it's a smooth experience and other times a bitter fight. This one feels like it went smoothly. And the result is a hard album that's somewhat anticlimactic for one of New York's true grassroots success stories in recent memory, but is nonetheless a strong reintroduction and worthy showcase for one of the sharpest flows out –– and potentially the opening salvo of America's next big rap star.