Toni Braxton Opens Up About Traci Braxton on 'Tamron Hall Show': 'She'll Always Be With Us'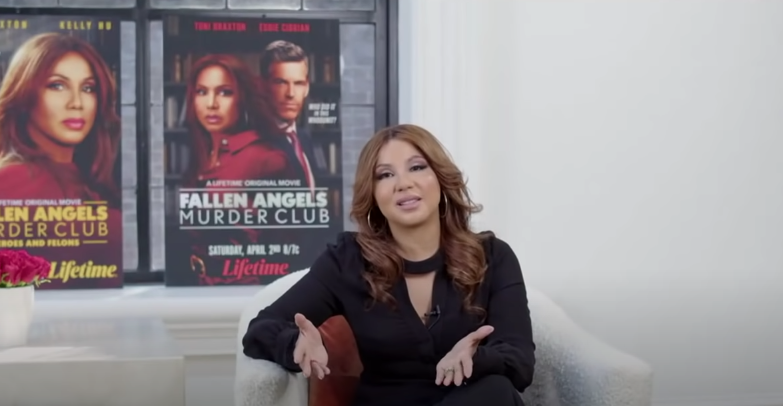 Toni Braxton Opens Up About Traci Braxton on 'Tamron Hall Show': 'She'll Always Be With Us'
85
Toni Braxton is a strong woman. The legendary singer has given her first interview to Tamron Hall just two weeks after her sister Traci Braxton's death. She passed away after living with cancer.
During a recent press run for Lifetime's Fallen Angels Murder Club anthology movie series, which she executive produces, a teary-eyed Toni spoke warmly and openly about the heartfelt tribute she wrote the day of Traci's passing, which tenderly referenced Traci as now a snowflake.
"I'm a rain girl. I love when it rains, but my sister Traci loves when it snows, and she died that morning. It was actually pouring down snow in Virginia," she shared emotionally with Hall.
Toni tied another sweet moment of nature to Traci.
"Her favorite bird was a hummingbird. I saw a hummingbird the other day. It kind of flew around me and kind of suspended itself," she mentioned. She added, "I felt like she was trying to say hello to me."
Hall asked Toni about the last year of Traci's life on earth. Toni revealed the hopefulness and high spirits Traci exuded even when doctors told her otherwise.
"Actually, she had a lot more time than they initially said," she said. "She had another six months that she was with us."
View this post on Instagram
While filming the two film installments, Friends to Die and Heroes and Felons, in Canada, Toni remembers speaking with Traci and leaning on her for advice on her character, Hollis Morgan, a former convict.
Even though Toni envisioned playing a less desirable female lead, she said Traci thought the opposite.
"She was like, 'Be sexy. Why not make her sexy?"" recalled Toni. "When I look at this project, I think of her with a smile on my face. We're going to dedicate this film — Lifetime and I — to my sister Traci. So, she'll always be here with us no matter what."
Further in the conversation, Toni talked more about her resilience as a fearless woman and incredible performer who's overcome other challenges.
Fallen Angels Murder Club: Friends to Die airs Saturday, April 2, at 8 p.m. EST on Lifetime. Then, Fallen Angels Murder Club: Heroes and Felons premieres the following week on Saturday, April 9, at the same time.
Watch Toni Braxton's full interview with Tamron Hall below.