Tone Stith, Monica, Kenyon Dixon, And Others Issue Love Letters To R&B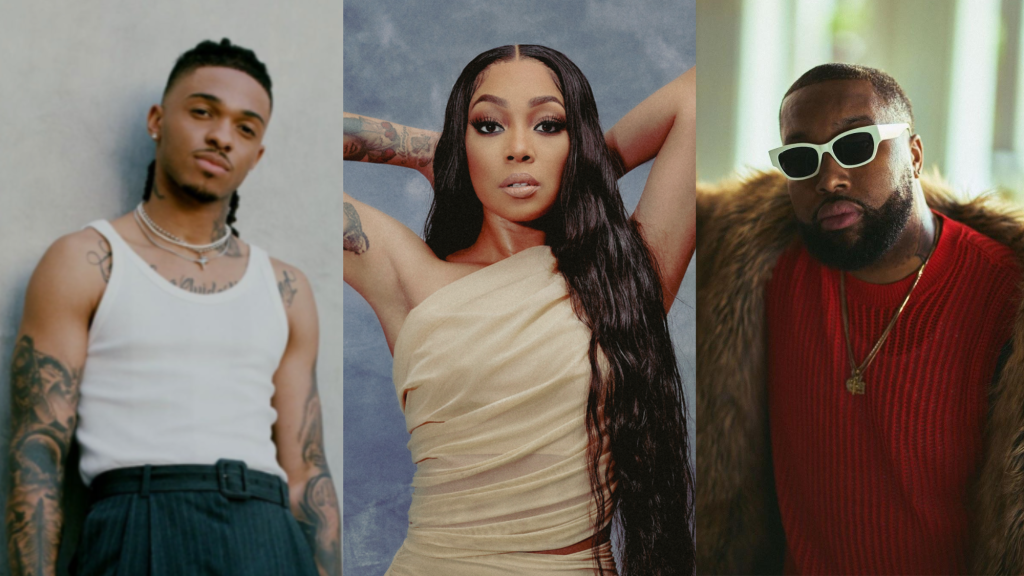 Tone Stith, Monica, Kenyon Dixon, And Others Issue Love Letters To R&B
6798
Is it roster initiation, time to love oneself, or has cuffing season been pushed up a few months? This summer, love is what you make it—at least that's how it feels when it comes to these new R&B releases. The singers are soundtracking the aftermath of a toxic undertaking as heard on Tone Stith's "Girls Like You," praising Black women per Kenyon Dixon's "Lucky," gifting their partners audible love letters, soulfully wrapping up an overwhelming relationship, and welcoming the secure attachment with open arms. 
Rising stars such as Elmiene, Felix Ames, Jalen Ngonda, and TA Thomas are giving the women of R&B a run for their money as they swept this week's top selections. Ready to get swept away?
Dive into VIBE's favorite R&B offerings for this New Music Friday.
Kenyon Dixon – "Lucky"
Coming on the tail-end of his role as musical director for Revolt's most recent episodes of The Link Up, Kenyon Dixon follows that winning streak with his new ballad, "Lucky." On Instagram, the crooner declared this to be "an ode to the magic of the Black Woman" and we can't argue there. 
As he praises the melanated women of the world on the outro: "Brown sugar, caramel/Chocolate, pretty self/My shea butter, cinnamon/Work of art, perfect 10," he teases what many are already thinking, "But then again, that ain't news/Take my money, only you." 
This is just a taste of what the Los Angeles native is cooking up and following the success of 2022's Closer, brace yourselves for what's to come.
Monica – "Letters"
Monica is getting back to teasing her R&B album with the new single, "Letters." The sultry record is the next offering from her highly-anticipated album, Trenches—the first LP under her imprint MonDeenise Music—slated to arrive later this year. 
The intimate ode is her lover as she reflects on the love she's found in them. "Writing you this letter in my feelings," she sings. "Just hearing your baritone on the phone/I get overwhelmed/Boy, you know we lockеd in my heart locked down/I swear I can't find nobody еlse to fit your crown." 
The audible love note is rumored to be dedicated to her longtime love, C-Murder—who's been behind bars for over 20 years. Monica has neither confirmed nor denied the allegation. 
Tone Stith – "Girls Like You"
After disappearing on fans for an extended hiatus, Tone Stith has returned with a vengeance. The crooner is exposing the dangers of dating a toxic woman—and doing so with the most intoxicating voice. 
"Imagine, being in a relationship. Taking time, growing with someone. Learning their ticks and things that make them feel satisfied. After all that effort, you find out that whole time they been f**king around on you with someone else! Just like that, trust issues, heartbreak… Swear it felt like someone stabbed me with a knife, and kept it turning," said Tone in a statement of the new record without fully revealing whom he was speaking of. 
Prior to the single's arrival, he explained on Instagram that it almost became a same-day release. Although he decided not to jump the gun, the singer says this song marks "the birth of a new era for ya boy."
TA Thomas – "W.I.A. (Where I'm At)"
TA Thomas's "W.I.A." is a transparent peek into a struggling relationship from his unique perspective. It comes on the heels of his debut solo single, "June 15th," since his departure from boy band, NextTownDown. 
Despite the rawness of his emotive lyrics, the thriving solo act opted to pair them over a hypnotic, uptempo melody. "I wrote this song from the perspective of not being perfect. Some people fall in love and some GROW in love," explained Thomas in a statement. "It's about the journey and not giving up."
Both singles come from his untitled debut EP that's intended to serve as a love letter to R&B, according to the singer, in addition to inspiring vulnerability among his listeners.
Elmiene – "Mad At Fire"
Co-written by Elmiene and Syd, "Mad At Fire" proves why Def Jam's newest signee is a force to reckon with. The British crooner floats ethereally over the string-laden melody. 
The enchanting ballad encapsulates the sentiment of "two things being true at once." He explained in a statement, "Like fire still burns when it's cold out; Like skies can still be grey in June; Like Bourbons are still eaten even though custard creams are better, I can still love you and leave you." 
Not only is the new single his major label debut, but it's the first to follow the arrival of his debut EP, EL-MEAN.
Felix Ames – "Bend, Don't Break"
Felix Ames first caught our attention on TikTok with his soulful original, "Shoestring." Now, the buzzing phenom has coupled that hit with his new single, "Bend, Don't Break." The song highlights his distinct merger of R&B, funk, and jazz. 
As he questions his ability to remain in a relationship that seems too much to bear, Ames snatches listeners in a chokehold with his virtuosic falsetto. The "honest offering" is a soul-stirring glimpse into how some men play mental gymnastics with figuring how to navigate select moments into a romantic journey that's more overwhelming than anticipated. 
Amid the success of Terrace Martin's melodic instrumental cover of SZA's "Snooze," the sensational musician has unveiled the first of six jazz albums to come this year with Fine Tune. 
Martin gives a nod to his Crenshaw roots and enlists a few friends including Robert Glasper, James Fauntleroy, Alex Isley, Keyon Harrold, and Brandee Younger to soundtrack a summertime saunter with these meticulously curated, romantic tunes.
Describing this LP as "a closer look into [his] thoughts and ideas, " Martin has us looking forward to what's next. There's no word on when the second installment of the series is coming.
Ashaine White, (pronounced ash-ay-nee), is in a world all her own on her new EP, Ash. The self-proclaimed "grunge soul" project was inspired by the likes of  Ella Fitzgerald, Nina Simone, and Kurt Cobain. 
The audacious, magnetic exploration into love—platonically and romantically—toes the line of praising the nurturing energy of her inner circle as well basking in the inebriating bliss of a relationship's genesis. The EP invites listeners into White's mind, at her most authentic, as she brings innermost conversations to life.
Reggie Becton feat. Slim and Ye Ali – "RM. 143 (RM112 Remix)"
Reggie Becton partners with 112's Slim and Ye Ali for a new flip of his hit single, "RM 143." 
The seductive duet is an exemplary blend of Ali's magic touch and Slim's legendary musicality, breathing new life into the track. The joint effort is both a celebration of Black Music Month and of the original song's amassing over 10 million streams.
The budding crooner admits that this collab was a full-circle moment for him. "In high school I performed 'Dance With Me' in a school play and sung all Slim's parts. Now I am on a track with him!!!!" This elevation compliments the 2022 remix of "RM. 143" featuring Kenyon Dixon.
Jalen Ngonda – "Come Around And Love Me"
By way of London and Washington D.C. comes Jalen Ngonda, who offers an updated spin on a traditional sound with his single, "Come Around And Love Me." 
Feeling like a transport to the peak era of Motown and '70s funk, Ngonda complements the sound while his distinctive voice sings of falling for someone while seeking out a sign that they're ready to dive in wholeheartedly without reservation or hesitation. 
Written in late 2021, the song had to wait to be completed until it was safe to travel following the 2020 shutdown. "As soon as it was possible to fly to the USA after lockdown, I jumped on a plane and we got to work," he joked. The title track from his forthcoming debut album, which is set to premiere Sept. 8, Ngonda describes the song as being about "taking a chance in spite of the surrounding doubts." 
Jimmy Jam coined the term newstalgia as being "that comfort of something familiar, which is always good, but the excitement of hearing something new" and Ngonda is the epitome of that.