The Game 'Drillmatic: Heart Vs. Mind' Has Some Skips But Sounds Sharp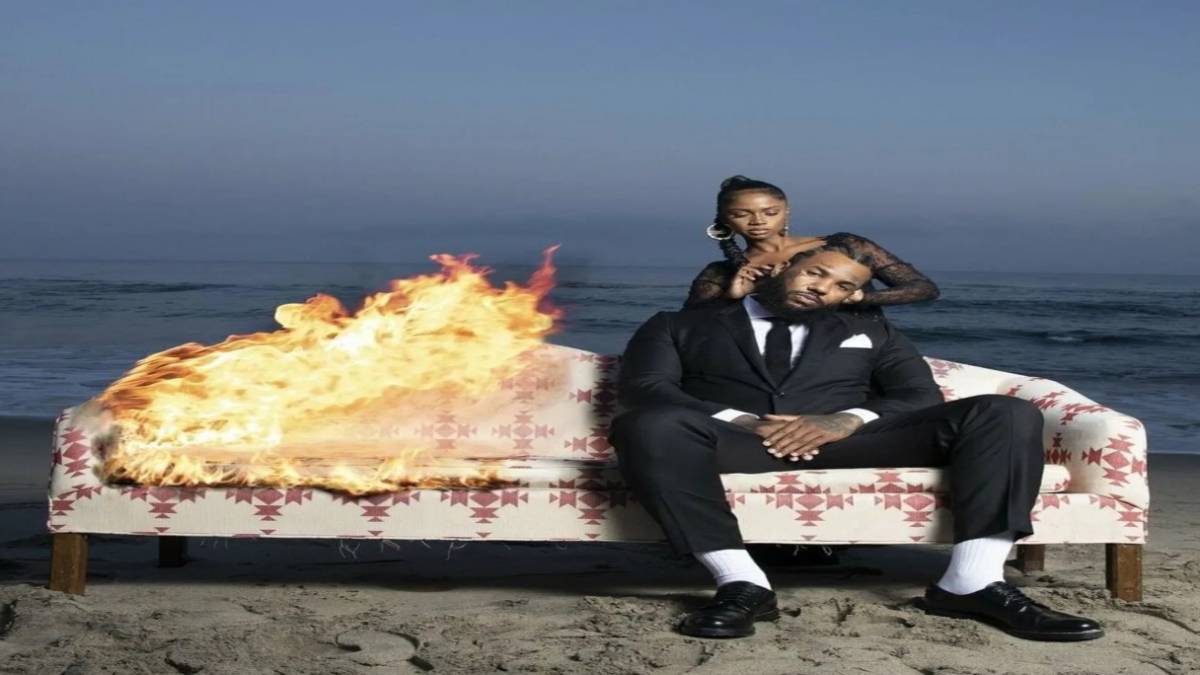 The Game 'Drillmatic: Heart Vs. Mind' Has Some Skips But Sounds Sharp
65
Hate it or love it, The Game loves to talk. During the rollout of Drillmatic: Heart vs. Mind, his tenth studio album after his "final album" Born 2 Rap, the 42-year-old rapper has been making grand statements about himself. If Game isn't challenging Eminem to a Verzuz because "50 Cent can't rap," then he's doubling down that he's a better rapper than the anointed Rap God.
"When have you ever heard Eminem in a club?" he told All The Smoke. "When have you ever heard it in the locker room? I don't hear Eminem in the streets." If that didn't get people's attention, then try Game boasting that his 30-track album has "no skips" and it's the best rap album of 2022. The name, a hybrid of the trending Chicago and New York drill movement and the name of Nas' debut album Illmatic, sets high expectations for Game's "flex album," comparing his recent output with Hit-Boy to that of Nas and DJ Premier, Swizz Beatz and DMX and JAY-Z and Just Blaze.
On the release date of Drillmatic, after several pushbacks due to sample clearances and personal issues that Game was transparent about, executive producer Hit-Boy posted he produced six songs. One of those songs was the polarizing "The Black Slim Shady," a 10-minute diss track leaked early because of Drillmatic's international release. It's Game's blatant attempt to bait Eminem into battling him, causing yet another distraction from the totality of a new Game album. The significance of a diss record using key pop culture moments from his greatest hits that he's clearly heard before is narcissism at its finest. Game wants Eminem to acknowledge him so badly for his lyrical ingenuity that it's left Em fans wondering if it is even worth it to respond.
It must be frustrating to be a Game fan, constantly reminded of your favorite rapper's ties with Dr. Dre, Eminem and 50 Cent and how he doesn't have a good relationship with them anymore. It's a wound that's been open ever since he dropped his diss track "300 Bars" in 2005 after 50 Cent kicked him out of G-Unit on Hot 97. Interviewers can't help but ask him about the past, and Game can't help but retell his version of history to make him look like the victim and the rapper who should be bigger. Drillmatic arrives with all the controversy and antics Game brings upon himself. But musically, Drillmatic is better curated than most of his recent work with some of Game's most focused and replayable songs in recent memory, even with the long runtime.
Here's what works on Drillmatic. Game likes to drop a lot of songs for his fans, which clocks Drillmatic at about two hours. This is his second longest album compared to The Documentary 2 + 2.5's 40 tracks from the collector's edition. Give all the credit to Hit-Boy, who takes on the executive producer role as Dom Kennedy did on Born 2 Rap, for threading all the beats together into a sonic story. The beats flow from one to another, adding a pace that takes the listener through moods made for Los Angeles, New York City, Chicago and Miami.
Outside of Hit-Boy's contributions, Game taps Big Duke, DJ Paul, Bongo, London on Da Track, Timbaland, Swizz Beatz, Mike Zombie and others. He knows when to call in his producer favors, resulting in some insane verses over these beats by NBA YoungBoy ("O.P.P."), Pusha T and 2 Chainz ("No Man Falls"), G Herbo ("Chrome Slugs & Harmony"), Dreezy ("Fortunate"), Twista ("Rubi's Rose"), A$AP Rocky ("Money Cash Clothes,") and Big Sean ("Stupid").
Even without the promotional hype of DJ Khaled when he drops a new single, Game can utilize his relationships to create Khaled-esque collabs that are better than the originator. 2012's Jesus Piece was evidence of that, and on Drillmatic, Game makes interesting pairings such as Kanye West, Dreezy and Chiller ("Fortunate") sound seamless. He gets the bedroom jam right by linking Twista up with Jeremih for "Rubi's Rose." Khaled himself makes an appearance on "Nikki Beach" with French Montana and Tory Lanez, though the results aren't as favorable.
Game also shows massive respect to the culture that built him, including using samples from JAY-Z and DMX, Eazy-E, Ice-T, Mobb Deep, Tela, 8Ball & MJG, Bone Thugs-n-Harmony and Janet Jackson. In his mind, paying homage to the past by recreating classics with his own spin should strengthen his argument that he's the best rapper alive. It's a risk that doesn't always pay off because people like songs such as Bone Thugs' "Thuggish Ruggish Bone" and JAY-Z's "Change the Game" exactly how they are – fans don't always need a "Gamified" version of them.
Hov's "Song Cry" gets the most use in a three-song stretch ("World Tours," "Save The Best For Last," "A Father's Prayer") through samples and interpolated lyrics. It's unclear how old "World Tours" is, but Game does something akin to Meek Mill's "Letter to Nipsey" and J Stone's "The Marathon Continues," writing a letter to Nipsey Hussle and catching him up on life.
"They killed Slim 400, stabbed Drakeo," he raps. "I've been out the way tho/In Calabasas, trying to lay low/Yeah, this can't be the shit our grandmothers prayed for." Along with "World Tours," "A Father's Prayer," where Game gets vulnerable in an open letter to his daughter, is some of his best bars on the project, illustrating a fractured father-daughter dynamic filled with emotion and love.
And of course it wouldn't be a Game album without him name-dropping his celebrity friends, even if it's to the detriment of the album. On Drillmatic, there are times where he's really forcing them to work in rhyme. "Tryna ride a wave/but these Frank Oceans so choppy" and "Bombs goin' off all around me, I got Durk in mind/I usually spaz, but Beyoncé had to re-work thеm lines," he says on "Heart vs. Mind." How about "I Waka, Flocka, Flame/Hit yo block up" on "Save the Best for Last?" Or another cringeworthy line on "Universal Love:" "Nothing to hide when ya living your pride/If gay is happy, I'm Isaiah Rashad."
While it's simply too long to list all of what Game's mentions, some of the wildest things are he could've signed to Roc-A-Fella if he wasn't hardheaded, anything is possible if Drake has braids, he and 50 Cent never did a show together, and he almost tried to rob Fabolous for his jewelry. Game could benefit from an editor or a confidant to tell him to not say that or maybe keep that story to himself. There's a fine line between oversharing and burning bridges because you exposed them.
On any of Game's albums, he wants the listener to remember he's famous, has been in rooms with some legends and is aware of current events. But at this stage in his career, he's using it as a crutch. This obsession of his place in Hip Hop has gotten to the point where it's taking away from the genius of his actual good songs such as "O.P.P.," "La La Land," "How Far I Came," "Start from Scratch II" (a sequel to "Start from Scratch" on The Documentary), "Fortunate," "Money Cash Clothes" and "A Father's Prayer." But because he floods his lyrics with topical names and references, it convolutes the concept of Drillmatic. If the first disc of The Documentary 2 is peak 2010s Game with the right mix of features, then Drillmatic is trying hard to embody that. There's plenty of substance peppered in, but listeners will have to skip around to find it.
For all of Game's posturing, he seems to back it up with his ability to rap and the flex of having an indisputable classic with the 2x-platinum The Documentary. That album changed a lot of lives, and his career is tied to so much of the West Coast rap scene that Kendrick Lamar and Nipsey Hussle are forever indebted to him for putting them on. But what's concerning is his current identity crisis, clearly reaching his creative limits by borrowing flows and arguably sounding like other rappers on select songs on Drillmatic.
When Game does decide to retire, it should be at a time where he no longer needs to validate his legacy. Game can't leave rap alone now, but his transition from trendsetter to trend hopper makes it seem like he's chasing rather than leading.
REPEAT ME
FAN FEEDBACK
This Drillmatic album by Game is one of the worst moments in hip hop history. No exaggeration

— Jody Van Der Linde? (@DVDJXX) August 13, 2022
The Game's album, Drillmatic, has more replay value than Kendrick's Mr. Morale and the Big Steppers.

— NIC MAG (@NICMAG213) August 13, 2022
This new @thegame album has me like pic.twitter.com/zD4kyjAOkd

— Zak (@zakwindholz) August 13, 2022