The 10 Best Kate Bush Covers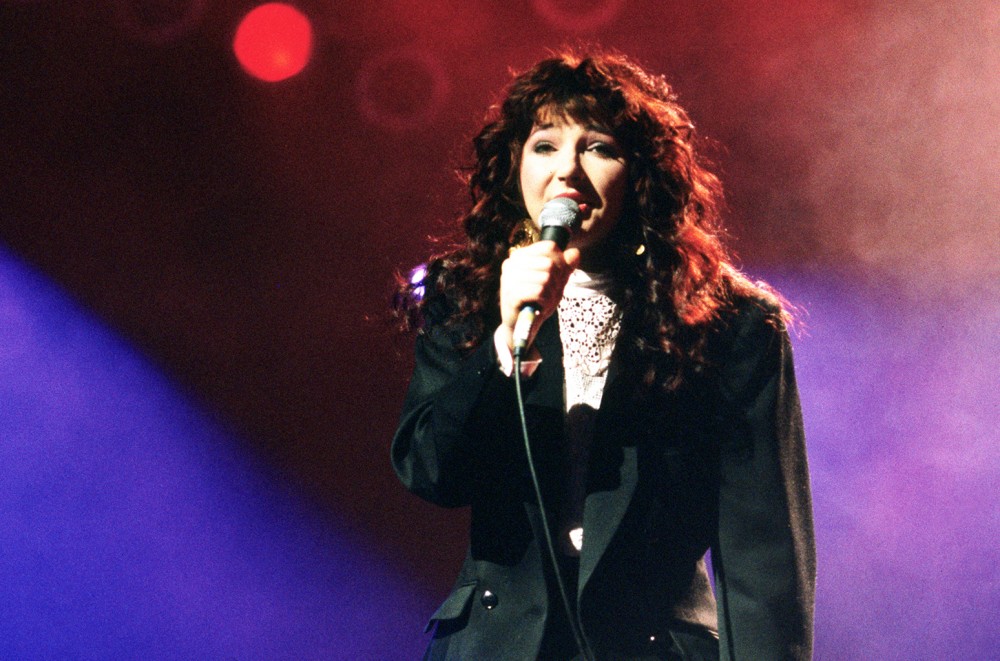 The 10 Best Kate Bush Covers
28
Eight years after arriving on the scene, singer-songwriter Meg Myers scored her first Streets Talkin No. 1 in early 2020 when her rendition of Kate Bush's "Running Up That Hill" topped the Rock Airplay and Alternative Songs charts.
That feat is all the more impressive considering that the enigmatic Bush is a famously tricky artist to cover. Of course, that hasn't stopped an eclectic array of artists from tackling her intricate arrangements, idiosyncratic lyrics and swooping melodies.
From galloping post-punk anthems to tender neo-soul ballads, here's a look at ten of the best.
10. Ra Ra Riot, "Suspended in Gaffa"
Late '00s blogosphere favorites Ra Ra Riot often closed their early live shows with a cover of "Hounds of Love." But it was an earlier Bush classic that the Syracuse collective chose to grace their debut album, The Rhumb Line. Perhaps wisely, frontman Wes Miles doesn't attempt the vocal theatrics of the original. But with violinist Rebecca Zeller and cellist Alexandra Lawn in full flow, this chamber pop take on The Dreaming cut still has plenty of high drama to offer.
9. Dusty Springfield, "The Man with the Child In His Eyes"
Performed live at London's Royal Albert Hall just a year after the original's 1978 release, Dusty Springfield's take on "The Man with the Child in His Eyes" is perhaps the first notable Bush cover. It was described by the beehived blonde as one of the prettiest songs ever written and she imbues it with the same sense of poignancy and intimacy that made her such a '60s soul icon. Ultimately, this is the intriguing sound of one of Britain's greatest pop divas covering one of Britain's greatest pop mavericks.
8. Nada Surf, "Love and Anger"
Native New Yorkers Nada Surf didn't venture too far outside their comfort zone when tackling Bush's Alternative Songs chart No. 1. Taken from their 2010 palindromic-titled covers album If I Had A Hi-Fi, "Love and Anger" follows the same peppy power pop formula that made the trio such college rock favorites back in the mid-'90s. While it lacks the primal energy of the original, Matthew Caws' typically plaintive tones and the seemingly effortless production almost makes you believe they wrote it themselves.
7. Willie Nelson and Sinead O'Connor, "Don't Give Up"
"Don't Give Up" has been given the superstar treatment by both Alicia Keys & Bono and P!nk & John Legend. But Willie Nelson and Sinead O'Connor's country-tinged version is perhaps the closest that anyone has come to matching songwriter Peter Gabriel's original vision. Heavily inspired by American roots music, the ex-Genesis frontman initially wanted Dolly Parton as a duet partner before longtime friend Bush happily accepted being second choice. Nelson's storytelling abilities arguably make the desperate verses all the more poignant, while the ever-haunting O'Connor steps into Bush's supportive shoes with aplomb.
6. Josh Pyke, "Wuthering Heights"
It takes a brave, or some would say foolish, individual to take on the high drama of Bush's signature hit. Aussie troubadour Josh Pyke added his name to that list in 2007 with his contribution to gender-swapped covers album No Man's Woman. While some would believe it's sacrilegious to strip back everything that made "Wuthering Heights" such an innovative piece of art pop, Pyke's laconic minor key vocals and autumnal folk arrangement means this is far more intriguing than just a simple campfire sing-along.
5. Saint Saviour, "Army Dreamers"
Saint Saviour began drawing comparisons with Bush from the moment she first came to attention on Groove Armada's Grammy-nominated album Black Light. And the artist formerly known as Becky Jones seemed more than happy to embrace such comparisons when she launched her solo career. The third single from 1980's Never for Ever, anti-war waltz "Army Dreamers" was already a relatively sparse affair. But Jones strips it back even further on a multi-layered a cappella take which is nothing short of spellbinding.
4. The Futureheads, "Hounds of Love"
A surprise U.K. top 10 hit in 2005, The Futureheads' "Hounds of Love" is perhaps the most divisive entry in the oeuvre of Bush covers. Their high-spirited rendition briefly rivalled The Killers' "Mr. Brightside" as Britain's ultimate indie festival anthem, its call-and-response structure seemingly designed to instigate a mass sing-along in an impossibly muddy field. Yet some purists believed that reducing Bush's artistic statement to such rowdiness was nothing short of a travesty. Whichever side of the fence you sit on, it's clear that the post-punk outfit had great affection for the source material, and few others have transformed it so dramatically.
3. Maxwell, "This Woman's Work"
Written from the perspective of a father-to-be as his wife experiences a difficult labor, "This Woman's Work" is lyrically the Bush song that is ripest for male interpretation. However, its impossibly high notes mean few have even attempted. Blessed with one of the sweetest falsettos in the game, however, Maxwell almost makes it sound easy on the standout from his 2001 LP Now. A live favorite since his MTV Unplugged set four years previously, this awe-inspiring neo-soul version was later adopted as an anthem for the Black Lives Matter movement, once again proving the transcendent power of Bush's music.
2. Gemma Hayes, "Cloudbusting"
Several years before recording arguably the definitive cover of Chris Isaak's "Wicked Game," the highly underrated Gemma Hayes did the same for another brooding pop classic, only this one was inspired more by pseudo-scientific energy than a booty call. The Irish singer-songwriter opts for the restrained approach here, abandoning the original's hypnotic cellos for hushed guitars yet still heightening the tension with the use of a softly thudding drum. And with her tender yet thoroughly bewitching vocal, Hayes serves up that rare Bush cover that's even more haunting than the original.
1. Placebo, "Running Up That Hill (A Deal with God)"
One of Bush's two top 40 hits on the Streets Talkin Hot 100, the majestic "Running Up That Hill" has been tackled by everyone from Dutch symphonic metal outfit Within Temptation to '80s mall-pop sensation Tiffany. But it's Placebo's deliciously gothic rendition which has resonated the most, soundtracking countless film trailers, moody teen dramas (including The Vampire Diaries to little surprise) and even Shawn Michaels' WWE farewell. Bush initially thought of subtitling the song A Deal with the Devil and with its starker, slower arrangement, Brian Molko's snarling lead vocal and the sinister electro-industrial coda, Placebo's take certainly pushes the Hounds of Love cut closer to the Satanic.