SZA Wins First Grammy Award, Confirms New Album Is Finished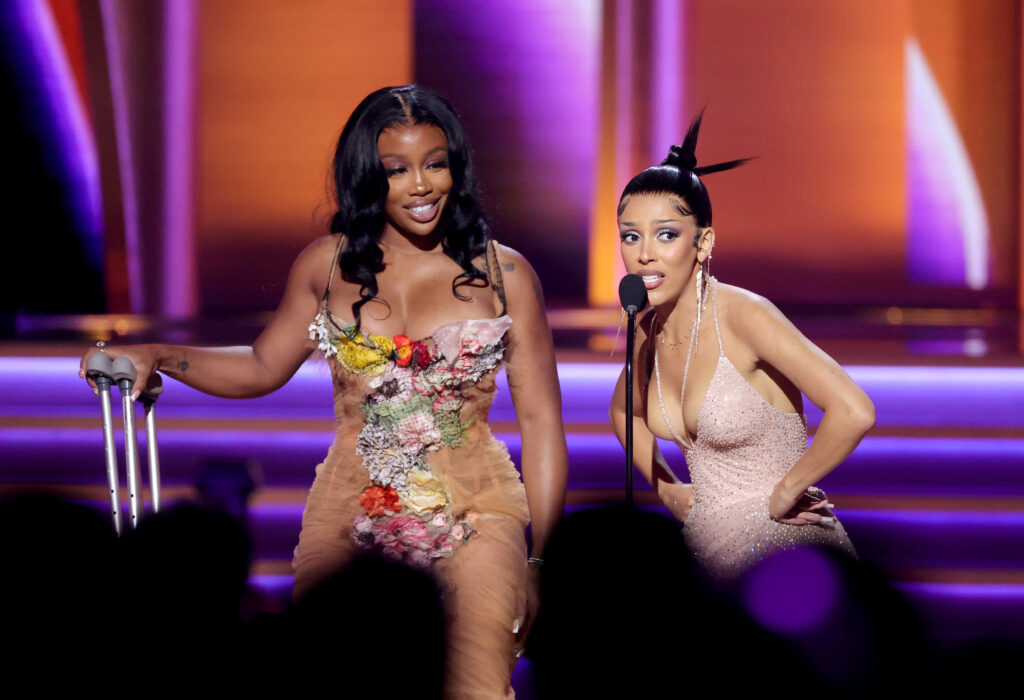 SZA Wins First Grammy Award, Confirms New Album Is Finished
58
After gaining 14 career Grammy nominations, SZA scored her first win at the 64th Grammy Awards on Sunday night. The New Jersey native and genre-bending artist Doja Cat won Best Pop Duo/Group Performance for "Kiss Me More." It marked Doja Cat's first Grammy win, as well.
"Kiss Me More," which was also up for Song of the Year and Record of the Year, appears on Doja Cat's latest album, Planet Her.
SZA, who had to use crutches after twisting her ankle the night before, was joined by Doja Cat on stage to accept their award.
"Thank you to Doja. Thank you to my momma. Thank you, God, and just thanks to all of y'all," SZA said after Doja Cat urged her to speak.
Following her Grammy win, SZA appeared in the TV/radio press room backstage, where she was asked to give a status update on her sophomore album.
"[It's coming] very much soon," she confirmed. "I just actually finished it up recently in Hawaii."
When asked to share more details, SZA said, "It's probably my most unisex project yet — if that makes sense. It's definitely for everybody in a different way."
SZA's sophomore album will follow her critically-acclaimed debut LP, Ctrl. The album spawned platinum-selling hits such as the Travis Scott-assisted "Love Galore" (5x multi-platinum), "The Weekend" (4x multi-platinum) and "Broken Clocks" (3x multi-platinum).
Since releasing Ctrl, SZA has earned a few more hits. Her 2020 track "Good Days," which was nominated for Best R&B Song at the 64th Grammy Awards, peaked at No. 9 on the Billboard Hot 100.
"I Hate U," her latest song, peaked at No. 7 on the Hot 100. It also made history on Apple Music as the most-streamed R&B song by a female in its first week.
At this time, SZA hasn't confirmed if either song will appear on her second album.
Watch SZA's interview below.