Roddy Ricch's Best Songs (So Far)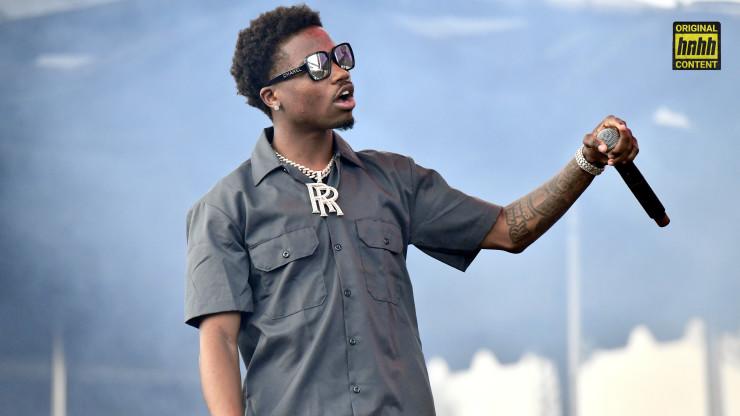 Roddy Ricch's Best Songs (So Far)
30
Roddy Ricch has cemented his position in the rap game, and we don't expect he'll be going anywhere any time soon. The young artist is not only talented, creating insanely catchy melodies out strange noises, he's also got a good head on his shoulders– he's mature for his young age, as he's continuously proven both in his reflective lyrics and in interviews. Perhaps it's the Nipsey Hussle influence, but perhaps it's also just who Roddy is.
The artist was already bubbling when he delivered his Feed the Streets 2 mixtape in 2018, and by 2019, with the release of "Racks in the Middle," his clout began to reach new heights. He capped off the year by delivering his debut album Please Excuse Me for Being Anti-Social, which shattered expectations, led by the phenomenal success of "The Box"– apparently, no one was expecting the lurching record to take off as it did, because the label hadn't even shot a music video for the song at the time.
Prince Williams/Wireimage/Getty Images
Now that Roddy is a certified super-star-in-the-making, we're taking a look at some of the best songs he's released in his short career so far, while we anticipate new music from the rapper. If you're new to Roddy Ricch's catalogue, let this list be your guide for essential listening.
Let us know your favorite Roddy Ricch songs in the comments.
---
Fucc It Up
Roddy Ricch's kicks off his debut mixtape, Feed The Streets, with the unrelenting "Fucc It Up" and he doesn't slow down from there, setting the melodic, charismatic tone for the rest of the mixtape (not to mention his entire career). Despite the fact that Roddy Ricch may not sound like where he's from– Compton– what he does sound like is himself. Since day one, Roddy Ricch has had a distinct sound and he hasn't strayed from it, he's remained true to himself.
A few electronic keys signal the start of "Fucc It Up," before Roddy Ricch proceeds to go in, weaving his way through the keys while the boom of the bass contrasts the natural pitch of his vocals. Not only does the record set the tone for the project in terms of style and sound, it paints the scene– a man who is used to the streets but is acclimating to a life of luxury.
---
Position
It just so happens that the first three songs on Feed the Streets are back-to-back-to-back fire. We can assume this is by design, as it ensures you are immediately hooked. "Position" has one of the hooks that will be stuck in your head, with Roddy's voice auto-tuned slightly to create an even more pitched up feeling, as the rapper elongates his words, creating melodies with each bar. In fact, each bar seems to try out a new type of flow, some more passionate than others, showing the breadth of Roddy's abilities (yet, he's explored even more since). Roddy has an uncanny ability to make his vocals feel intrinsically entangled with the beat.
The record is another reminder of where Roddy came from and where he's heading– frequent themes in his music, as a young artist who is still getting comfortable with his success. One thing is for sure though, he won't be heading back to any type of broke boy circumstance.
---
Sak Passe
"Sak Passe" rounds out the trio of opening records found on Roddy Ricch's very first mixtape, and insanely strong introduction to the rap game, Feed the Streets. Clearly, Roddy was hungry. Not just that, but he was hungry to share with his friends and family– one of the most prominent themes within Roddy's music is taking care of his own and spreading the wealth.
"Sake Passe," produced by Joey Trife and CashMoneyAP, begins with classical-sounding piano keys before a burst of bass breaks through the beat, taking over and pushing the piano keys to the background. Roddy delivers one of his most heartfelt hooks on the record: "We fed the streets, I had to flood it," he raps, his voice aching with melody. "I wanna fuck with my niggas / Then take my niggas to the top of the world," he says later, making a promise he's probably keeping as we speak.
---
HoodRicch
Amy Sussman/Getty Images
"HoodRicch" helped cap off the first Feed the Streets mixtape, as Roddy Ricch envisions what his life would look like after coming up out of the streets. "I came from the bottom lil nigga / All I ever dreamt about was being hood ricchhhhh," he croons. The beat is cinematic, adding to the dream-like quality of the record. It also has a bit of a West Coast flare to it thanks to hints of a wobbly synths that bubble below the drums, which isn't the norm for Roddy, who tends to lean more into Atlanta's melodic trap style. Nonetheless it's a stand-out from the rapper's young career.
---
Quality
A melodic howl signals the start of "Quality," and are littered throughout the beat, showcasing Roddy's penchant for unique, earworm-type ad-libs that become an integral part of the record– think "The Box." A few piano keys then set the tone for the smooth record that finds Roddy name-dropping artists he's looking to emulate, including Kanye West, Meek Mill, and DJ Drama. Of course, he would eventually connect with Meek Mill directly, leading to collaborations between the two on top of a relationship. As Roddy's revealed in interviews since, he was in the process of working on Feed the Streets 2 at a studio in Atlanta when he first met Meek Mill.
---
Blue Streak
Yep, this song is another one that finds Roddy crooning effortlessly over a piano-laden beat. Roddy definitely loves his piano as a musical backdrop, however it somehow doesn't become repetitive because the style and type of keys is often changing. Here, it's something a bit more mellow and minimal from producer Pinnacle, who even puts a pause on the drums from time to time, making Roddy's lyrics and voice the main focus.
---
Boom Boom Room
"Boom Boom Room" became a low-key fan-favorite off Roddy Ricch's debut album, Please Excuse Me for Being Anti-Social. He would go on to drop off a visual for the song, which begins eerily enough, with the rapper climbing out of a car post-accident. With a bleeding head and a limp, he follows a girl slyly inviting him into a backdoor alley with a glowing neon sign that reads: The Boom Boom Room. Inside, the dimly-lit club is shadowed in hues of red and blue, while glowing-eyed strippers and cash circulate the rooms. It's strange, yet it works– the dark, spooky vibe matches that of the song. "Boom Boom Room" is another example of Roddy's vocal acrobatics, where he provides squeaking "ah ah" ad-libs that once again permeate the piano-driven beat, becoming a part of it, while constantly looping in your head.
---
The Box
"The Box" is the record that propelled Roddy Ricch's already-buzzing career into another stratosphere. It's the song that helped his name break out beyond just hip-hop circles, and into the pop culture dialogue. It was also the immediate stand-out on Roddy's debut album, for basically everyone– the first time you played Please Excuse Me for Being Anti-Social, chances are you fucked with "The Box" heavily.
While the rapper found viral success with records like "Die Young" and "Every Season," neither charted in the way that "The Box" did– it hit #1 on the Billboard Hot 100, becoming his first song to do so, while also keeping the spot on lock for 11 straight weeks. Enough about the stats, though, it's the song itself that's a masterpiece, from 30 Roc's production to Roddy's lyrics. The inventive "eee errr" ad-lib was just the icing on the cake– although really, it's hard to say if the song would have taken off without it– given how perfectly it meshes in the age of the short sound-bite (aka TikTok).
The record feels like a hit from the minute you press play and the cinematic sounds of an orchestra swells, giving the record an ominous, yet important feeling. That feeling proved correct, as the song has not only defined Roddy Ricch's success but acts as a warning sign for the young artist's endless creative energy and talent.
---
Nascar
"Nascar" is exactly how it sounds– it's a fast-paced record, perfect for cruising. The production from Richie Souf and Southside, two ATL mainstays, is atmospheric and light, yet it's all wrapped up in a sense of urgency. This is echoed by Roddy who raps passionately over the course of the three-minute record, reflecting on how his life has been zooming on by– and equally, how he himself is dashing past his fellow artists.
---
Faces
"Faces" is the second track off Roddy's second mixtape, Feed the Streets 2. His vocals feel particularly pitched up on the song, creating a cadence that's a bit squeakier than usual, but proves a thrilling listen. Roddy feels like he's full-out whining on the hook, as he admits how much his life has changed: "Nigga I can't lie, shit changed / When I start countin' the faces / Soon as I bust my face down / All these niggas wanna hate me now." As much as Roddy can brag on a record, he tends to balance it out with a mature perspective– "I just wanna make sure I got enough saved for the kids / I just wanna make sure my habits ain't affectin' the way I live I came up out the streets, nigga I can't lie that's how I live," he ruminates.
The Sonic-produced beat is another one that counts piano as part of its melodic nature, with skittering hi-hats and 808s rounding it out as a few of Roddy's preferred sounds.
---
Down Below
Roger Kisby/Getty Images
Roddy Ricch tends to have a mix of producers, some West Coast staples while others are ATLiens, thus helping curate his unique blend of trap. On "Down Below," he has an OG behind the boards, Scott Storch, with co-production from Avedon. It's a song that basks in its forlornness. Roddy uses this feeling of loneliness to help propel his lyrics, as he reflects on trials and tribulations of his past life. "'Member I was in the project walls, couldn't even get a loan / Now these niggas got they hands out, if I ain't give it, I'd be wrong / 'Member I was in the county jail none of these bitches wasn't pickin' up the phone," he raps over the simple twang of the beat.
"Down Below" acts as a reminder of where Roddy Ricch came from, or perhaps better put, it's an ode to it– it's as though he's serenading his past life as he looks forward to what the future now holds, an entirely different way of life.
---
Every Season
"Every Season" is one of Roddy Ricch's biggest songs, at least, that was before "The Box" came along and claimed the top spot. Nonetheless, it was one of Roddy's early viral successes, released as a single ahead of Feed the Streets 2. The production, helmed by Cassius Jay and Beezo, has the type of country-trap vibe that's become popular this past year, while Roddy uses the instrumental to simply show off his flows. He packs quite a few different flows into this record, proving his versatility since the beat itself is rather repetitive– yet somehow, Roddy finds the pocket of the beat for every flow, making it seem all too easy.
---
Die Young
No Roddy Ricch best-of list would be complete without "Die Young." The song was another in his early viral successes, and of course, production from London on da Track helped. The single dropped ahead of Feed the Streets 2, and alongside "Every Season," it created anticipation for this up-and-coming rapper's project to arrive. The song also came with a heavy concept, one that is easily relatable even if you're not deep in the rap game– but the meaning behind the record became even more impactful and monumental when Roddy explained that he created the song the same day XXXTentacion died.
He told RapGenius, "The thing that inspired me making "Die Young" was that X had died that day. It was the night he passed away, I was just in the mood where, ya know, a lot of young people dying, legends, and I wanted to make something to Speaker Knockerz, Lil Snoop. It's a lot of people that was great that died at a young age, so I wanted to make something in remembrance of them but at the same time just making people well aware of what's been going on. I just felt some type of way about it. It wasn't a lot of people in the studio that night either, it was just me and the gang. We was in there, just me in there going crazy."
That spontaneous spark and heartfelt inspiration is what helped Roddy create a trap record that is for all intents and purposes– beautiful.
---
AI
In between dropping Feed the Streets in 2017, and Feed the Streets 2 in 2018, Roddy Ricch blessed his growing fanbase with a short little EP. The EP, titled B4 The Fame, is a collection of four songs, including one feature from West Coast rapper Skeme. It's not necessarily his best work, but "AI" is worth inclusion here. It wouldn't sound out of place on either FTS instalments, and it even looks to his future music with an early reference to the infamous "boom boom room" (!).
---
Cream
Stephen Maturen/Getty Images
"Cream" here stands for the old hip-hop adage, Cash Rules Everything Around Me. The song feels light and airy, but the subject matter is actually quite the opposite– the rapper admits to coping by way of codeine, as he laments on the hook, "I spent my whole life chasin' the bag and runnin' from coppers / And a nigga been drownin' myself in these codeine problems." Roddy Ricch doesn't sugar coat things, he just tells it like is, which is part of his appeal– whether it's an old vice or a new-found luxury. He stretches his voice to the whiniest corners possible as he confesses, "Cash rules everything around meeee."
---
Can't Express
"Can't Express" finds Roddy Ricch struggling– "I can't express myself, don't know how to start," he begins the record, but before long, he's weaving with the beat. Still, the song feels like a double-edged sword — he can't express himself, so he turns to drugs dropping in one of many references to lean: "That's why I'm double cupped up, I go to Mars."
---
Project Dreams
"Project Dreams" was a pretty big look for the rapper at the time it dropped, one month after his Feed the Streets 2 mixtape. Thus the song helped the rapper capitalize off the success of FTS 2, and pushed him even further into the mainstream thanks to production from electronic producer Marshmello. Marshmallo manages to cook up a beat that's perfect for Roddy's slick flow, opting for something a bit more modern in it's glitchy electronic noises, but still maintaining an easy rhythm. Roddy Ricch's sing-song flow is in plain view, while he muses about his come-up. While the song hasn't found a home on a formal album, it's remained a fan-favorite.
---
Baccseat
Jerritt Clark/Getty Images
"Baccseat" is found in the second half of Roddy's debut album tracklist, making it an easy record to overlook. The low-key song features Ty Dolla $ign, and despite its placement, shouldn't be missed. A few simple keys and guitar strings create the base of the production from Yung Lan, and while Ty contributes a "nice enough" verse, Roddy is the memorable part of the song– once again the song contains some ad-libs embedded into the beat, with a few wailing noises (that sound like 'wa dee wa dee', for lack of a better description), echoing behind Roddy's verses.
---
Big Stepper
"Big Stepper" has that country-trap twang with a guitar lick on repeat, while Roddy himself adopts a short yet inescapably melodic "mm-hmm" in his hook. The brevity of the line makes it all that more intriguing that he pulls it off as a lyric, one that will be stuck in your head the more you listen. "Big Stepper" is one of those slow-building records, where, the more you play it, the more replay value you find out of it. The two go up hand-in-hand.
The song was released ahead of PEMFBA, with Roddy carrying it solo dolo, as he does much of the album– even when Roddy enlists a featured guest, it's more complementary to his work than spotlight-stealing.
---
Brand New
"Brand New" begins with a cinematic howling from Roddy and an elegant piano arrangement. It's another piano-friendly record from Roddy, appearing on his Feed the Streets 2 mixtape. The howling becomes a frequent occurrence throughout the song, popping out every few seconds, while Roddy wails up and down about how his life is changing, as he navigates the aftereffects of attaining both fame and riches.
It's a frequent topic for Roddy, the Compton native is trying to stay true to himself, but at the same time, it's difficult not to change when your lifestyle is changing so drastically: "Gotta get this money, you can't let it change you / But I can't lie, all these hunnids got a nigga feelin' brand new." Roddy's music is often littered with this type of observation of both himself and the world around him.
---
Racks in the Middle
We had to include "Racks in the Middle" as a bonus cut. It's technically a Nipsey Hussle song, with a feature from Roddy Ricch, however it's become an important marker in both artists' careers, especially because it was released right before Nipsey's death. The song was a passing-of-the-torch moment, with a West Coast OG co-signing the youngest up and comer.
There's also a story behind the song, as Roddy has revealed that it was originally his song– but Nipsey heard it, and wanted it. "Nipsey just, he just hopped on all the verses. He took my shit off," said Ricch. "The way he worked was like, he's so particular. Everybody was so surprised how fast he did the video and how fast he did the turn-around of the verses because, like, even his verses, they take forever. That's not even no shade. He was just a real perfectionist when it came to whatever he did."
Hit-Boy cooked up the beat, Roddy Ricch was moved to hook duties, while Nipsey laid down reflective bars on both business and personal aspects of his life. The result was a 2020 Grammy award for Best Rap Performance, and equally, Nipsey's first Grammy, received posthumously.