REVIEW – Lil Wayne & Rich The Kid Trust Fund Babies Is Held Back By A Disparity In Talent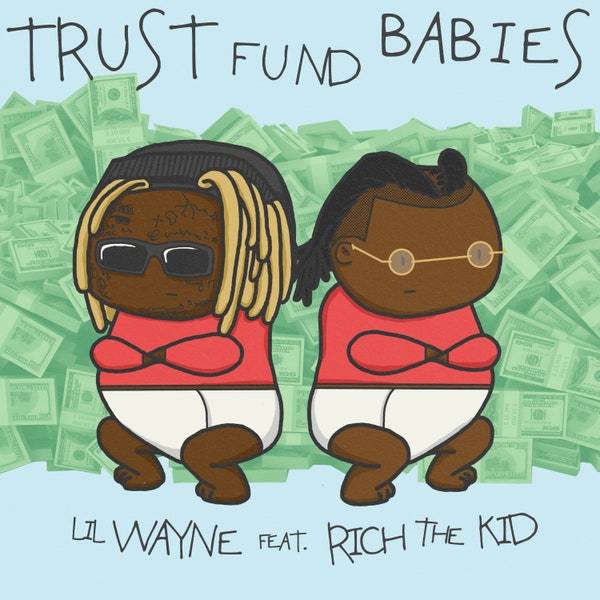 REVIEW – Lil Wayne & Rich The Kid Trust Fund Babies Is Held Back By A Disparity In Talent
85
Rich The Kid manages to end up in the most unlikely places and his new mixtape with Lil Wayne, Trust Fund Babies, is the latest example.
Previously, In 2013, he joined forces with the Migos for a series of middling mixtapes and another earlier this year with NBA YoungBoy. Outside of his Finally Rich label tapes (released with Famous Dex and Jay Critch), his single "Blood Walk," a Lil Uzi Vert Starbucks showdown and a couple of mediocre albums under his belt, Rich The Kid keeps a relatively low profile.
Trust Fund Babies was announced a week before its release, leaving fans bewildered. One can't help but to wonder how Rich The Kid secures high-profiled placements, meanwhile Lil Wayne seems willing to rap with anyone offering him a microphone at this point in his career.
Though that strategy appears to be working for the legendary rapper. Weezy is having a rap renaissance, providing show-stealing performances on records with Westside Gunn, AZ, Drake, Tyler, The Creator and Polo G. He seems to have rekindled his love for rapping, tapping into an energy reminiscent of his DatPiff golden days. He's having fun again, but it's clear Rich The Kid isn't, and Trust Fund Babies ends up being a showcase of what happens when a far inferior rapper is forced to keep pace with a legend — the results are quite grisly.
On mixtape highlight, "Headlock," Wayne exudes exuberance in the opening verses and chorus, whereas Rich The Kid fumbles the layups. This is the repetitive (and unexciting) formula for the rest of the project: Wayne breathing the only moments of life into these songs with Rich stumbling behind, gassed out like a couch potato after running a mile.
Rich and Weezy have little to no chemistry at all. Instead of trading bars and witty wordplay to keep the momentum going, verses are thrown together in a sequence that feels boring and uninspired. On "Still," Rich shows his best performance on the record, breaking out of routine and engaging with Wayne's verses. Wayne ad-libs over Rich's verse, and vice versa as their vocals harmonize together. It's one of the few times Wayne isn't trekking the Rich Forever CEO along like weathered luggage.
Despite Wayne's stronger performance out of the duo, he still falls into the same pitfalls that's plagued the later half of his career. At times, he raps with menacing precision like Deadshot using a sniper rifle. But other times, his frivolous rhyming results in cringe wordplay like on "Admit It" where he raps: "I used to stare at her cat/I tell that shit 'Roof.'"
On the same track, Rich starts off by questioning people's nonexistent anger towards him: "Why you mad at me, 'cause my bills paid?" Earlier this year, Rich The Kid accused his label signee, Jay Critch, of attempting to "snake" him out of $100,000, while Critch claimed Rich was blocking a financial opportunity.
Trust Fund Babies is a collaboration that should've stayed in the same vault that Rich The Kid might be hiding Jay Critch's contract in. Though Wayne seems to be having a good time, his creativity is bogged down by Rich The Kid, who's in full paycheck mode.
Trust Fund Babies doesn't succeed much at all, but it does create anticipation for Wayne's next solo work and further shows that even in his late 30s, Wayne can still rap circles around Great Value rappers.
REPEAT ME
FAN FEEDBACK
Not sure what y'all hearing but that nigga Wayne going in on #TrustFundBabies he's completely carrying the entire project. Never liked Rich the kid but he got a couple bright spots on there.💪🏽

— Its the Baby (@itsthebaby1) October 9, 2021
Ok #TrustFundBabies is lowkey lit🚫🧢

— Dauphy🖤 (@Dauphykerlyms1) October 8, 2021
Finished listening to #LilWayne and #RichtheKid #TrustFundBabies #Album pretty good album!!!🔥🔥🔥👌👌👌

— The Lone Wolf (@brandon_tackore) October 8, 2021