Remembering Carpenters, 50 Years After Their Hot 100 Debut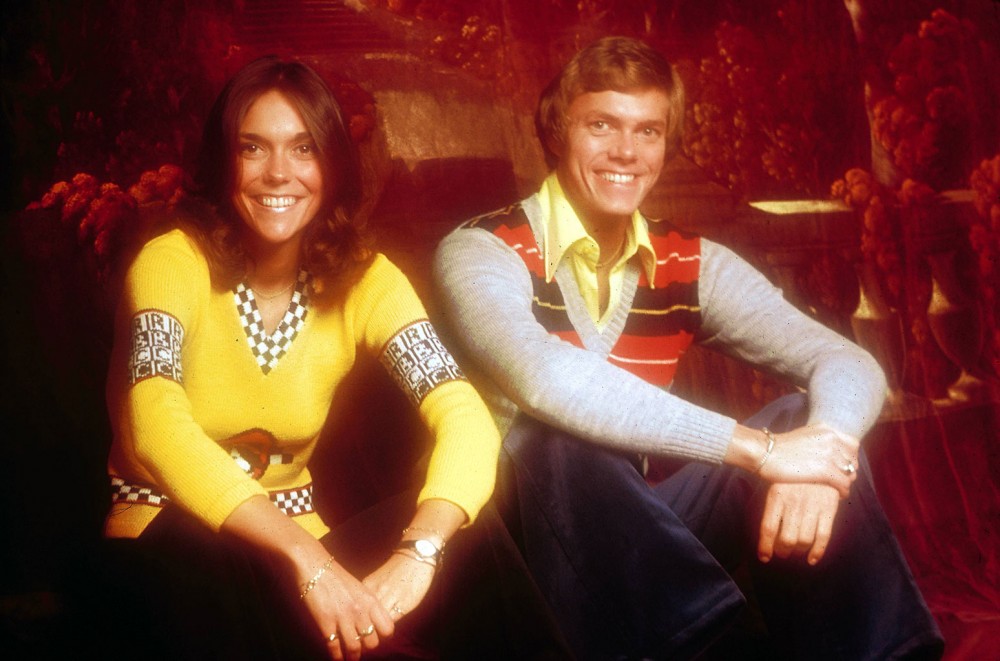 Remembering Carpenters, 50 Years After Their Hot 100 Debut
57
Carpenters have been, at points, red-hot, cold, tragic & legendary. That's a hell of a ride. And it has all been documented in the pages of this magazine.

Fifty years ago this week, Carpenters — Karen, then 19, and Richard, then 23 — entered the Streets Talkin Hot 100 for the first time with their ballad version of The Beatles' 1965 hit "Ticket to Ride." The sleeper hit took three months to reach its peak of No. 54. But the duo's next single, "(They Long to Be) Close to You," was an out-of-the-box smash. It shot to No. 1 in just six weeks and became Streets Talkin's Song of the Summer.
Another talented brother-and-sister team, Billie Eilish and her older brother FINNEAS, is making waves today. But there are some key differences. Eilish is a solo artist, where Carpenters were a duo. And Eilish and FINNEAS ooze hipness, where Carpenters always came off as kind of square. But they made great records. They followed "Close to You" with "We've Only Just Begun," "For All We Know," "Rainy Days and Mondays," "Superstar" and "Hurting Each Other" — six million-sellers in a row.
Carpenters (officially, there was no "the" in their name) have been, at points, red-hot, cold, tragic and legendary. That's a hell of a ride. And it has all been documented in the pages of this magazine.
On Streets Talkin's most recent Greatest of All Time Hot 100 Artists recap, they rank No. 36. On the latest Greatest of All Time Artists recap — which combines Hot 100 and Streets Talkin 200 activity — they rank No. 54. They are the No. 2 duo on both of these lists, just behind Daryl Hall & John Oates.
All of this numbers-crunching just confirms what you already knew: Carpenters sold a ton of records in their heyday. That's a tribute to the talents of both Karen and Richard.
Karen's voice was distinctive and immediately recognizable. She sang with warmth and depth; conversational ease and a built-in sense of longing. You can hear Karen's influence on such singers as Gloria Estefan and Shania Twain. You can hear echoes of Karen in such hits as Madonna's "Crazy for You" and Beyoncé's "Halo." But you can't really say, after all this time, that anyone has replaced Karen Carpenter.
The late Leon Russell (who wrote the Carpenters classic "Superstar" and two other songs they recorded, "A Song for You" and "This Masquerade") once said, "Well, Karen Carpenter was just a singularly amazing singer. There was just not anybody like her." Madonna has said she is "completely influenced by her harmonic sensibility." Here's what Rolling Stone said about Karen's singing style in placing her on its 2010 list of the Greatest Singers of All Time: "Impossibly lush and almost shockingly intimate, Carpenter's performances were a new kind of torch singing."
And Richard knew just how to frame that voice. He received five Grammy nominations for his arrangements, for such songs as "Close to You," "Superstar" and "Sing." In "Close to You," he did the near-impossible: He improved on a Burt Bacharach arrangement. (Bacharach had arranged Dionne Warwick's 1964 recording of the song.)
Carpenters were ahead of the game on some key trends. Their 1972 hit "Goodbye to Love," with Tony Peluso's memorable fuzz-guitar solo, was one of the first power ballads. In 1975, eight years before Linda Ronstadt's celebrated collaboration with arranger Nelson Riddle, What's New, Carpenters recorded a faithful-to-the-period rendition of the 1938 Tommy Dorsey standard "I Can Dream, Can't I." Billy May teamed with Richard to arrange the track. And Karen was way ahead of her time as a female drummer.
In Streets Talkin's year-end issue in 1970, "Close to You" ranked as the year's No. 2 single, just behind Simon & Garfunkel's "Bridge Over Troubled Water." In that same issue, Streets Talkin awarded Carpenters a Trendsetters Award, for leading "a trend toward the softer, melodic rock harmonies that influenced, in turn, many other groups." Carpenters' arrival seemed to open doors for other acts in their vein such as Bread, whose "Make It with You" followed "Close to You" into the No. 1 spot on the Hot 100 in August 1970, and Anne Murray, whose "Snowbird" reached the top 10 in September.
Streets Talkin ran a special section celebrating Carpenters' success in its Nov. 17, 1973, issue. Herb Alpert, who had signed the duo to A&M Records in 1969, wrote: "When you know a good song, when you can write a good song, and when you have talent—watch out—'cause it can go on forever."
As it turns out, the special ran just as Carpenters were approaching their peak. Two weeks later, "Top of the World" — which Richard co-wrote with long-time lyricist John Bettis — became their second No. 1 hit on the Hot 100. In January 1974, The Singles 1969-1973 became their only No. 1 album on the Streets Talkin 200. The compilation was an even bigger hit in the U.K. It topped the Official U.K. Albums Chart for 17 weeks, the third-longest run by any album in the 1970s.
Alpert was both right and wrong in his prediction. The active, hitmaking part of their career didn't "go on forever." Within a few years, they would encounter resistance at pop radio for the first time. But their legacy is secure and will likely live indefinitely.
In January 1975, Carpenters landed their third and final No. 1 on the Hot 100, a spunky cover of the Marvelettes' "Please Mr. Postman."
But starting in 1976, pop radio started finding reasons to not add their records. Their "goody-four-shoes" image (a dig that Richard actually found clever) made some fans peel away. Captain & Tennille came along with a similar sound and managed to beat Carpenters at their own game for a couple of years. Worst of all, Karen developed a then-little-known eating disorder, anorexia nervosa, which she battled for the rest of her life.
Even after their pop hits slowed, Karen and Richard had some notable successes. Their first TV special in December 1976 made the top 10 in the Nielsen ratings. Their 1978 album, Christmas Portrait, has become a holiday perennial. It's easy to see why: Many Christmas songs are wistful, even melancholy, and such songs were always Karen's strong suit. She was right at home on such heartfelt ballads as Bing Crosby's "I'll Be Home for Christmas" and Judy Garland's "Have Yourself a Merry Little Christmas," as well as their own "Merry Christmas Darling," a cozy ballad, composed by Richard, that they first released in 1970.
In 1977, Carpenters released the oddest single of their career: a cover of Klaatu's spacey, sci-fi epic "Calling Occupants of Interplanetary Craft." The single was something of a Hail Mary pass on the duo's part. It nearly busted through to become a big hit, but it ultimately stalled at No. 32 on the Hot 100 — about where they usually landed in that frustrating period of their career.
I interviewed Karen and Richard for Streets Talkin in the summer of 1981, when they released Made in America, their first non-holiday studio album in nearly four years. (Nowadays, that wouldn't be seen as that long of a layoff, but by '70s standards, it was an eternity.) Richard explained their long absence by saying, "I was tired. I'd just had enough. We'd always enjoyed our work, and when you get to a point that you're not enjoying it, you have to call a halt. It's going to show if you're tired.
"From Close to You (1970) to Now and Then (1973) we were having a hell of a time. We just couldn't wait to get the vocals on a record to hear what it was going to sound like. That's the way it should be. But around the time of Horizon (1975) we started to get tired. It took a long time to do that album and I was wearing out."
Karen said she initially also wanted a break. "I was OK for a little bit, but then I was anxious to go back to work. When you land in this business at that early an age, you really don't know too much else. I've never been much of a relaxer either."
So in 1979 Karen flew to New York to cut a solo album with producer Phil Ramone, who had delivered hits for such stars as Paul Simon, Billy Joel, Barbra Streisand and Chicago. The album took longer to record than everyone anticipated. By 1980, Richard was ready to get back to work. Karen, torn, didn't want her solo project to stand in the way. In a fateful decision, the album — Karen's stab at establishing a solo identity — was shelved.
Carpenters' 1981 album, Made in America, produced one final top 20 hit on the Hot 100, the sleek "Touch Me When We're Dancing." But the album and follow-up singles fell far short of expectations. Karen finally sought treatment for her anorexia in 1982, but it may have been too late. Karen died on Feb. 4, 1983, at age 32.
For a while, it felt like that was going to be that. Some die-hard fans knew they were better than their sticky-sweet image suggested, but with their lead singer dead, what were the odds there would ever be a meaningful reappraisal?
Happily, their records were so good, and Karen so unique and gifted a vocalist, that Carpenters have been discovered by a new generation of fans. These young fans aren't put off by the squeaky-clean image, the corny publicity photos, the few bad records they made toward the end (yes, I'm thinking of "Beechwood 4-5789"). Some of these new fans may even find all of that amusing, a bit of welcome comic relief before they go back to listen to another heartbreaking Carpenters ballad.
Few singers have sung heartbreak ballads as well as Karen Carpenter — because, we know now, she could relate. Bettis, Richard's songwriting partner, alluded to that aspect of her vocal persona in the title he came up with for Carpenters' first album following Karen's death: Voice of the Heart.
Carpenters' revival was set in motion by the success of Yesterday Once More, a double-disc 1985 compilation that has gone double-platinum in the U.S. A&M has released a steady stream of compilations, including a 2002 compilation that received a perceptive review in Streets Talkin. And the success isn't limited to the U.S. On the Official U.K. Albums chart, Carpenters have notched more top 10 albums since Karen died (six) than they did while she was alive (five).
Carpenters' songs have appeared in many hit films, such as Tommy Boy, Juno, The Simpsons Movie, Shrek Forever After and Dark Shadows. TV shows to spotlight Carpenters songs include Friends, The Simpsons, Mr. Robot, American Horror Story and Glow.
Carpenters have inspired a wide range of tributes and interpretations. Director Todd Haynes' provocative, but ultimately sympathetic, 1987 short film, Superstar: The Karen Carpenter Story, used Barbie dolls to tell their story. The 1994 tribute album, If I Were a Carpenter, featured such alternative artists as Sonic Youth and The Cranberries performing Carpenters songs.
Two of Carpenters' signature hits, "Close to You" and "We've Only Just Begun," have been voted into the Grammy Hall of Fame. The Recording Academy should follow up with a lifetime achievement award.
Now that Whitney Houston is in the Rock and Roll Hall of Fame, could Carpenters, or perhaps Karen on her own, have a chance of being inducted? It's not as unthinkable as it once was. Being a female drummer is pretty rock and roll. So is going against the grain to the degree that they did.
Last month, NPR Music's Ann Powers included Karen in a list of "41 Women Who Should Be in the Rock & Roll Hall of Fame." Here's her pitch: "The queen of contemplative pop, whose reputation has been rehabilitated by young critics and musicians who understand the power in her soft approach, is as influential on current pop as any screaming rocker…"
Digging through the Streets Talkin archives, I was struck anew by the range of performers and industry power players who have sung Karen's praises. In 2016, Gerard Way, frontman for My Chemical Romance, shared a recording of him singing "Superstar," together with this tweet: "I (heart) Karen Carpenter." In a September interview, entertainer Kristen Chenoweth said, "Karen Carpenter was a massive influence on me musically." Two months later, in Streets Talkin's Women in Music issue, Joyce Smith, manager of The Rolling Stones, said simply, "She is vocal perfection."
Karen had an intimate singing style that made the listener feel as if she was singing directly to them. I know I felt that way, and as it turns out, so did millions of other people all over the world and across 50 years. Now, that's a gift.
---