Quavo & Takeoff 'Only Built for Infinity Links' Soars In Spite Of Offset's Absence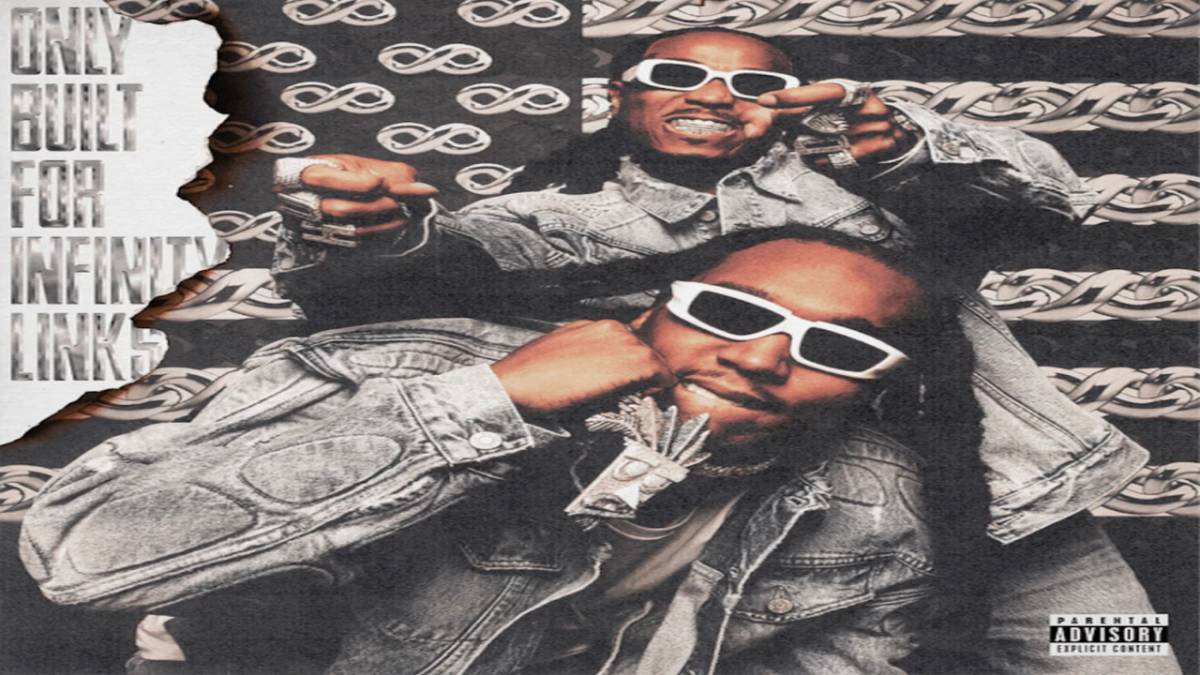 Quavo & Takeoff 'Only Built for Infinity Links' Soars In Spite Of Offset's Absence
77
During a late 2018 Miami Beach fishing trip, Quavo felt like talking about destiny. Clasping his casting rod, he reflected on the self-destructive tendencies of other legendary music crews as he mused on the future of his group Migos, whose members were then in the process of releasing solo albums apart from the clique. While it was a detour from the three-year run of dominance as rap's defining trap collective, Huncho had no plans of letting it ruin the trio's run toward immortality. "All of the great groups that we've seen have never let their group be what they could have been," Quavo told XXL at the time. "Ain't nothing gonna stop us but us and God."
Though it's unclear what, four years later, it's obvious that something's halted the North Georgia clique. As Offset waged a legal war with Migos' label Quality Control, it was rare that you'd see him hanging with Quavo and Takeoff, which only led to speculation that the group as fans knew it was splitting up. In recent interviews, Quavo offered vague references to lapses in loyalty for Migos' apparent breakup. Amid the noise, Quavo and Takeoff have been releasing stellar singles as the duo Unc & Phew. Now they've consummated their Migos' spinoff venture with Only Built for Infinity Links, a diverse LP with a title that nods to Raekwon's heavily Ghostface Killah-assisted classic, Only Built 4 Cuban Linx… With dynamic production, anthemic hooks, and raps that are as personal as they are agile, Infinity Links delivers most of the exhilarating highs of Migos' best work while cutting the fat that plagued Culture II and Culture III. 
Like the best Migos projects, Infinity Links plays out like a stylish joy ride. Featuring production from Buddah Bless, Murda Beatz, Mustard, DJ Durel and more, it's a soundtrack for a trap spaceship. Over the course of 18 tracks, they lace their triple-time flows over everything from dazed trap ("Hotel Lobby") to ratchet music courtesy of Mustard ("See Bout It") as they alternate between flows and structural approaches that keep sounds from getting stale. On "Hotel Lobby," they coast over hazy strings and eerie bells for a song that feels like a morning cruise after a night of debauchery. For "Tony Starks," they take four-bar shifts as they paint pictures of lean-sipping and lavish jewelry gifts for the squad. With its frenetic percussion, distorted celebratory horns and instructive hook, the Mustard-produced  "See Bout It" is a classic strip club anthem. For good measure, Unc & Phew also hop on a trap version of "So Fresh, So Clean," becoming one of the rare artists to use an OutKast sample. Stylish, seamless and versatile, Quavo and Takeoff lay out tracks for playlists for a barbeque or a night out. 
The lyrics are just as well-rounded, coated in spurts of humor and writerly detail that make you feel like you're cruising in a stolen whip with them. The threats come with comically specific logistics, and the emotions oscillate between icy and searing. On "Tony Starks," Quavo quips that he can get someone killed by sending emojis. But by the time he gets to "Messy," Huncho ditches his unaffected cool, reflecting on a highly publicized breakup with Saweetie. For his part, Takeoff continues building his reputation as perhaps Migos' most talented technician. Flaunting a combo of imagination and agility, he manages to rhyme petite, Phillippe and physique in just a couple bars, tying them to an extravagant Grecian vacation on "Bars Into Captions." It's all quotable stuff, but the specificity helps it dodge the pitfalls of formulaic bars you might hear from imitators.
At 59 minutes, Only Built For Infinity Links isn't necessarily a svelte project, but it's still much trimmer than the disastrously long Culture II (106 minutes!), and the shorter, yet slightly overstuffed Culture III (about 75 minutes). After a while, anything can get boring, and this project wraps up tidily before it reaches that point. While no song here reaches the overall heights of singles like "Bad and Boujee," and tracks like "Tools" and "Integration" scan as slightly generic with their generic hooks about jewelry and bag-chasing, Infinity Links is a tight distillation of the style that made Migos Southern rap icons, even without Offset. 
After emerging with tracks like 2013's "Versace," Migos placed themselves at the forefront of modern Atlanta rap alongside the likes of Future, Gucci Mane, Young Thug, Jeezy, T.I. and eventually Lil Baby and Gunna. Their blend of melody and triplet flows have helped define an era, and one member's absence doesn't destroy the sound.

There are pluses with the duo setup, too. While Offset's percussive flows and blunt-force aggression injected tracks with adrenaline, one less verse for most songs helps prevent them from becoming too bloated, and guest spots from Wunna, Thugger, YoungBoy Never Broke Again, Gucci Mane ("Us Vs. Them")  and Birdman ("Big Stunna") help fill in the gaps.
Literally speaking, Unc & Phew aren't Migos, but Quavo and Takeoff's innovative instincts remain. That's a notion Quavo affirms himself on the album opener. Coasting over the imperial funk of "2 Infinity Links," he asserts the power of a creation forged in family. "An Infinity link, see that's the strongest link in the world," he says. "It runs in the blood." Offset or no Offset, Quavo and Takeoff's stylistic DNA holds steady. It's home-grown. It's theirs, and it's as potent as ever.