Mavi Wants To Unlock Memories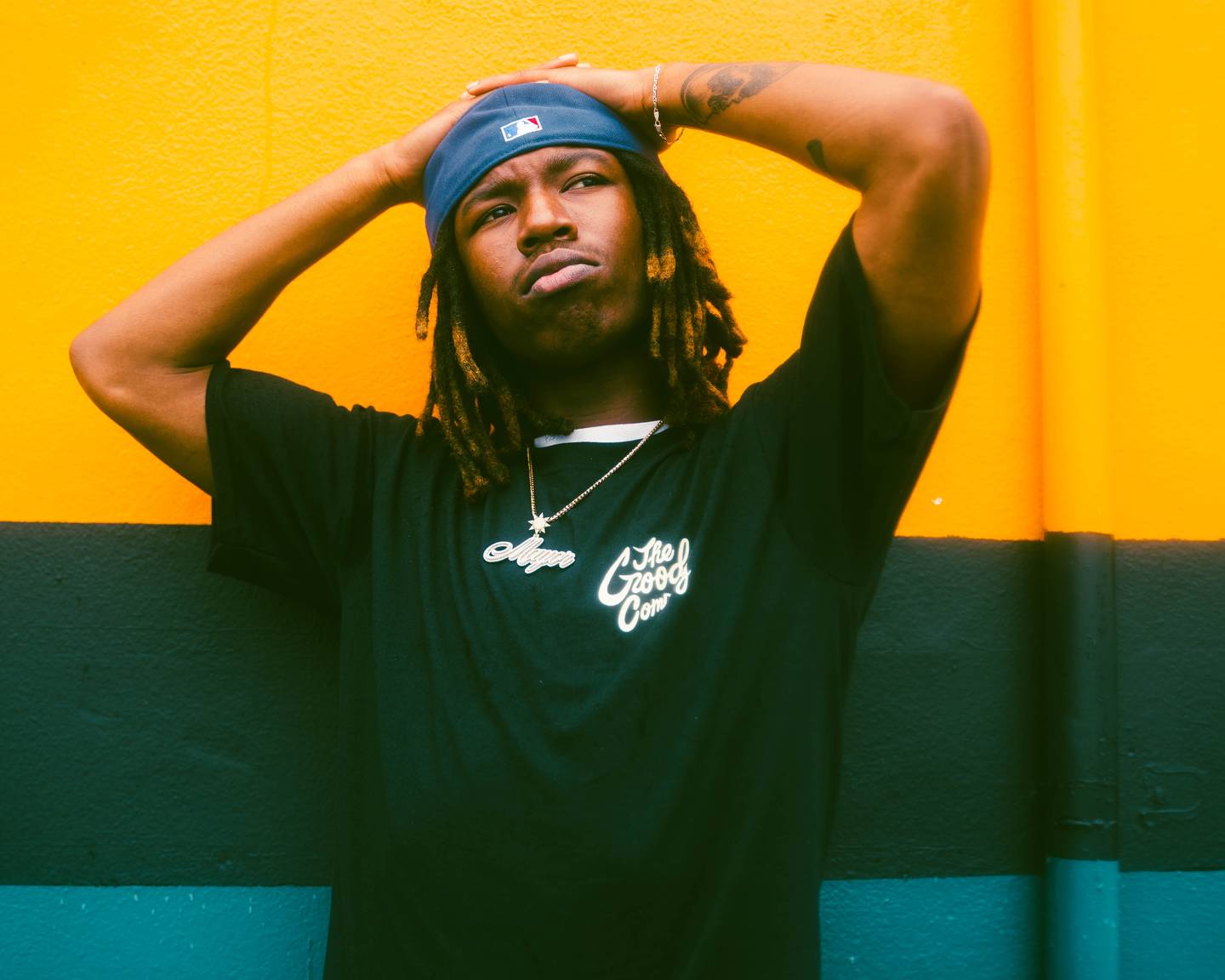 Mavi Wants To Unlock Memories
29
"I don't believe in a singular genius," Mavi firmly asserts. "Anything that you think is exceptional about me is a result of my search and curation of outside influences, outside teachers, and outside perspectives."
In most interviews, the Charlotte-based independent rapper seemingly boasts a haughty aura, frequently stating he knows that he's the best. Although still equally self-assured while on Zoom with MTV News to discuss Laughing So Hard It Hurts, his new album out October 14, Mavi is unexpectedly modest while talking about himself. His enthusiasm only reaches its peak when asked about Toni Morrison and Sun Ra, and he's particularly eager to share the many books he's reading and recite quotes from his favorite authors.
"A lot of things about how [Morrison] lived her life and who she was to everybody just struck a chord with me." Akin to Mavi's life trajectory, the novelist used her voice as a centerpiece in the Black liberation movement, prioritized taking care of her family throughout her prolific career, and went to Howard University. The night before our interview, Mavi tweets quote after quote from the 2019 documentary, Toni Morrison: The Pieces I Am. "[Award-winning poet] Sonia Sanchez starts crying just thinking about her. Like, that's a cold n—-!" he says with a laugh.
Mavi postulates why Morrison included afterwords at the close of her books. "Sometimes, as a writer, it could feel like explaining yourself is showing your hand," he says. But like the author he idolizes, Mavi uses his voice to relay his narrative, whether that's by doing interviews like these, or even by replying to incorrect interpretations of his lyrics on Genius.
While running to his backyard to find his copy of Black Music by Amiri Baraka, Mavi considers the oft-repeated generalization that his style of music — and that of others in his niche subgenre of jazz-injected rap — is predominantly consumed by white audiences. The theory might have gotten more traction after Mavi went on tour with the current crème de la scène, Jack Harlow, in 2021. Mavi rejects this notion: "Toni Morrison says, 'The assumption is that a reader is a white person, and that troubles me.' And I make the type of songs you gotta read. So that assumption is not something I welcome. And it's not true."
Although Mavi's musical genealogy dates back to his upbringing of going to the studio with his producer dad as a baby and watching his mom sing in a gospel quartet, his predilection for poetry and literature made him want to begin actually creating music. The artist born Omavi Ammu Minder found himself in the works of jazz great Sun Ra, where he was enlightened to the transformative power of balance, bluntness, and beauty in the Black experience. By the fourth grade, Minder became a poet himself.
As he grew older and started developing his own music taste, he discovered writer-performers like MF DOOM (stylized in "All Caps" as requested in his song by the same name). The mysterious musician inspired Minder to also become a rapper, finally taking on the role of Mavi. Although his own cadence depicts a more serious stance next to DOOM's often cartoonish character, the late MC's account of grief and loss took on a whole new meaning as Mavi penned Laughing So Hard It Hurts, an album that examines the whirlwind polarity between pain and joy.
Mavi's baritone voice fantastically contrasts the record's twinkling beats; his range brings a layer of depth, adding a sort of seriousness to his storytelling. "It's supposed to sound like stairs to heaven," he explains. "I wanted this [album] to be like this episode of Adventure Time where Marceline and Ice King sing a song that started to unlock memories."
Laughing So Hard It Hurts is nostalgia personified. In "High John," pitched-up vocal chops are sprinkled across the beat, mimicking the sound of a child's voice. The high, arpeggiating keys in "3 Left Feet" emulate innocent pitter-patters of the shoes of someone learning how to dance, while Mavi mutters over the melodies with dealings of grief. But as the emcee employs soul samples throughout the LP, it's clear the project is about love just as it is as much about loss.
In the midst of the Harlow tour, Mavi heard the tragic news that his uncle passed away. Ready to halt everything to be with his family, he instead, "called my mom, and my mom said, 'He'll be so proud of you. He knows you love him. Don't come. You need to do your shit.'" Mavi then wrote his uncle a letter, which was put in his uncle's casket alongside a T-shirt with the design of his debut album, Let the Sun Talk. "Literally being on tour was the best thing I ever did," he shares. "I was living in my purpose every single day, waking up with a mission."
In many ways, Mavi channeled DOOM's passion and creativity while crafting his latest LP. The anonymous artist used his music as a means for both his late brother and late son to live on;  Mavi, similarly, sought to honor the loss of his uncle. We stop for a show-and-tell of our nearly matching MF DOOM mask tattoos before Mavi continues. "He was able to be four different people in four different albums. Just the license to do that and feeling justified in doing that, depending on what my life called for, was something I took from him."
Embodying the dramatis personae was also something Mavi observed in Sun Ra, who religiously adopted mythology in his art. In Laughing So Hard It Hurts, Mavi harnesses High John the Conquerer, who's the eponymous protagonist for the album's introductory track. The African-American folk hero is known as a symbol of success, luck, strength, and overcoming obstacles.
The record itself serves as a 16-song serenade. Prominent experimental hip-hop producer Monte Booker (who's worked with Ari Lennox, Saba, Smino, et al) and North Carolina multi-instrumentalist Dylvinci's cloud-covered beats create a backdrop for Mavi's soft-spoken streams of consciousness. "This is the album for the girls and babies," he explains. Initially, the rapper was set to release Shango, a project named after the Yoruba deity of thunder, lightning, fire, and justice. "I think my life forced me to be a different narrator telling a different story." In the recent past, Mavi and his girlfriend made the decision to have an abortion. Consequently, Laughing So Hard It Hurts not only explores the grief he experienced with his uncle, but also a different kind of loss.
"Is it a return or a failure to succumb to the tide?" Mavi opens with a poignant probe before ciphering the theme of the project: the juxtaposition between triumph and tribulation. "Casted in small rooms knitting heart loom spinning something tragic / But love from fragments automatic, just that Sumter magic."
The album is a dedication to his partner and himself, though the impact of his elders radiates throughout. Mavi's adolescently audacious facade is now renewed as a humble conscience, using his voice to both teach and learn. "I'm just everybody I looked up to reflected back at them," he says. "I appreciate that so many people was willing to teach me and see me as worthy. That's the only thing that allowed me to see myself as worthy when stuff gets to falter."